By Tony Attwood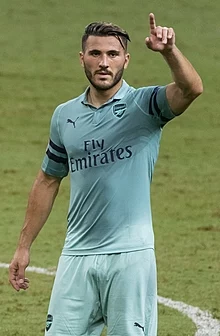 It is more than likely that you'll know the Arseblog website; a blog very highly rated by many within the literate section of the Arsenal fan base.   And yet I find to my surprise that in a recent blog, the writer can say, in questioning why Kolasinac was playing, "Reportedly he spent all week trying to get Arsenal pay off his contract so he can join Fenerbahce on a free – why are we picking him?
Surprise because of the use of "reportedly", a word that generally means some reporter or other has stated this somewhere without proof.   And we know that when we can measure the accuracy of reports (such as on transfers), the accuracy level is 3%.  At most.
So did Kolasinac really do this?  Other reports suggest that he wants to move close to his friend Ozil.  It is also possible that he was played as that was a condition of his transfer going through so that his potential new club can watch him in a game.  Maybe they saw him play against WBA and wanted another look.  
Maybe other candidates for the position have gone down with covid.  After all when the forwards got it, all we were told on the day was that they were ill.  Maybe there was another of Arteta's discipline situations and Kolasinac was all we had left.  It's all speculation.
The writer continues, "How are we supposed to believe in a project which leaves us in a position where we have to pick Kolasinac, and even Mari, when we have a near £30m central defender impressing in France?" (punctuation changed by myself for clarity).
I guess he means Saliba, who is valued by Transfer Market at around half that amount.  But as for the answer it is quite possibly because we were expecting someone else to arrive and so decisions had to be made.   It is not possible in football to wait for everything else to be completed before making other arrangements.  If one does that, players can be left stranded and word like that gets around, and makes transferring difficult.  We do after all, have difficulties already because of the way we stranded players without a club, a year ago.
Yet as an occasional reader of Arseblog I am a little surprised at this vagary.  But in pondering it, another point struck me – it is the avoidance of any question that involves "why".   Well not quite any question.  The anonymous writer does say of Xhaka's sending off, "I don't really know why this is contentious, but for me it's a nailed on red."  And here I would agree.   Both feet off the ground, heading towards the player, the rules say that is a red.   The old thing that players do about suggesting they got the ball is irrelevant, as the rules make clear.
But other than that, there are no why questions.  Like "why having done so well in the last two thirds of last season, so that we outplayed everyone in terms of results, have we lost three league games in a row?"
The answer, "because we are rubbish," is not an answer, because it doesn't take on the question seriously.   And it is the question that needs answering if we want to have a debate about Arsenal.
I would suggest that the coronavirus cases the club has had from the start has disrupted the squad – certainly taking the two main strikers out so that so far neither of them has been able to play the full 90 minutes of any game, has a major impact on the club.   The fact that Eddie has been unable to play adds to our woes, for it tells teams that they don't have to be as watchful of the attack as they would normally do.
Second, in answer to "why?" I would say that with the first match, the disruptions came very close to match day, meaning that the preparations that had been made were completely thrown out of kilter.  Had we been midway through the season with everyone bedded in, it would have been different.  Of the starting XI only Leno, Chambers, Tierney, Xhaka, Smith Rowe and Pepe, started in both games.   So about half the team was changed.  That's not helpful.
OK that can happen, but when it does it is normally planned.   We were without Saka, our best player, and yes that was obviously planned, and we included Ben White and Lokonga, along with Balogun and Martinelli.  Three debutantes for the team and a player who had been rushed back from the Olympics and had hardly any summer break yet missed most of the pre-season.
If one does that against a club newly promoted and utterly fired up, then there is going to be problems.
Of course some will say these points are excuses.  I would say no, they arise because I am asking why we have been doing so badly this season.  Only once one starts looking for explanations one can see if they are reasonable explanations or not.
Changing the team with three new players who might be first team choices (White, Lokonga and Tavares), is not excessive, nor is introducing two of them in the opening game of  the season, but to have to play Balogun and Martinelli in that team as well, who are both somewhat akin to new signings) then we have over a third of the team trying to adjust and a significant deficit in the first game.
Throw in the fact that we have the Mirror running stories about "Six Arsenal players who could still leave before transfer window slams shut" and you can see just how disrupted everything has become.  Add in a fixture list that gives us Chelsea and Manchester City in the first three games, and yes an answer begins to be formed when asking, "why is this happening?"
And interestingly, the incompetence of the manager hasn't come up once in those perfectly reasonable explanations.
Thus the best unasked question remains, "Why are the media and the blogs so insistent on not asking 'why?"