By Tony Attwood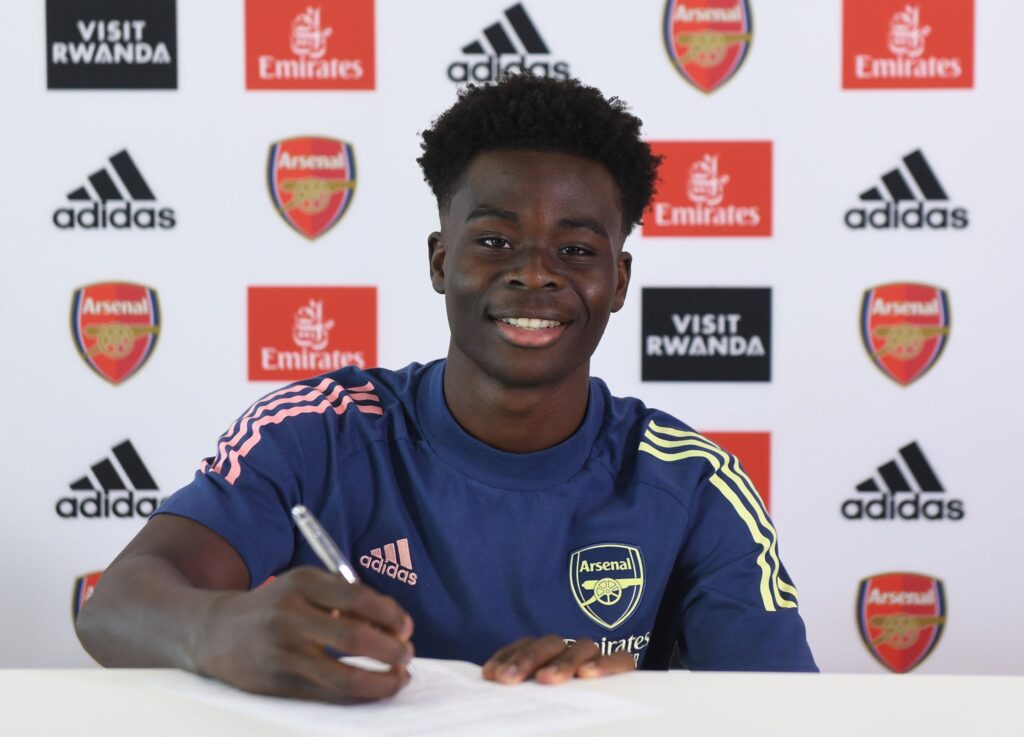 There is a story being propagated at the moment that Arsenal are willing to sell Bukayo Saka for just €50m.  Following this comes the usual shock horror stories about incompetent Arsenal, and how the current employees and the board members are not fit to run a drinking session in a location that makes beer let alone a football club.
In this case we start with the Standard one of London's two daily papers who on 1 July 2020 reported that "Arsenal have received a major boost as teenager Bukayo Saka has signed a new long-term contract. Standard Sport understands the 18-year-old has signed a four-year contract, keeping him at the Emirates until 2024."
Players can sign contracts at 17, but those can be hard to enforce in court if there is a dispute so most players wait until they are 18 or 19 before getting a contract. But clubs are wary since under 21s tend to get a disproportionately huge number of injuries (sometimes career changing), and of course their contract still has to be paid up.   
So today's story in the Express is "according to reports, despite him being one of England's best young players, Saka assuringly isn't that valued by the Arsenal board at all.
"Despite being one of their best players and having three years left on his contract, Calciomercato have reported that Arsenal would require a fee of just £43million (€50m) for the London-born winger."
Now although release clauses can appear in contracts they are not that common – and indeed are very rare for young players because there is no telling what will happen to them.  Besides why say they want €50m, when everyone knows he can go for nothing after four years and get a mega signing on fee?
Of course "release clauses" can be implemented, and there were the cases of Demba Ba transfer from Newcastle to Chelsea and Joe Allen from Swansea to Liverpool.  But these cases are very rare because no one knows what is going to happen within the transfer market.  In three years time €50m might be astronomic or ludicrously small.
Buy-out clauses are quite common in Spain, but Spanish clubs normally set them at a very high price.  The player then buys his contract by paying the club an agreed sum, and is then free to sign for someone else.  But in England… no.
However (and this is the key bit) when we start talking about release clauses and buy-out clauses and we mention Liverpool (as with Joe Allen) ears prick up.
For there was recently the terrible tale of what Liverpool did to a young player, and how they were banned from making signings thereafter.
And not just that: there was the case of Luis Suárez coming to Arsenal in 2013.  Arsenal offered over the alleged buy out price of £40m, and Liverpool refused the offer saying there was no such arrangement in the player's contract.  Later the chairman openly admitted, in a sports conference, that he lied and there was a buy-out clause.   From that point on any club asked to stick a buy-out fee in a contract would say no.  It was clear they are more problem than they are worth and are now quite rare although the media invent them sometimes.
One big problem with release clauses is also the fact that they have neither been tested in European courts nor the British courts, although it is recognised that if the release clause was too high it could amount to a restraint of trade which is contrary to both EU and UK law.
So this is all very dodgy and unexplored ground, which makes it all the stranger that the report in Calciomercato says, "Juventus are following Bukayo Saka, the attacking winger of Arsenal and the English national team defeated in the final by Italy. According to the Spanish press, the bianconeri are rivaling Atletico Madrid with the gunners who value his contract at no less than 50 million euros."
Notice the "no less than" which somehow has got lost earlier in the tale.  And we have English media quoting the Italian press (Juventus are following Bukayo Saka)quoting the Spanish press.  It's all getting a bit distant.
Then the story changes as the Italian text says "no less than".  The reports in Spain go further and say that in relation to Arsenal "Saka… is not convinced by the Gunners' sports project, in the Premier League and without playing in Europe. His contract expires in 2024, but the idea would be to obtain his assignment with a later purchase option. His market value is currently € 65M, although Juventus would hope not to pay more than 50m for his signature."
And the source of this inside information?  Well, we don't know.
Todofichajes and Calciomercato seem to be the culprits but where they got the tale from… who knows.  They don't say, and typically the English press just pick up a tale that makes Arsenal look bad and run it.
Certainly clubs do like to be seen to be bidding for players as it makes the club look ambitious, but this tale is so vague and woolly I can't imagine he has any grain of truth in it anywhere.  The only reality is that in four years he can leave on a free.  And that's the same for most young players – and unless something has gone seriously wrong, he'll have a new contract long before that.