By Tony Attwood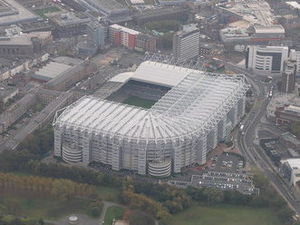 The view is growing that clubs throughout the Premier League are uniting in an alliance not to sell players to Newcastle United, as a protest against the takeover of the regime so awful even football supporters can't find it in themselves to say a good word about it.  
This policy has been mentioned in many sources such as 101 great goals, TodayUKNews, and even the Telegraph (who are supposedly offering free access to all their content at the moment, but seemingly not to annoying bloggers who criticise what they write).  The Express has jumped in with "Newcastle may have eight January transfers blocked because of angry Premier League rivals"
Of course, there is a problem because although their fans won't mention it, the club has been handed over by Ashley virtually debt-free, and with lots of spare capacity in its FFP accounts to spend vast sums without the League or Uefa getting edgy about it.
On the other hand, it is said that Newcastle don't have a particularly extensive scouting network across Europe, so they are struggling a little to find who they want.
But this raises an interesting point: seemingly there is nothing in the Premier League rules that stops clubs conspiring not to deal with one club.  The normal monopoly rules don't apply in professional football in the UK because it's well, a monopoly.  
Of course various clubs get the sort of bad press that Newcastle are getting at the moment. Arsenal have suffered from this endlessly, not least with the repeated notion through last season and on into the early part of this season that Arteta was a terrible manager and needed to be sacked.
But there is something else.  It would seem quite likely that Eddie Howe is not the ultimate choice of manager for Newcastle, but an interim, steadying the ship until the club can attract one of the top managerial names from Europe.
Such managers, if out of work, could be quite attracted by work at a club with endless pots of cash, especially in a situation in which attempts to limit the amount clubs can spend on transfers have been repeatedly undermined (as it turns out, on Newcastle's behalf) by Manchester City's battle with the FA, and Uefa.
But an alternative scenario could be that members of the Premier League could work to tighten the Financial Fair Play rules, to stop the Premier League from turning itself into a version of the French league or German League, in which one club wins the league most of the time, and just occasionally lets someone else get a look in.
Of course, the reasons why PSG regularly win their league and Bayern Munich always win the German league are quite different but in each case one club wins most of the time.  And that is without mentioning the Greek League where Olympiacos have won 21 league titles in the last 25 seasons.
Which takes us to the heart of the problem.  Between 1966/7 and 1972/3, the league was won by a different club each season.  Between 2004/5 and 2014/15 three clubs won the league (Chelsea four times, Manchester United 5 times, Manchester City twice.  Which is probably by and large fine for the supporters of those clubs, but not much good for competition.  On the other hand in the last six years, four different clubs have won the league, which for me is a step in the right direction.
Of course, I want to see Arsenal win the league again, and of course I'd then want to see them repeat that achievement, but in this debate, it is possible to have contrary views – a view of what is good for professional football in this country and a view of what I want as a supporter of Arsenal.
And here's another aspect of the problem.  Of the nine clubs promoted to the Premier League in the three seasons before the last one, five have since gone down.  Norwich and Fulham have come up and gone down twice, playing the game of picking up their Premier League bonus, and the solidarity payments, and then expecting to be relegated the next season ready to repeat the trick.  Fulham are using these bonuses for a stadium rebuild – there's a video at the end if you are interested.
Given that the foot of the table is being taken over by clubs happy to yoyo between the leagues (because there is good money in that) and a select group of two superrich clubs who seem to be able to spend with impunity and who now have a third member of their little group one might start to think that competitively, the league isn't working.
The move towards banning ludicrous overpriced sponsorship ("Official tractor supplier to Manchester United" indeed) is a step forward, but a lot more needs to be done.  If you want to see what happens when competition dies, consider France.  Average attendance in the top league is around 22,000, the TV deal with Mediapro collapsed and disputes still continue.  (Amazon has a new deal in France, Canal+ is in dispute).
Just because the Premier League has had it so good for such a long time, does not mean it always will be. A certain amount of care might be needed.  Here's how Fulham are using their yoyo money.