by Tony Attwood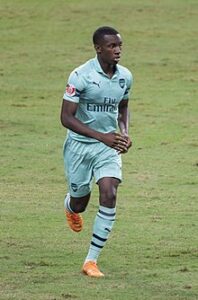 My best "I was there" moment is undoubtedly, "I was there for the final game of the unbeaten season".    Last night doesn't replace that moment, but it's another one for the little collection: "I was there when Charlie Patino scored on his debut."
And although I am sure this won't go down in history, there was a nice tweet after in which it was proclaimed that "Patino is the 16th Charlie to play for Arsenal and the sixth to score on debut after Booth (1892), Lewis (1907), McGibbon (1910), Bell (1913) and Jones (1928)."
In fact, he is the first Arsenal academy player (or "product" as the Daily Telegraph inexcusably and dehumanisingly calls him) to score on his debut since 2009.  He was the 886th player to represent Arsenal in its various guises, in first-team league and cup matches.
They had already called him, in a previous article "a midfielder of rare promise" and so the very brief look we got of him last night suggested that is true.  Indeed if the club continues like this, we won't have any problem at all filling the homegrown places in the squad – we'll have more than enough genuinely and totally home growners.
But of course, we won't be adding Charlie's name to the squad for a while, although when we do he'll be extra numerary to the 25 (being under 21, like Saka this season).
Arteta made a nice comment too saying, the goal was "A beautiful moment," before adding, "He is a lovely kid. He is training with us almost every week. It was a dream. The fans heard about him and know what he can become. Now we have to cook him slowly. Today was a good start."
Eddie Nketiah, also got a series of very positive mentions for his performance and his three goals, but it seems unlikely that he is going to extend his contract at the end of the season, so another club will pick up all of the value that Arsenal have invested in him.
As a game, I doubt this one will be remembered particularly – we were expected to win, and we did win.  The visiting supporters were expected to fill the lower clock end, benefitting from tickets at a fiver each, and they did.  They filled the stadium with their chants and songs, but nothing I heard (sitting upstairs in the east, but closer than normal to the away fans – season tickets not being valid for the league cup) was particularly novel and certainly nothing was endearing.
Arsenal dominated possession, and the only thing that the stats show Sunderland dominating was aerial duels, the ball in the air being something of a compulsion for their team.
Arsenal commit 8.89 fouls per game on average and so the nine fouls Arsenal committed was exactly the norm.  The 12 fouls that Sunderland committed (a third more than Arsenal) was close to their average too.  All was as expected.
In the league we are picking up 1.38 yellow cards per game: we got one, this time.  Normal again.  Sunderland picked up four times as many, which again tells you pretty much what was going on in the match.
And what was also pretty much as expected was Eddie Nketiah's performance.  You would think that with a player who got a hattrick, there would be some pretty good moments to report, but nothing really stands out.  Maybe that's his problem – he is there and he does his job, but it is quite hard to recall what exactly he did much of the time.
As for Sunderland, this was an all-white team – not something one might particularly notice apart from the fact that the entire team refused to take the knee at the start, as a sign of being against racism and discrimination in all its forms.   Not an especially good thing for an all-white team to do.  Nor a particularly good sign when some (not all but some) of their supporters booed through the taking of the knee by Arsenal and the officials.
But this morning, trying to track down what is going on within Sunderland and its total refusal to take the knee,  I had a look at the Sunderland Echo which says, "Sunderland have encouraged their playing squad to make their own decision on whether or not to take a knee before games, with many opting not too."   The article makes it clear that at their own ground some of their supporters regularly boo the taking of the knee.  It's just a Sunderland thing, I guess.
The paper continues, by saying, the manager "supported their players in whatever decision they ultimately make."
A universal decision not to take the knee was the outcome.  It would be interesting to find out why.  Especially from an all-white team.