By Tony Attwood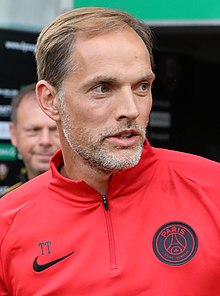 Thomas Tuchel has been strong in his criticism of the Premier League for sticking with its schedule and its Christmas / New Year scheduling of games; a tradition that goes back to the expansion of the league in 1919.
And ok, maybe we can agree that occasionally the game needs a voice from outside its traditions in order to have a shake up and some new thinking.   
But then when Chelsea drew 0-0 with Wolverhampton a little earlier, and then asked if the Premier League was being distorted because of the varying degrees to which clubs were plagued by Corona cases, the Chelsea coach asked instead about the result of Manchester City. When City's commanding victory at Newcastle was relayed to him, Tuchel muttered that it had been "predictable." 
That 6-3 win over Leicester on Boxing Day meant that Manchester City continued their winning run forcing Chelsea to also win in their own follow-up game at Aston Villa to avoid falling further behind. That's why Tuchel put out his strongest lineup – including the recently injured midfield driver N'Golo Kanté and winger Callum Hudson-Odoi, who had just recovered from the virus. 
We might have expected them on the bench, but no, they went into the starting XI.
At half time Tuchel increased the risk to his own players by bringing on more players who had also just recovered (or perhaps supposedly recovered, for who can really say?) from a covid infection: Mateo Kovacic and Romelu Lukaku.
Then against Villa, who had to do without covid infected Steven Gerrard in the ground, Chelsea continued without excuses or worries or blame or suggestions that the League and/or the English regulators had got it wrong.   Chelsea's run of two wins in six league games was over.  All was fine.
But then we were told that the Premier League had "forced" Chelsea to play, even when the players were sick through a set of decisions made by people sitting in offices, removed from the game, thus forcing him to use Lukaku against medical advice.    
Lukaku meanwhile had a different view: the error he thought was that Tuchel had brought him on at the wrong time, suggesting Tuchel had "his own reasons" for not putting him in the starting XI.
Of course, the issue is not that Tuchel was running out of players (Hakim Ziyech, Saúl Ñíguez and Ross Barkley were all available) but he, like other managers, couldn't quite select the exact team he wanted.  So he wanted the game called off.
The problem here is finance.   Some clubs (not Chelsea, not Manchester City, and now not Newcastle) are having their finances stretched by covid, and a further suspension of the season or the playing without crowds, would lead to further bank borrowing.  Easy for some, not for others whose financial limits have already been passed.  Have a suspension and the rich clubs would not feel the pinch when the TV companies demanded a refund.  As for the rest…
And the Tuchel case is lessened to a degree as he has previously stated that he would love to be "in the thick of things" in the "unique" English Christmas/New Year programme.
But now Tuchel is calling for over 100 years of tradition to be swept aside because it doesn't suit him this year.  
The fact is the Premier League is not run by the FA, the government, or anyone else – it is an independent organisation that makes its own rules within the context of worldwide regulations.  The week before the Chelsea outcry about foul play and disadvantage [Chelsea disadvantaged? it is hard to imagine] the league's chief executive Richard Masters, called the clubs to a number of crisis meetings to discuss a suspension of the season.
During Christmas week, the league had 103 positive Corona tests within seven days – a new record.  But the clubs refused to change anything.  Klopp of course raised his voice, saying, "I beg you to change something. Please do it for the good of the players!" but no, the league said carry on.  Because the majority of PL clubs are in mega financial crisis.
And each member of the league has one vote: a voting system based not on wealth but on democracy.   The majority of the members are in a financial mess following last season, and so, they must carry on playing.  
Indeed in the Corona crisis, none of the often outraged players and coaches has yet offered to give up part of their own luxury salaries in exchange for a more relaxed schedule. And somehow, after all, those millions upon millions upon millions of pounds have to be earned.
Following his side's 1-3 win against Villa the Chelsea boss said he was "impressed" by his players, and felt "maximum respect" for them. In doing so, he made his team's victory seem bigger than it ultimately was.   They had just beaten a team 19 points below them in the league.  The media lapped up the statement and failed to explore the fact the nonsense within it.
Tuchal was playing a game with the journos, but they were too stupid, too much in awe, or just too anxious to get to the pub, to find the time to think it all through.