To read about the free Arsenal video collection and about the new Arsenal Day by Day series, please see the note at the foot of this article.
By Sir Hardly Anyone
So shouts the Daily Mirror, telling us that "Bukayo Saka has been linked with a transfer to Liverpool but Arsenal legend Ray Parlour has tipped another Premier League team to sign the 20-year-old and spelled out Mikel Arteta's toughest task."
What this actually means is that Ray Parlour, who is employed by TalkSport to say things that will get the listeners responding said on the station, "I look at the young team [at Arsenal], they can develop and keep improving.  You know what the hardest thing is going to be? It's keeping the players."  And from there he jumps to the conclusion that Saka will go to Manchester City.
He has no evidence for this at all; it is based on the notion that players move between clubs – which is undeniable.
There is incidentally quite a series of articles around, listing players who are out of contract at the end of the season.   One for example comes from Goal, one from Football Transfers, another turns up in Planet Football and on and on and on.
At the same time there is an article in the Telegraph 'Power has shifted towards the players' — How Arsene Wenger was proven right about the transfer market in which the paper recalls Mr Wenger's statement that increasingly players will simply let their contract run down, so they can leave on a free and choose the club that they want (as well as get a much bigger signing on fee).
Of course the Mirror uses the fact that two Arsenal players are coming to the end of their contract to single out Arsenal as they accused the club of "sheer incompetence" in terms of letting Lacazette and Nketiah come to the end of their contracts.
Our earlier article has a list of 18 end of contract players which starts at the top with Kylian Mbappe which makes anything Arsenal do in this regard look trivial.
But there is now a new suggestion emerging.  And this is that players are letting their contracts run down and then re-signing, rather than extending the contract earlier, since it allows them to get a better deal.
Of course there is a danger in this for players, because if they lose their form, or have a serious injury they could find themselves at the end of the contract with no club and thus no income.  So it is all a bit of a gamble on both sides.
But in this situation, the media like to cast Mikel Arteta and Edu as the hopeless, inexperienced incompetents who have no idea how these things work and so need to be talked through the upcoming transfer windows as if they were children.
Thus the Mirror says "Mikel Arteta shown he should make transfer U-turn to solve Arsenal's striker problem"   So what was he shown? 
Well it seems he was shown that Lacazette's "work off the ball has helped to bring the Gunners' high-powered youngsters into play, creating the opportunity for them to thrive.
"That was shown during Saturday's defeat to Manchester City when his run into the box helped to create the space for Saka to fire Arsenal ahead."
So there we have it.  The piece is written to suggest that poor Arteta is sitting there dumbly not aware that Lacazette can do runs into the box.  
And this goes on day after day.  On 2 January we were told, "Mikel Arteta warned he "can't rely" on Arsenal star"   This time it was Andy Grey (another Talk Sport man, this one with a murky past) and the subject was Granit Xhaka. 
The implication again is that the Arsenal manager is so far out of it, he hasn't noticed that alongside the benefits that Xhaka brings to the team, benefits which made him one of the team of the season according to Football Observatory at the end of last season, he can give away fouls and get yellow cards.  Which is hardly something the manager needs telling.
But the attack on Arsenal along the lines of incompetence is remourceless (and all these examples come from one wretched newspaper and its website).  There are plenty of others being made up elsewhere.  So we are also told that "Folarin Balogun's fresh transfer option shows Arsenal missed clear opportunity."
More incompetence it seems, although in this case it is impossible to work out what the missed opportunity actually was.  It might have been a loan deal to Sheffield United, but the writing doesn't make it clear.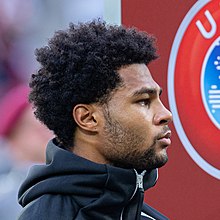 However what the Mirror forgets is that loan deals can go wrong.  Serge Gnabry was loaned to West Brom, who then refused to play him, the player got fed up with England and went off to be star with Bayern Munich.  He has since played over 30 times for Germany, thus showing us all that clubs need to be very careful who they loan players to.
And that really is the point.  The Mirror's snippets in which a very ex-player tell the manager where he has got it wrong, are simplistic comments concerning an incredibly complex situation.
It is the same with transfers.  According to the Mirror and other outlets if there is a good player out there Arsenal should buy him.  If they don't they are idiots who have been "too slow".  But in fact it is the Mirror and its writers who are the idiots, not the people running Arsenal.
---
For details of the videos sorted by club, and videos in the order we published them, plus our 21 golden great videos please see here.
ARSENAL DAY BY DAY: THE STORIES FROM THE CLUB'S HISTORY
Just as the videos have been put in date order so we are now doing a day-by-day series of Arsenal events, looking to find one good story a day throughout the year.   This project started on 1 December, and we are adding to it each day.   The index is here.