By Sir Hardly Anyone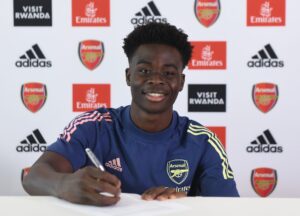 There is a story circulating that Saka is going to run down his contract and then leave Arsenal on a free in the summer of 2023.  
Before you get too worried about this bit of inside information the source of the story is Kevin Phillips who spoke "exclusively" to Football Insider.
So what does a former Sunderland striker know that we don't know?
To the best of my knowledge Phillips is currently manager of Northern Premier League Premier Division club South Shields, and so not exactly up there with the inside information on Arsenal.  The league SSFC play in is in the seventh tier of English football.
So what makes the point of view of a man managing a club in the seventh tier of English football, about what will happen to a leading light at Arsenal, a club in the top six of the league seven levels above, of value?
There is of course no evidence to back up the claim nor any background to the suggestion that more players leave Arsenal on a free at the end of the contract than anywhere else to back up the "typical Arsenal" comment.
Indeed in April 2020 a list was published of the players who could leave their clubs at the end of that season (and my apologies for not having the list for the current season, but no one seems to have published it, and we found it was taking too long to gain all the information – and check its reliability).
On that list Arsenal had three out of contract players who could leave. Pablo Mari, Dani Ceballos, and Matt Macey.  And as you will recognise the first two were only free to leave because they were only signed on loan deals.
Here is the list of the other players who could leave on a free at the end of that season (and remember the accusation in the article we are citing about Saka is that he could leave on a free at the end of next season and that was typical Arsenal).
Aston Villa: 3 players
Bournemouth: 7 players
Brighton: 2 players
Burnley: 6 players
Chelsea: 5 players
Crystal Palace: 2 players
Everton: 5 players
Leicester: 4 players
Liverpool: 3 players
Manchester City: 3 players
Manchester United: 2 players
Newcastle United: 10 players
Norwich City: 1 player
Sheffield United: 10 players
Southampton: 3 players
Tottenham Hotspur: 3 players
Watford: 4 players
Wolverhampton Wanderers: 5 players
So at that moment "typical Arsenal" were 10th in the league showing players who could leave at the end of the season and equal on three players with five other clubs.  Meaning only five clubs had fewer players who could leave on a free at the end of the season.
Which raises the question, why do clubs allow player contracts to run down so they can leave the club on a free contract?
1: The player hasn't developed at the club hoped.
A contract after all is a bit of guess work – offering to pay the player £x a month for maybe four years in the hope that he will either develop or at least maintain his level of ability.   This might not happen if the player simply doesn't develop as expected, or gets a serious injury.
2: The player has insisted he wants to leave.
Players used to be slaves, tied into football contracts for life, but no more.  If a player wants to leave at the end of his contract he can.  It might be because he does not like the manager, does not like the city, does not feel he is getting enough games, has had a real fall out with another player, wants to move back to his home town, wants to move back to his family, wants to work under a different manager.
3: The player's wage demands for a new contract are too high
That seems often to be a reason, and is encouraged by agents who of course are always trying to get the most for their players.  If the player leaves on a free he might end up on the same salary but get a signing on fee.
4: Although it is illegal, the player has been tapped up by another club.
It would be naive to believe that this doesn't happen, given what we know about agents.
5: The player simply wants to experience life elsewhere.
Aaron Ramsey is a typical example of this.  He wanted to try playing in another country.
6: The player has turned down transfer deals.
We forget sometimes that transfers only happen because not only do two clubs agree but the player also agrees to leave and move elsewhere.  There are inducements of course – he will get a signing on fee, he might be promised more games and a higher salary and so on.  But if the player refuses to go, he doesn't have to go, although the selling club can tell the player that if he stays he won't get any more games.
So there we are.  Six reasons why players run down their contracts.  It happens to Arsenal far less than to some other clubs, and yet the "typical Arsenal" story – this time from the manager of South Shields.  You can of course believe it if you wish.