By Tony Attwood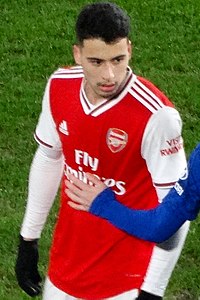 There are mistakes and there are mistakes.  And then there is Manchester United.
In a recent article, the Independent has told us that "Gabriel Martinelli has revealed that Manchester United turned down the chance to sign the Arsenal forward as a teenager."  Which is a bit of an odd thing to say since it is hardly a revelation.  I think we all knew that by the time he arrived and we saw him for the first time.
However, this approach by the Independent does show us just what the media get up to in terms of recycling news.   Take the Mail for example.   They ran the story "Arsenal starlet Gabriel Martinelli reveals Manchester United rejected the chance to sign him after he had a trial with Premier League rivals"
Now that appeared in the Mail on 27 September 2019, and was of course completely accurate and worthy of note then, for in 2019/20 he went on to make 26 appearances for Arsenal, score 10 goals and contribute four assists across the Premier League, Europa League and two domestic cups.
The Metro does however offer a little more by saying that "Arsenal wonderkid Gabriel Martinelli has revealed Manchester United failed to make an offer for him despite taking him on trial every year for four years."   Really?  Every year for four years?
Martinelli's youth teams were Corinthians (2010-14) and Ituano (2015-19).   So really, were Ituano shuffling Martinelli off to Manchester once a year each year in 2016 when he was 15, and then on each year, only to reject him?
That seems not only incompetent on their part but actually abusive, given that for at least the first year of that ordeal Martinelli was a child, according to UK law.
However, this is what seems to have happened and in the end it may have actually helped Arsenal, because by the time we came to buy him from Ituano the cost was a mere £6m.    Mind you that figure comes from the Metro who says Martinelli has "been one of the few shining lights for the club this season."   So not Saka, or Smith Rowe then?  Not Ramsdale?  Not Ben White?  Not Gabriel?  Not Odegaard?   Not Tomiyasu?   Honestly… "one of  the few shining lights for the club this season"?????
Who are these people who churn out this mindless gibberish???
Anyway, if the whole thing makes the media look like a bunch of mindless ants running around in circles, there was worse from a Manchester United perspective.   For the same gibbering newspaper tells us that, "United have an association with Ituano and were well aware of Martinelli's potential as far back as 2014, when they first took the forward on trial."
Part of the explanation is given in a comment by Martinelli to the effect that "'There was a partnership between Ituano and Manchester United which allowed me to go there every year, for four years, to train with boys my age or older'." 
In fact as we also know, Barcelona also turned Martinelli down in 2018.   And now Martinelli has made his senior debut for Brazil, in a 4-0 World Cup match against Chile.  He came on in the 75th minute, having previously appeared eight times for Brazil's under 23s in the Olympics in Japan.
And so he has joined the ranks of Silvinho, Edu and Gilberto Silva – and surely it was Edu who was not the total chump who couldn't sign a piece of paper let alone a player who got this one through the door.  Maybe he's not such a fool after all!
Jurgen Klopp recently called Martinelli "a talent of the century" while Gary Neville compared Martinelli to Robert Pires.   Mikel Arteta is quoted as saying, "Gabi has shown big signs of where he's moving. Certainly, the capacity that he has to score goals and be a threat in the final third and I think his contribution all round in his game has been exceptional."
One can of course only imagine the fun the media would have had if the situation had been reversed and Arsenal had had Martinelli on trial each year for four years and then let him go only for Manchester United or Liverpool to pick him up.
But interestingly Manchester United are not getting much stick over this gross failure on their part.  There is mention of the fact that the player was there – and that he went every year for four years – but that's about as far as it goes.
In fact had the situation been reversed I suspect that the media pressure on Edu could have forced him out of the club.
Fortunately, that is not the case.