.
For the best online casino action off the field, visit our friends at CasinoShorts.com   Play the latest online slots and blackjack for free or real money.
---
In anniversaries today: It's Arsène's birthday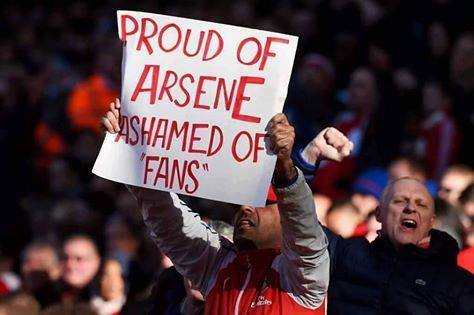 The anniversaries of the day
22 October 1920: Dr Jimmy Paterson joined as an amateur.  He had won the league with Rangers, been awarded the Military Cross for bravery in the war, in his memoirs the manager described him as "the brother in law of the club doctor" and complained that he was refused permission by the chairman of signing "real" players.
22 October 1938:  Reg Cumner international debut – his first of three caps.  He certainly would have had more full caps had it not been for the war.  He was one of a handful of players who came through the Margate nursery and went on to play for their country.
22 October 1947: Cliff Holton joined as an amateur from Oxford City initially as a fullback but by the time he made the first team in 1950 it was as a centre forward.  His first game was on Boxing Day 1950, and was in the first team for our second post-war Cup Final in 1952.
22 October 1949: Arsène Wenger born. He became Arsenal's first non-British manager, the longest serving manager, the manager who won the most major trophies, and the man who delivered the Unbeaten Season.  For our birthday quiz see here.
22 October 1949:  After a reserve team match in Cardiff the South Wales Football Echo and Express reported that Arsenal players had been seen smoking after the match. In November Arsenal announced it was taking legal action against the paper, which immediately withdrew its accusations and apologised.
22 October 1952: Arsenal beat Hibs 7-1 in a friendly.  It was the first ever Arsenal match under floodlights which was televised.  At the time league games were not played under floodlight so the arrangement was still a novelty.  Roper scored 5 and Lishman the other two.
22 October 1963: Alan Skirton scored Arsenal's first goal in European competition as Arsenal lost 3-2 to Staevnet 2.  John Barnwell got the other goal.
22 October 1997: Ian Selley transferred to Fulham for £500,000 (also quoted as 17 October in some sources).  He had played 42 times for Arsenal, and after a period also with Wimbledon, and loans to Southend he moved into non-league football.
22 October 2001: Bertie Mee died.  He managed Arsenal for 539 games beaten only by Arsène Wenger.  But his win percentage was below that of Wenger, Chapman, Allison, Whittaker, Graham, Howe and Neil.  He won three major trophies – the same as Chapman – but fewer than Graham (6), and Wenger (9).
22 October 2002: Having lost to Everton on 19 October, Arsenal now lost to Auxerre, and then lost at home to Blackburn on 26 October making three defeats in senior competitions in a row – the worst run in 19 years.
22 October 2005: After only four wins in the first eight league games Arsenal started a run of four wins in five with the 1-0 defeat of Man City. Pires and Henry tried a trick penalty but fail to put in a shot; however Pires scored to secure the points.
22 October 2006: Arsenal made it six wins in a row with a 4-0 away defeat of Reading.  Henry (2), Hleb and Van Persie got the goals.
22 October 2014: Anderlecht 1 Arsenal 2 in the Champions League on Arsène Wenger's 65th birthday.  Arsenal played Emiliano Martinez in goal having Szczęsny suspended and David Ospina injured..
---
ARSENAL: The Long Sleep 1953-1970 by John Sowman; foreword by Bob Wilson.
The Long Sleep recalls a time when professional footballers in England were inextricably tied by contract to their club and not allowed to earn more than the statutory maximum wage.  It traces Arsenal's fortunes through that era, as well as the stand taken by one man who went on a 141 day strike against his club – a strike which led to the creation of football as we know it today.
Now available to purchase on line as book or Kindle version at
www.arsenallongsleep.co.uk
And we're on Twitter @UntoldArsenal and on Facebook (UntoldArsenalToday)
Comments, History, copyright etc etc Untold Arsenal was set up by in January 2008 as a mechanism for countering the eternally negative comments of other bloggers. Articles are written by those who feel drawn to the site's position vis a vis Arsenal FC.  The site is owned by Websites and Blogs Ltd.  Articles that appear on this site are copyright (c) Websites and Blogs 2008 to 2016. If you wish to quote a small amount of an article you are free to do so provided you only quote under 5% of the total article.  It is kind if you state the page the article came from giving the URL in full and cite the name of the author.  To quote more than this without written permission would be a breach of the 1998 Copyright Designs and Patent Act.   Websites and Blogs Ltd   and the author will take action to protect copyright material from unfair reproduction or exploitation.   Details of how and why we publish some comments and not others are contained in our Comments page (see the link under "Pages" on the left).
If you have an article you would like considered for publication please email it to Tony@schools.co.uk