.
---
.
.
Latest tales from Untold Arsenal and the Arsenal History Society….
.
Arsenal Anniversaries: signs of Bertie Mee losing his grip
27 April 1851: George Lawrence, the club's first major benefactor, was born.  He became interested in football when he was nearly 40 starting to watch Royal Arsenal in January 1889, and with his wife was instrumental in organising excursions for the supporters, particularly after the club joined the League in 1893.
27 April 1865: Archie Leitch, the architect involved in both the Manor Ground and Highbury, was born.  His first high profile job involved building a new stadium for Rangers but part of the stadium collapsed causing many deaths, and it was after this that he moved to London to find new work.
27 April 1893:  Test Matches were played as part of the process of expanding the leagues while the bottom eight clubs of the second division had to stand for re-election.  Bootle were ejected, Accrington resigned and the Second Division was expanded to 15, allowing Arsenal the chance to apply for a spare place.
27 April 1895: Arsenal 3 Millwall Athletic 1.  8000 were in the crowd and this was one of 18 matches in a row against the local rivals without defeat.
27 April 1898: Alfred Baker born.   He worked initially as a miner and it is said that manager Knighton signed him at the pit head in order to ward off interest from other teams. He turned pro with Arsenal in May 1919 and stayed until he retired from football playing 310 league games for Arsenal.
27 April 1901:  Final game for James Tennant.  He had played in the 12-0 defeat of Loughboro and later played for Falkirk where he was involved in a bizarre and notorious episode in which after a night out he and a fellow player signed for East Stirlingshire while drunk.   
27 April 1904: Charles Satterthwaite (the man who scored the first Arsenal goal in the first division), was transferred from WHU.  He played 126 games for Arsenal and his brother Joe also played five games for Arsenal in 1907/8
27 April 1907:  Arsenal's lowest crowd of the season (just 2,000) turned up for the final home game of the campaign, in which Arsenal beat Derby 3-2 to take Arsenal 7th in the league.  
27 April 1909: 30,000 attended to watch Man U 1 Arsenal 4, in the final match of the campaign, making it five wins and a draw in the month, and a final position of 6th – the best yet.  It was also the last ever game for Thomas Fitchie, the travelling sales rep Arsenal signed five times.
27 April 1912: Last game for Leigh Roose.  He was the absolute showman goalkeeper and was known to shout, swear and pick fights on and off the pitch.  He retired from football at this point, and was killed in action in the Battle of the Somme.  
27 April 1929: Cliff Bastin signed for Arsenal after just 17 Third Division games for Exeter.  He had played in their first team aged 16 years 1 month and in his home debut for the first team he scored two in a 5-1 win against Newport County.  
27 April 1935: Leicester 3 Arsenal 5.  Beasley (2) Crayston (2) and Davidson scored as Arsenal, already champions, reached 115 league goals. Drake had already got 42, and Bastin 20.  Arsenal lost their final match of the season 0-1!
27 April 1954: Arsenal 4 Racing Club de Paris 0.   This was part of the series of games that was initiated by Herbert Chapman as a benefit to servicemen injured in the first world war.
27 April 1959: Arsenal won the Southern Floodlight Challenge Cup for the only time beating Crystal Palace 0-2 away.  It was Arsenal's first competitive visit to Selhurst Park with a team that included Mel Charles – who scored the winning goal.
27 April 1963: Blackpool 3 Arsenal 2.  Debut for Jon Sammels – who scored one of the two goals. He played just two games this season, but went on to play 212 games all told, including making 21 appearances in the first Double season.
27 April 1973 Double-winning captain Frank McLintock was sold to QPR for £25,000.  He played 127 league games for QPR over four years, taking the club to second position in the First Division in 1976, as Arsenal sunk to 17th, retiring one year later.
27 April 1991: Arsenal 1 Liverpool 3.  Benefit match for Ray Kennedy.  He was Shankly's last purchase as Liverpool's manager, and Kennedy's sale to them was an absolute disaster for Arsenal, a triumph for Liverpool, and a sign of Mee's total lack of judgement at the time.
27 April 1996: Blackburn 1 Arsenal 1.  The 3rd of four without a win left Arsenal in fifth.  Wright scored a penalty – his last goal of the season to give him 15 league goals as top scorer.
27 April 2003: Thierry Henry voted PFA Player of the Year.  Overall he was runner-up for the FIFA World Player of the Year twice, was PFA Players' Player of the Year twice, and the FWA Footballer of the Year three times.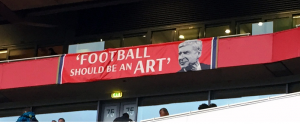 The novel "Making the Arsenal" by Tony Attwood which describes the events of 1910, which created the modern Arsenal FC, is now available for the first time on Kindle.  Full details are here.
Also available on Kindle, "Woolwich Arsenal: the club that changed football" the only comprehensive history of the rise of Arsenal as a league club, and the attempts to destroy the club, from within and without.   For full details please see here.
Both books are also available as paperbacks.  Please see here.
The picture above is of The Untold Arsenal Banner is on permanent display inside the Emirates Stadium
If you appreciate what we do and would like to help Untold Arsenal, please…
Follow us on Twitter @UntoldArsenal
Follow us on Facebook (UntoldArsenalToday)
---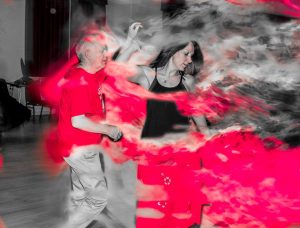 .
For all enquiries about Untold Arsenal and the AISA Arsenal History Society please contact Tony Attwood at Tony@schools.co.uk
Just in case you are interested, we also publish the Bob Dylan site Untold Dylan
And some of us like dancing too.