—————
Over 6 million page views in the past year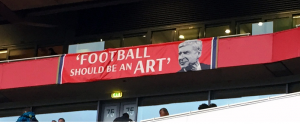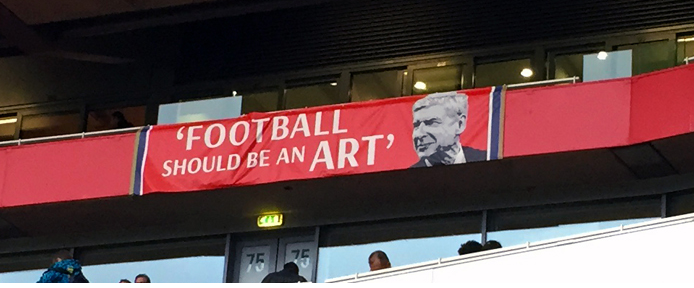 The Untold Arsenal Banner is now on permanent display inside the Emirates Stadium
——————
——————————-
Bob Wilson on Untold Arsenal (click on the title to see the story)
———————-
The anniversaries
8 February 1902

: First game for Thomas Tindal Fitchie – the man who signed five times for Arsenal.  Known as the prince of dribblers he signed for clubs seventeen times in his career as he combined being a salesman with being a footballer.

8 February 1905:

Arsenal lost 0-1 to Bristol City (away) in FA Cup in front of 10,000.  City were on the way up and in the latter part of the decade were league runners' up and cup finalists.

8 February 1913:

Debut for Stephen Stonley who was signed from Newcastle City, having never played a league game.  The selling club was probably in Staffordshire, and his signing either shows that Arsenal's scouting system was widespread or that the player travelled to Woolwich looking for work.

8 February 1913.  First match for

Joseph Fidler

– one of the men who played the last game in Plumstead and the first game at Highbury.  The game was a goalless draw; Arsenal's first point after four defeats.

8 February 1936:

First game for Frank Moss v Blackburn.  Frank

took over from Charlie Preedy in goal and was nearly ever present for four years playing in the title winning teams of the triple years (1932/3, 1933/4, 1934/5).

8 February 1941: Arsenal 15 Clapton Orient 2 (London War Cup, 10 goals for

Leslie Compton

).

8 February 1956:

 Leyton Orient manager Alec Stock publicly announced his intention to join Arsenal as assistant to Tom Whittaker.

8 February 1979: Brian McDermott became full professional (for his life in management

see here

).  After management ending at the chaos of Leeds he returned to Arsenal as a scout.

8 February 1980: Rhys Wilmot turned pro.  He played eight league games for Arsenal in goal and then later played for Hereford, Leyton Orient, Swansea, Plymouth, Grimsby, Crystal Palace and Torquay Utd.

8 February 1987:

Arsenal 0 Tottenham 1; League Cup semi-final 1st leg.  A defeat but the match became famous as the opening game in the sequence of one nil down, two one up games as Arsenal started to win things again.

8 February 1995: Milan 2 Arsenal 0 in Super Cup second leg after a goalless first leg.

8 February 1998: Arsenal 2 Chelsea 0. (Hughes 2).

25

th

league game of the 2

nd

Double season  

 The second double:

part 1

,

part 2

,

part 3

.

8 February 2007:

Mark Randall signed professional terms with Arsenal.  He never hit the heights and drifted in the lower reaches of the Italian league before returning to England and playing with MK Dons.

8 February 2009: 350 days on from his horrific injury Eduardo was named as a sub for game v Tottenham.  He did play again, but never reached his earlier standard.

8 February 2012: Johan Djourou signed a contract extension to 2015 but left before the end to go to Hanover, having played 86 games over a ten year period.  He later moved on a permanent deal with Hamburg.  

8 February 2014:

The run of 6 wins and 2 draws in 8, since the 6-3 defeat to Man C ends with a 5-1 defeat to Liverpool.  Arsenal were four down in 20 minutes.  It was one of three big defeats (the third was the loss to Chelsea) which came to define the season.
Insult of the day
Thou hast no speculation in those eyes which thou dost glare with!  (Macbeth)
And we're on Twitter @UntoldArsenal and on Facebook (UntoldArsenalToday)
Comments, History, copyright etc etc Untold Arsenal was set up by in January 2008 as a mechanism for countering the eternally negative comments of other bloggers. Articles are written by those who feel drawn to the site's position vis a vis Arsenal FC.  The site is owned by Websites and Blogs Ltd., Hamilton House, Earlstrees Ct., Earlstrees Rd., Corby, Northants NN17 4HH. Articles that appear on this site are copyright (c) Websites and Blogs 2007 to 2016. If you wish to quote a small amount of an article you are free to do so provided you only quote under 5% of the total article.  It is kind if you state the page the article came from giving the URL in full and cite the name of the author.  To quote more than this without written permission would be a breach of the 1998 Copyright Designs and Patent Act.   Websites and Blogs Ltd   and the author will take action to protect copyright material from unfair reproduction or exploitation.   Details of how and why we publish some comments and not others are contained in our Comments page (see the link under "Pages" on the left).
If you have an article you would like considered for publication please email it to Tony.Attwood@aisa.org
Likes
(

9

)
Dislikes
(

2

)