—————
For the best online casino action off the field, visit our friends at CasinoShorts.com   Play the latest online slots and blackjack for free or real money.
---
Celebrating today…
23 July 1865: Henry Norris born.  Utterly maligned by Leslie Knighton's libellous and inaccurate autobiography but praised by Arsenal historian and later Arsenal manager, George Allison (who knew him from 1910 onwards) in his book, Norris was the man who rescued Arsenal from bankruptcy, honoured all the club's debts (not just the "football debts") moved the club to north London, built Highbury at this own expense, and ultimately brought Herbert Chapman to the club.
Because of his moving of the club to north London in 1913, and Arsenal's perfectly legitimate election to the first division upon the expansion of the league in 1919, some Tottenham supporters have grabbed upon the libels in Knighton's book and used this with a collection of invented tales to denounce Lt Col Sir Henry Norris as he became, following his dedication to work for his country in the first world war.
The tragedy as a result is that instead of seeing Sir Henry as one of the great founders of the club without whom the club simply would not exist today in any form, some Arsenal supporters have bought into the Tottenham version of events.
The Arsenal History Society has dedicated much time and effort to unravelling the truth about Sir Henry, and we have even offered to give £100 to charity if anyone can give any evidence to support the wild notion that the 1919 election to the first division was somehow "fixed".  That prize has never been claimed.
Latest news
Ivan Gazidis' 10 point analysis of football was far more interesting than the criticism it generated
And from the Arsenal History Society – Arsenal in the 30s
Arsenal in the summer of 1932.  Arsenal runners up in league and cup, Man U's average gate drops below Plymouth's, Stanley Matthews first game, and the greatest run in Arsenal's entire history is about to begin.
---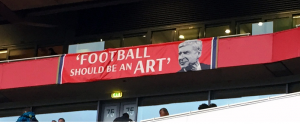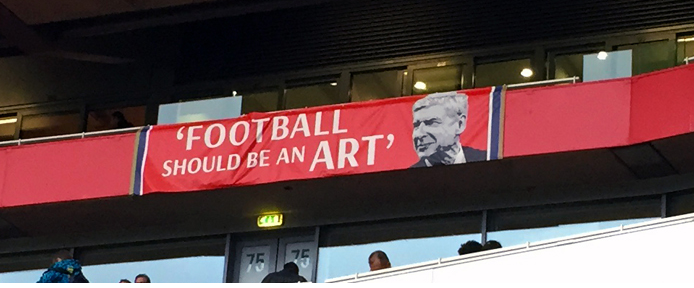 The Untold Arsenal Banner is now on permanent display inside the Emirates Stadium
---
---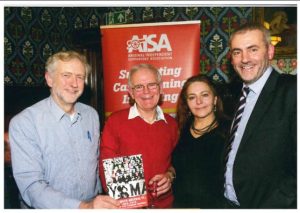 The publisher (in red) with the soon to be leader of the Labour Party, and the great grand daughter of Jack Humble, one of the founders of Arsenal, with the then chairman of AISA (far right) at a meeting held at the Houses of Parliament to launch the "Woolwich Arsenal" book.
The Anniversaries
22 July 1934

Danny Clapton born

in Stepney, and played for Leytonstone as an amateur before joining Arsenal in August 1953

22 July 1966: Tony Burns transferred to Brighton.   He played as a goalkeeper 31 times for Arsenal.  He continued playing until 1979, most notably playing 90 games for Crystal Palace, and then became a manager, and later goalkeeping coach.

22 July 1971

Jon Sammels sold to Leicester for £100,000, after becoming a victim of the "boo-boys" in the crowd.  He had played 215 league games and went on to play 241 for Leicester, leaving them for Canada in 1977.

22 July 1989: First appearance of goalkeeper Alan Miller in friendly against Skelleftea.  He played nine times for Arsenal and then after several loan spells moved to Middlesbrough in 1994.

22 July 1990:

Andy Linighan

and

David Seaman

debuts v Varberg Bois.  Linighan joined from Norwich while Seaman came from Queens Park Rangers.

22 July 1992

David Rocastle sold to the league champions Leeds for £2m.  Later reports strongly suggested that he was very much sold against his will and was distressed by the move.

22 July 2003:

Oleg Luzhny sold to Wolverhampton W.  

Luzhny played 110 league games for Arsenal and was part of the team that won the 2001/2 double

22 July 2003: SC Ritzing drew with Arsenal to make it one defeat two draws and




no wins in pre-season games. Matters picked up later and Arsenal won four of




the nine pre-season games before embarking on the Unbeaten season.

22 July 2004:

Mathieu Flamini signed from Marseille on a free transfer – a profile he continued through his career, never once commanding a transfer fee.    He played 102 times for Arsenal before moving on to Milan; returning in 2013,

22 July 2006:

The Emirates Stadium opened with the Dennis Bergkamp testimonial,  Dennis' father kicked off the match.  Dennis had played 423 games for Arsenal, and was part of both Arsène Wenger's two Doubles and the Unbeaten Season.

22 July 2013: Arsenal played Nagoya Grampus, the club Arsène Wenger managed before Arsenal.  Arsenal 

won 3-1 with goals from

Giroud, Ryo and Walcott.
And we're on Twitter @UntoldArsenal and on Facebook (UntoldArsenalToday)
Comments, History, copyright etc etc Untold Arsenal was set up by in January 2008 as a mechanism for countering the eternally negative comments of other bloggers. Articles are written by those who feel drawn to the site's position vis a vis Arsenal FC.  The site is owned by Websites and Blogs Ltd., Hamilton House, Earlstrees Ct., Earlstrees Rd., Corby, Northants NN17 4HH. Articles that appear on this site are copyright (c) Websites and Blogs 2008 to 2016. If you wish to quote a small amount of an article you are free to do so provided you only quote under 5% of the total article.  It is kind if you state the page the article came from giving the URL in full and cite the name of the author.  To quote more than this without written permission would be a breach of the 1998 Copyright Designs and Patent Act.   Websites and Blogs Ltd   and the author will take action to protect copyright material from unfair reproduction or exploitation.   Details of how and why we publish some comments and not others are contained in our Comments page (see the link under "Pages" on the left).
If you have an article you would like considered for publication please email it to Tony.Attwood@aisa.org
Likes
(

22

)
Dislikes
(

5

)