.
For the best online casino action off the field, visit our friends at CasinoShorts.com   Play the latest online slots and blackjack for free or real money.
---
25 February 1886: Wally Harding born in Greenwich.  Aside from playing for Arsenal he also played over 600 first class cricket matches and was later reserve team coach at Tottenham.
25 February 1893: As their existence came to an end Royal Arsenal started to play friendly matches against league clubs such as Walsall Town Swifts – in this case in front of 4000 fans.
25 February 1897: Tottenham 2 Arsenal 2.  One of a sequence of six Arsenal Tottenham games in the United League following the end of friendlies in April 1896.
25 February 1899: First match under Arthur Kennedy.  He was finance secretary of the club but filled in as manager after Elcoat resigned mid-season. Sadly he is not recognised as an Arsenal manager by Arsenal.com but is included in the Arsenal History Society list of managers.
25 February 1905 Arsenal 3 Sheffield W 0 concluded the first ever three match winning run in 1st division, but marked the last win until the last day of the season on 22 April.
25 February 1928: Leicester 3 Arsenal 2.  Four defeats and two draws in six saw Arsenal tumble down the league and hope instead for cup glory.  Hoar and Buchan scored.
25 February 1933: After four successive draws Arsenal signalled their intent on winning the league by beating Blackburn 8-0.  (Coleman 3, Hulme 2, Bastin 2, and Stockill got the goals.
25 February 1939: Last match for Wilf Copping.  He returned to Leeds from whom Arsenal had bought him, for 12 last league games.  He had made 166 league appearances, won the league twice and the FA Cup with Arsenal.
25 February 1961 This was in effect the start of the season's collapse – in the 12 games to April 29, Arsenal won just two.  George Swindin struggled on for one more year before leaving.
25 February 1987: Oxford U 0 Arsenal 0.  The first of six consecutive league games under George Graham in which Arsenal failed to score – the longest such run ever for the club.  
25 February 1998:  Crystal Palace 1 Arsenal 2 (Cup 5th round replay on the way to the second Double).    Anelka and Bergkamp scored but only 15,674 turned up.  The second double: part 1, part 2, part 3.
25 February 2001: Man U 6 Arsenal 1.  An Arsenal team with a very makeshift defence fell apart in this match after holding the score to 1-1 on 25 minutes, but recovered enough eventually to be runners up in both the League and the FA Cup.  It was reported that for once Arsène Wenger lost his temper with his players.
25 February 2006: Blackburn 1 Arsenal 0 making it four defeats, one win and one draw in last six, one of  Arsène Wenger's worst runs.
25 February 2015: Arsenal 1 Monaco 3 in the Champions League.  Much was made of Arsenal's failure and Giroud's poor form in this match, and many critics used this single game as evidence of the poverty of Arsenal's team.
25 February 2007: Arsenal 1 Chelsea 2, League Cup final; Walcott scored his first goal for Arsenal in a game that went on for 103 minutes.
---
From the Arsenal History Society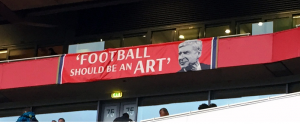 April/May 1938: from no titles to five in one decade – and the most amazing title of them all.
March 1938: Arsenal at the top and a fifth title looks possible
Arsenal in February 1938: a true resurgence takes us top of the league.
Arsenal in January 1938: two steps backwards but a new genius emerges.
The Arsenal History Society publishes numerous series of articles exploring different aspects of Arsenal's history.   You can find an index to all the series to date on the Society's web site
---
If you appreciate what we do and would like to help Untold Arsenal, please
Follow us on Twitter @UntoldArsenal
Follow us on Facebook (UntoldArsenalToday)
---
The books:
"Woolwich Arsenal the club that changed history" is available both via Kindle and in paperback.  For the Kindle editions please go straight to the Kindle shop.  Sales of the paperback will resume in late February.
"ARSENAL: The Long Sleep 1953-1970" by John Sowman; foreword by Bob Wilson is now available to purchase on line as book or Kindle version at
www.arsenallongsleep.co.uk