.
For the best online casino action off the field, visit our friends at CasinoShorts.com   Play the latest online slots and blackjack for free or real money.
---
27 February 1897: Arsenal played Millwall, their closest rivals, in the United League.  The crowd was 15,000, the highest recorded for a United League game.  Arsenal won 3-1.
27 February 1926: First senior game for Andrew Neil.  He had played for Kilmarnock, Galston, Stevenston United, and Brighton and Hove Albion before moving to Arsenal on March 13 for £3000.  He played 54 times before Arsenal brought in Alex James.
27 February 1926: William Harper made his Scottish debut.  Arsenal broke the record transfer fee for a goalkeeper to bring him in – paying £4000.  Despite the fee Harper was dropped by Arsenal after 20 matches although he did get the minor consolation of winning a London Combination League Winner's medal.
27 February 1932: Huddersfield's largest ever crowd 67,037 saw Arsenal win in the FA Cup 6th round tie 1-0.  Over 100 fans were treated for injuries due to poor to non-existent crowd control.  Herbie Roberts scored.
27 February 1954: Tottenham 3 Arsenal 0.  It was part of a four match sequence without a win as Arsenal slumped to 12th – although not below Tottenham who finished 16th.
27 February 1971:  Derby 2 Arsenal 0.  League match 29 of the first Double season. Three defeats in the last five games cast major doubts over Arsenal's attempt to win the league with Arsenal seven points behind Leeds but two games in hand.
27 February 1986: Pat Beasley, one of Chapman's signings, died.  He played 79 times for Arsenal in the league, and then moved on to Huddersfield, Fulham and Bristol City. After finishing playing he had managed Bristol City, Birmingham City and Dover.
27 February 1991: Shrewsbury 0 Arsenal 1 in the FA Cup.  Mickey Thomas scored the only goal of the game, 12,536 in the crowd.  It was Arsenal's sixth FA Cup match of the season, but they were still only in the 5th round.
27 February 2002: Arsenal 4 Bayer Leverkusen 1, leaving Arsenal needing to win at least one of their last two group games to progress further.  Pires, Henry, Vieira and Bergkamp scored.
27 February 2010: Ramsey was seriously assaulted by Shawcross on the pitch causing a double fracture of Ramsey's lower right leg, breaking the tibia and fibula.  He did not play against until 23 November when he played in a reserve game.  Shawcross was immediately given a place in the England squad and at subsequent games large numbers of Stoke fans booed Ramsey, something the club did nothing to counter.
27 February 2010: Jay Emmanuel Thomas loaned to Doncaster but it was not until 2013 that he fully realised his goalscoring potential, playing for Bristol City before later moving on to QPR.
27 February 2011: Arsenal 1 Birmingham 2.  League Cup final.  The referee was Mike Dean.  RVP scored Arsenal's goal and Birmingham's second came from a mix up between Szczęsny and Laurent Koscielny.
---
From the Arsenal History Society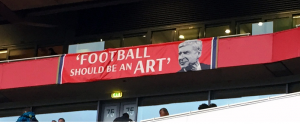 April/May 1938: from no titles to five in one decade – and the most amazing title of them all.
March 1938: Arsenal at the top and a fifth title looks possible
Arsenal in February 1938: a true resurgence takes us top of the league.
Arsenal in January 1938: two steps backwards but a new genius emerges.
The Arsenal History Society publishes numerous series of articles exploring different aspects of Arsenal's history.   You can find an index to all the series to date on the Society's web site
---
If you appreciate what we do and would like to help Untold Arsenal, please
Follow us on Twitter @UntoldArsenal
Follow us on Facebook (UntoldArsenalToday)
---
The books:
"Woolwich Arsenal the club that changed history" is available both via Kindle and in paperback.  For the Kindle editions please go straight to the Kindle shop.  Sales of the paperback will resume in late February.
"ARSENAL: The Long Sleep 1953-1970" by John Sowman; foreword by Bob Wilson is now available to purchase on line as book or Kindle version at
www.arsenallongsleep.co.uk