By Bulldog Drummond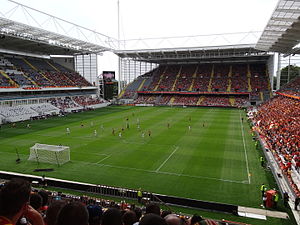 In 2017/18 Lens were in the French second division, and lost their opening seven games of the season.  Which makes me wonder, is there by chance, someone sitting in the little city of Lens working magical spells – because they survived, recovered, and nearly got promoted the next season.  In fact they only had to wait just one more season before they were promoted in 2020, having finished second in the league at the time the authorities decided to close the league down due to Covid.
Surprisingly perhaps they finished just above mid-table in 2020/21 and 2022/23, but then last season had a flying start winning all of their opening ten home games, including beating PSG, who up to that point were themselves unbeaten.
Eventually they finished second in the league, exactly as Arsenal did in the Premier League, and Lens qualified for the Champions League for only the third time.
Their home record compared with Arsenal's away record for last season reads…
| | NAME | P | W | D | L | F | A | GD | PTS. |
| --- | --- | --- | --- | --- | --- | --- | --- | --- | --- |
| 1 | Lens home | 19 | 17 | 1 | 1 | 41 | 13 | 28 | 52 |
| 1 | Arsenal away | 19 | 12 | 3 | 4 | 35 | 18 | 17 | 39 |
Now although that looks like Arsenal are way behind Lens when the home and away figures are compared it should be remembered that last season Arsenal actually had the best away record in the Premier League gaining two points more away from home than Manchester City.
But to return to Lens, their style of play is described as one of playing as a block in midfield, using that system to keep opposition attacks away from their goal.  I'm sure Arsenal would have had a whole team of tacticians watching the club of late and will have worked out a variety of ways of overcoming the block.
The club is also noted for its recruitment programme, bringing in talented players with potential rather than spending a lot of money on transfers, which of course their matchday income doesn't permit.
From an English point of view we can note that in the 2022 close season they were forced to sell  Cheick Doucouré to Crystal Palace for over around £20m but then brought in Salis Abdul Samed for around £5m who seems simply to have taken over from Doucouré.
Interestingly in 2021/22 they brought in Arnaud Kalimuendo on loan from PSG, before losing him to Rennes, and then found another cheap but highly effective replacement in Loïs Openda.
But perhaps the most amazing of all these low cost players who have turned out to be excellent was Brice Samba who moved from the merry-go-round that is the Nottingham Forest transfer department for just £4m.   Although to be fair to Forest they brought him in, in 2019 for just £2m. 
Thus Forest probably thought they had done good business there but Samba is now considered the best keeper in the French league in terms of goals prevented.
As for the stadium, (pictured at the top of the article) although it is larger than the town it serves, it always sells out and the intensity of the support is often commented upon.  The notion of actually being unhappy with the performance of any of the players (one might refer back to the opening three league games of Arsenal's 2021/22 season during which a frantic media led demands for Arteta to be sacked and half the team removed) is one that seems utterly alien to the supporters of Lens.
One last point on the stadium: it was built in 1933 and is of the style that we might associate with Nottingham Forest which houses a few thousand fewer supporters.
More anon…
Please join our association: its free!
If you enjoy our daily articles about Arsenal and the world of football please do show your appreciation by becoming an associate member of AISA – Arsenal Independent Supporters' Association.  It's completely free, but being a member does make a statement that you value our work not just in offering an alternative vision concerning Arsenal but also in engaging with the club over issues relevant to supporters today.   You can join for free at https://aisa.org/associate-membership/