By Walter Broeckx
Just as the leaves will fall off the trees each autumn you can be assured that every start of a new season Arsenal players are like rabbits in the woods in the hunting season.
When the hunting season starts the hunters can go in the woods and kill rabbits or whatever they shoot at. And as soon as the football season starts the players of other teams can go out on the field and kick Arsenal players.
Last year around this time I wrote a similar article. And I warned that we will get lots of injured players from dangerous tackles and challenges. And just a bit later we lost Walcott. After having been kicked from behind a few times and most of the time even without the ref calling a foul his knee ligaments snapped. I predicted something like that would happen and it happened. Because the refs just letting things get out of control.
Now I do know the refs know their rule book and know when a player needs to be sent off.
Last year Mathieu Flamini got sent off at Southampton. The ref was Mr. Mason. We all agreed that this was a sending off foul. Mind you Flamini played the ball perfectly as you know the excuse usually is. But he challenged with two feet towards the opposing player and that is dangerous and can cause injuries. Now the challenge from Flamini was executed with both feet on the ground and he didn't came diving in from a distance. It was a two footed block on the ball and on the floor. As you can see in the picture.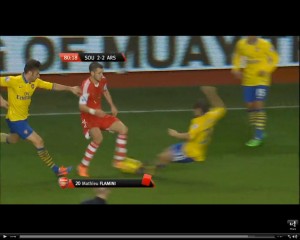 Flamini red
But because of that being dangerous for injuries he got sent off. That day I said that I hoped this would be now the benchmark for all such tackles. Alas as we have witnessed the last weeks the benchmark was only set out for Arsenal players. We have seen terrible tackles on Debuchy in the Manchester City match that weren't even punished with yellow cards. As a result Debuchy ended up in hospital and is out for another two months.
We have seen the attempted leg breaker on Özil by a Tottenham player some 10 days ago.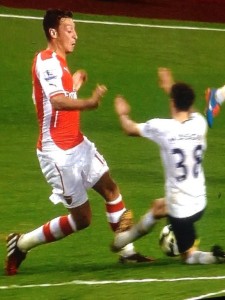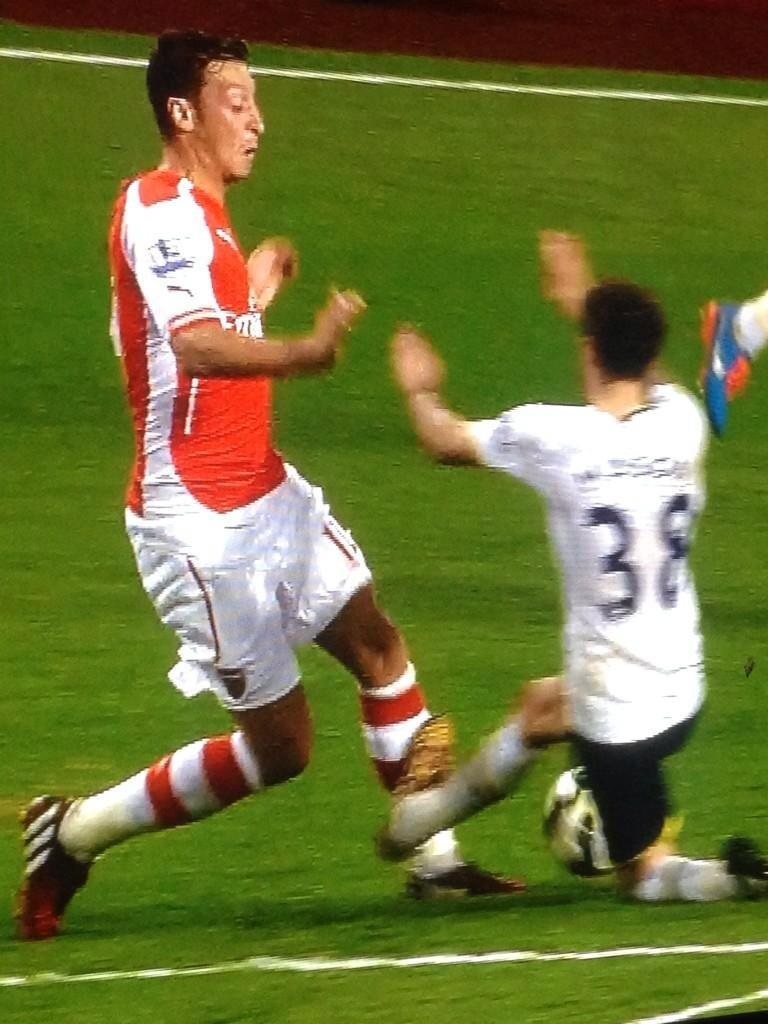 Only a yellow card was given.
This challenge could have ended Özil's season and career at the highest level. But no red card was shown. Double standards once again.
Another example could be found when we played in the CL last week. Melo came in as the madman he is and tried to separate Alexis' ankle from the rest of his body with a two footed lunge at him.
If you look at the first picture you can see from how far Melo launched himself and this shows how utterly out of control he was in this tackle. Compare this also with the little "jump" from Flamini and you should realise the possible extra danger brought by this Melo challenge compared to the Flamini challenge.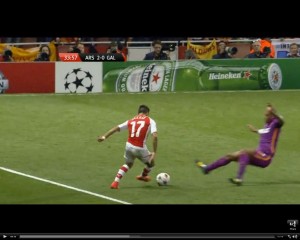 And when you see the next picture you will see how lucky Alexis was that he could just manage to get his feet out of the grass…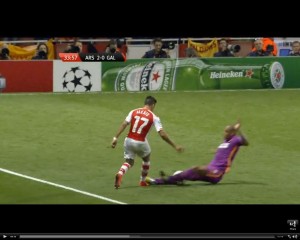 Alexis was targeted in this match and I can understand Wenger for taking him off when Szczesny got his red card for a not dangerous foul at all.
And Alexis surely seems to be a target for other teams. As Cahill showed when he this time came in with a flying tackle aimed at the shin. Again the ref only showed a yellow card.  And again this could have been a tackle that would have ended Alexis his first season in an Arsenal shirt.
Now you might say: well but Özil and Alexis didn't get injured so what is the problem? First of all the rules and the instructions to referees are clear. You don't need to see a foot separated from the rest of the body to produce a red card. No, if the tackle can cause a serious injury it is enough to be sent off.  No talk about intention or not. That is history. The only question a ref has to ask himself when seeing a tackle like the Flamini tackle, the Mason tackle on Özil, the Melo tackle on Alexis and the Cahill tackle on Alexis, is : Can this tackle cause a serious injury.
And the only possible answer to these tackles is : YES!
And the weird thing is that the least dangerous and the one executed with the least force was the only one that resulted in a red card….. the Flamini tackle.  So it does seem that Arsenal players must be very careful and on the other hand they can face the most dangerous tackles without their opponents being punished for it accordingly.
And then you come to the injury crisis at Arsenal. People blame all and everyone at Arsenal for the injuries. But what about the fact that Arsenal players can be kicked all over the place without protection from the referees?
We all know that one kick usually doesn't cause injury unless it is a real violent kick. But being kicked all the time can result in little niggles. Small injuries that at first aren't that bad. But because the next week the referee will allow again to being kicked all over the place it might get worse. And after a few weeks they suddenly end up with an injury.  And nobody thinks about all the little and big (see above) kicks our players got in the weeks before. Every kick can cause a little damage till at the end the muscle, the ligament, the bone or whatever tendon gives up or falls apart.
Last season we examined the difference in contact injuries between the different teams and the numbers of contact injuries of Arsenal players was frighteningly high compared to other teams. Are we really that surprised when we see what other teams can get away with when playing Arsenal?
If this continues like it does I think we will see more blood from Arsenal players in the next months. Don't hold your breath if we see another leg hanging or lying in an unnatural angle from an Arsenal player. We already had Debuchy knowing what it is to be an Arsenal player.
I can imagine a few players from some teams looking forward to play Arsenal as they know they will be able to do what they want. I somehow fear that this Christmass period we might see our players being assaulted by one of the specialists of dangerous challenges. I hope that by then the refs will have stopped it.
But somehow I fear they will not act. As they didn't act last season. Or the season before. And before….
Oh finally. One last word. I kept it to last to expose those people who just barge down their comment without really reading the article. [And those that do will be deleted – it is a basic point here – commentary is for people who read the article – Tony] The Welbeck challenge in extra time at Chelsea was as terrible as the Cahill tackle on Alexis.  That should have been a straight red card. Still a bit of Manchester in the boy I think. Two reasons the ref only gave a yellow. One was to even out the Cahill tackle and the second one can be that he really is a useless ref.  But if you as a ref allow the Cahill tackle first wthout a red card, then you shouldn't be surprised that other players take matters in their own hand. They shouldn't, but that is because the ref let it come to this.
So Mr. Riley, enough is enough. Protect our players. But maybe you are the wrong person to ask this too….
Why does Untold support Mr Wenger?
The home page has the usual list of today's anniversaries.