By Walter Broeckx
I think I might have mentioned it before that being drawn in the same group with a team from Belgium was a dream scenario for the Arsenal Belgium supporters club of which I am chairman.
But then came the nightmare scenario of Arsenal getting only a small allocation of tickets. And we as local supporters club getting nothing. But after the first disappointment we decided that if Brussels didn't want us over there we would go to the most important city of Belgium: Antwerp. Ok maybe I say this as I am from the Antwerp region with a little bit of misplaced pride but Antwerp is the economic engine of Belgium. If you like it or not. FACT.
So we decided to meet in Kelly's Irish pub in Antwerp. Near to the Central station of Antwerp. Our railroad cathedral as the chauvinistic Antwerp people call it. I think we will have been with some 30-40 Arsenal supporters who were watching the match on the big screen. On a smaller screen we could see Liverpool being taken apart by Real Madrid.  But all eyes were firmly fixed on the big screen.
Now many of our members do have their own local team and they all have one thing in common in this: they rarely ever win a match at Anderlecht. So the hope was high to have a win now with the team that bonds us together. Fans of the Kakkers (the shitters – I kid you not), the Kustboys, the Smurfs (I kid you not), de Kerels, de Leeuwen (Lions), The Buffalo's, Blauw-Zwart,  most have their own team and can be rivals at one point in the season but we all gather under the Cannon.
So we are used to losing to Anderlecht in a way. It is the natural way of things in Belgian football. But surely Arsenal would teach them a lesson…. that was what we all hoped for. Prayed for.
The pre-match atmosphere in the pub was one of confidence. Despite being used to ending empty handed against Anderlecht we would do it. Losing to Anderlecht was the worst case scenario.  A scenario we wouldn't even consider. One of our members Tom  said jokingly that Anderlecht would get in front first and that we would score the winner in extra time.  We nervously laughed that option away. I now remember I should have asked him the lottery numbers…
At first I must say that contrary to my thinking in my pre match article Anderlecht had a very defensive starting line up. I remember the days when Anderlecht used to just play their own attacking game at home and by doing this they have managed to get the scalps of any other top club in Europe including the likes of Real Madrid and others. But those days are gone I think.
They played a big part with all their players well in their own half trying to hit us on the counter. And we played too slow. Way too slow. We allowed them to grow in to the match. Almost no chances for either team in the first half. A completely missed shot from Cazorla early on and a few good attempts from Alexis to open things up but a few of our players clearly not having their best day.  A poor first half from both teams and any neutral football fans will have turned to the Liverpool-Real Madrid match I think.
The second half was a more of the same. Still Arsenal playing with not enough pace. And on the few occasions when we did open things up Santi Cazorla couldn't get past Proto and a back header of Alexis fell right against the hands of the Anderlecht keeper.
You felt we needed to be careful to not get caught out. And we weren't careful enough. Our central defenders had to cover to the left hand side and the cross that came in was headed in the goal. Martinez taken on the wrong foot couldn't stop the header. We then had to start taking risks and go for it.
To be honest we didn't do that very well (the going for it I mean) for a long time. Anderlecht was in dreamland and their players raised their game and came close to scoring a second goal. A good stop from Martinez, a lucky stop when a ball hit the crossbar, … Our hearts sank in our shoes as we say in Dutch.  Many of us feared the worse. Being haunted by the many Anderlecht supporters the next day was what many of us were fearing.
Losing to Anderlecht would have been my personal low point as an Arsenal supporter.  You can compare this with the feeling a London born Arsenal supporter gets when you lose to the lot down the road.  That surely is the worst loss of them all isn't it? Well that is how we felt from minute 72. The nightmare with getting no tickets became an even worse nightmare.  Arsenal losing to Anderlecht? Never!
And then suddenly the football gods woke up. Maybe they remembered it was Arsène Wenger his birthday? I don't know what happened really. Ok, I do as I could see it with my own eyes. A Chambers cross going over the defenders and the onrushing Kieran Gibbs (eternally grateful for this) had a perfect volley shot that went in. Scenes in Antwerp…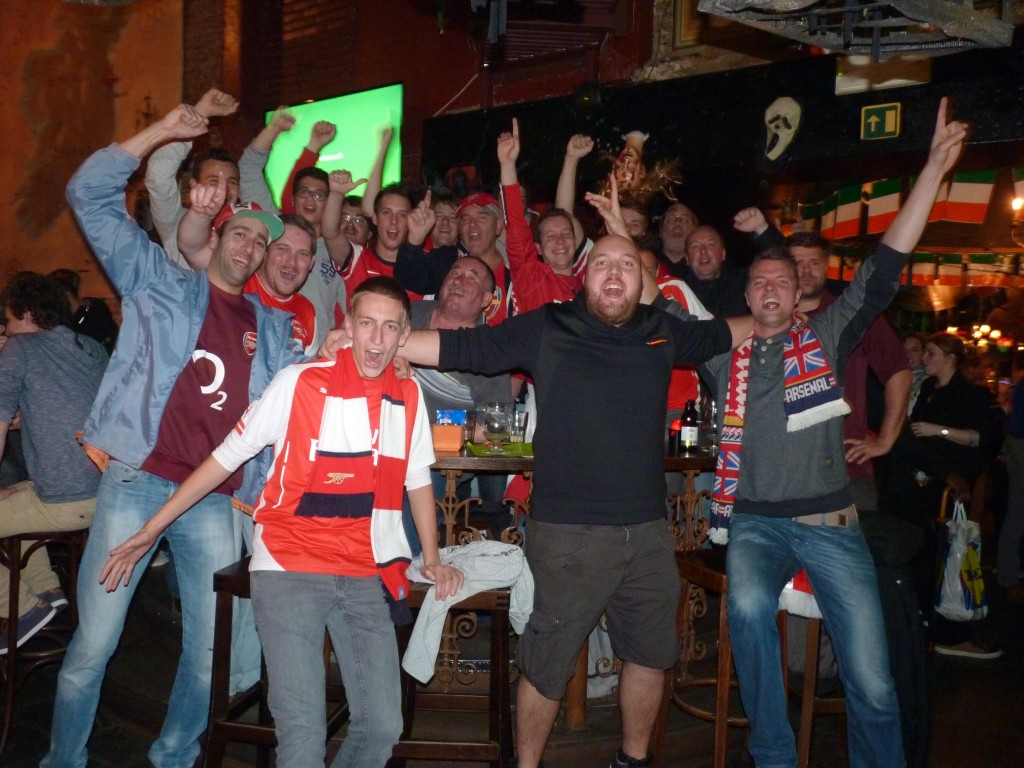 There was joy but more a feeling of relief. Ok, we didn't win but we didn't lose either. Still an embarrassing result and would get a few laughs upon us but well one point is better than losing to Anderlecht. Anything is better than losing to Anderlecht.
When the match restarted we also found new energy levels just as the players. You felt that we would still be able to turn this around in an unseen manner. This was like the CL final Bayern Munich-MU. Not playing well at all but saving the match in 2-3 crazy minutes.
Suddenly our players did what they could and should have been doing earlier: bypassing the Anderlecht players themselves. And when a Gibbs cross came to Alexis he had a low hard cross from the right. The defender blocked the shot and the ball fell kindly for the feet of Podolski. And one touch and then you knew that there was only going to be one place where the ball would end up: in the net.  He banged it in with a cannonball as only he can do it. Proto hardly knew what missile flew past him.
Lukas Podolski, the match winner. The player that saved the Belgian Gooners blushes. I think Arsenal Belgium will probably erect a statue of him somewhere together with one of Gibbs. Eternal gratitude from our part for those two players who turned what looked to become a miserable evening and a miserable day today in to one of: Yeah, we weren't great but to be honest we couldn't care one bit at the final whistle and we dominated proceedings at Kelly's Pub after the final whistle….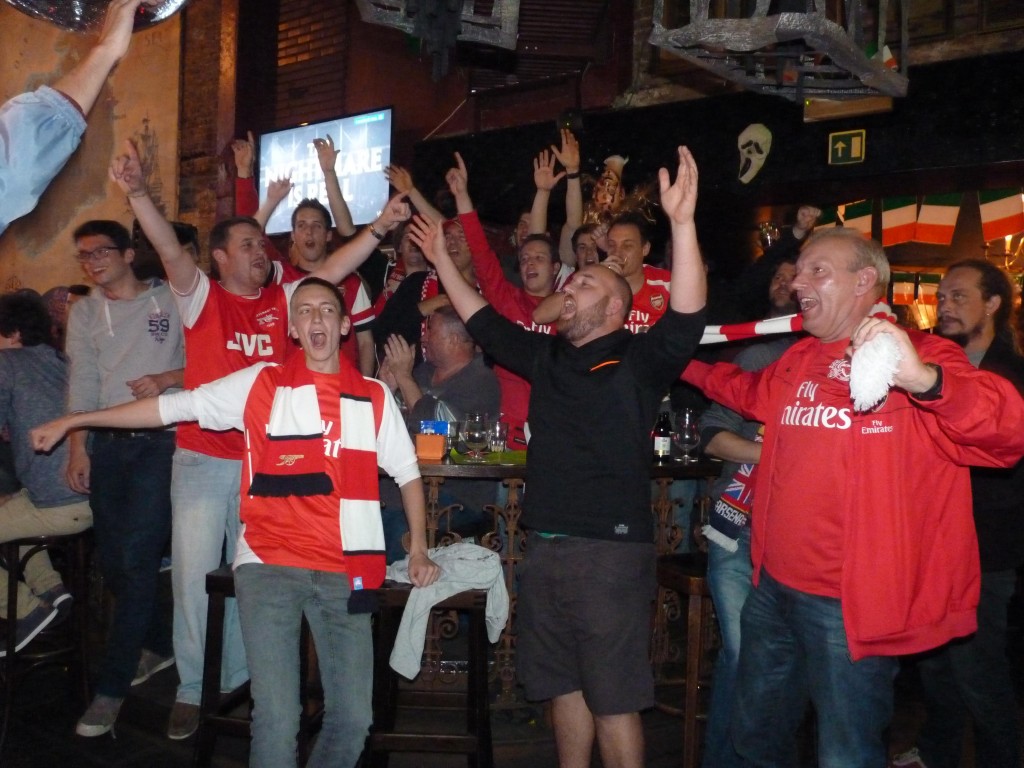 It wasn't pretty but we have to give our players one thing. We are out of form, we didn't play that well but at least they fought till the end. And that was what saved us. And that is all we can ask for at the moment. When you don't play well you just have to keep trying. And in the end it worked out for us.
Thank god it did. I didn't want to go to work today if we had lost this match. This was our NLD match. And then it doesn't matter how you win. You just win it. And to Tom who made that prediction before the match… he was spot on. He should have gambled on that, could have made him some money.