Sorry for the delay but finally we can resume our referee reviews and we continue with Arsenal – Manchester United.
Referee : Mike Dean

Apart from Arsenal missing too many chances the big talking points in the first half was firstly the not given penalty for a foul on Wilshere. Shaw blocked his run and brought him down so a penalty but with Dean this is of course not given.  Then Dean giving a few things to MU like free kicks in dangerous areas but nothing came from it.
Big talking point: should Wilshere have been sent off? Not according to Dean. And in this I agree with him. Wilshere was running away from the foul and it was only because of Fellaini came at him in a threatening way that Wilshere moved back in to Fellaini. I would have given both a yellow for squaring up to each other but it was the fact that Fellaini was aggressive in the first place that kept the red cards in the pockets. Hell even the FA and the review committee agreed with this version.  But still yellows should have been given to show that such behaviour is not allowed on the pitch.
At the end of the first half Dean again showed how useless he is in recognising dangerous tackles. Even Blackett held up his arm to apologise towards Oxlade-Chamberlain when he came in flying with his studs showing but Dean ignored it. And when a ref ignores such tackles you get….. what we got in the second half.
The foul on Wilshere by McNair was another throwing yourself in with studs showing and your body out of control and the final result was this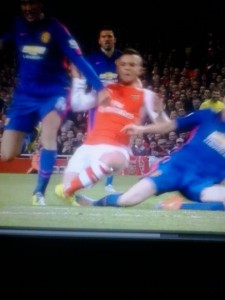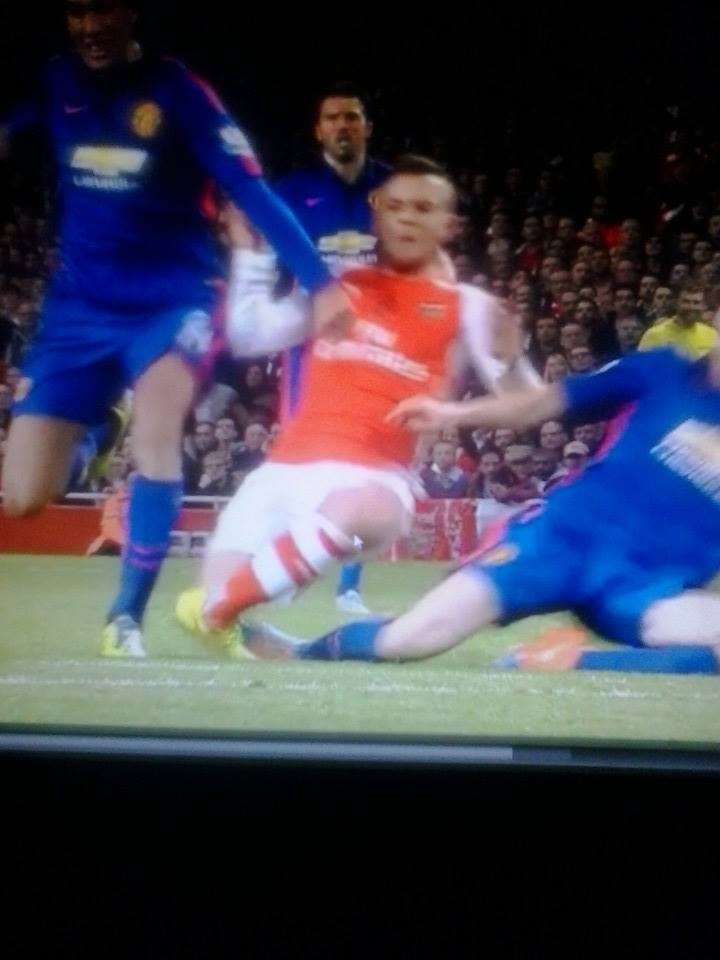 This was dangerous, reckless, being out of control when you jump in causing a serious injury. What more do you need to get a red card? Maybe a ref that can spot dangerous tackles? That would do nicely in such a case. Alas we know Dean all too well and this is just another Arsenal player being seriously injured when Dean is the ref.
How on earth did he not call a foul is beyond me. I still am completely amazed to be honest. Or should I not be amazed as after all it was Dean.
Dean who when the match was just restarted after a lengthy injury treatment and finally a substitution made himself again the useless man in the middle. Fellaini was offside but he had clearly instructed his assistants to not give offsides until a player touches the ball. I have seen this on a few occasions before when assistants held their flag down. But the rules state clearly that when a player interferes with play or with an opponent the assistant should raise his flag. He didn't do this when Fellaini pushed Gibbs with both hands in his back.
Then however Dean had to step in and do his job and punish the push. But as we have pointed out on many occasions before that one of the preferred tactics of Dean to screw a team (any team and Arsenal in particular) is to let fouls on defenders go. So Dean allowed Fellaini to push Gibbs onto Szczesny therefore causing the first MU goal but also causing another serious injury to an Arsenal player who had to be replaced.
Two injured players because of the ineptitude of the ref within 5 minutes. Even for Dean it takes some doing.
He then considered his job done and as Arsenal had to throw more and more men forward United could score on the break. A goal that only could come because of Dean giving United a head start before of course. I don't think Arsenal would have committed so many bodies forward if it was still 0-0. So another goal one could say coming from Dean his trickery earlier on.
Giroud pulling a correct goal back for Arsenal then leading to Dean being a bit useless once again.
He rightly booked an MU player for over the top time wasting around the corner flag. Then Di Maria suddenly lying on the floor acting dead, Chambers putting him on his feet again being rewarded with an elbow right under the nose of Dean. Who again…did nothing. Oh yes he booked Giroud who must have gone mad at Dean who seemed to let all pushes go on him from the moment he came on.
Final result however: Dean costing Arsenal points. Yet again. For the umpteenth time.  But the previews predicted it might happen and I think we have written half a dozen articles on this and other sites to show how Dean works in ruining a team and he did just that on the day.
Scores for the ref.  The first half score is in the upper part of this article. Sorry for that.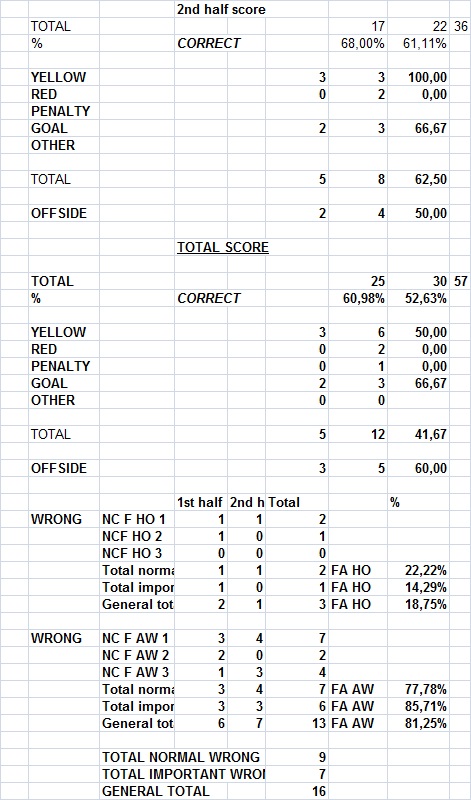 In the first half he only got 50% of his decisions correct. Only 50%. Let me repeat: only 50%! If we put weight on the decisions then it becomes even worse. Then the score drops to 38%. Only 38% Let me repeat : only 38%.
And if we look at the important decisions we come to a score of….. zero, nada, nothing. 0. A score of 0. I'm not sure but I think I have never seen such a low score on important decisions from any ref in all the years we have done reviews.
In the second half his score went up to 68% mostly because of the fact that he could give a lot of small fouls in the middle of the field. If we put weight on the decisions we come to a score of 61%. And the important decisions went up to 62,50%. Thanks to a few good goals and a few good yellows this time.
A final score of 60% in total, with weight only 52% and only the important decisions a score of 41% is a very bad score overall.
The bias? Three wrong calls in favour of Arsenal in total and 13 wrong decisions in favour of United. So a bias score of more than 81% in favour of United.
That was truly awful Mr. Dean.  Again allowing our players getting seriously injured and given goals against Arsenal when he should have acted. A typical Dean performance from his "good old days" it was.