By Andrew Crawshaw
Firstly, following Walter's review of Mr Pawson in our away game at Southampton, we have an updated Table of Shame – it is shown at the end.
That table reveals that there are still no signs of it starting to even out. Mr Pawson made two wrong Important Decisions (second yellow cards, red cards, penalties or goals), both against Arsenal.  In Minute 9 Wanyama should have had a yellow card for kicking Alexis from behind (not in itself an important decision) but in Minute 22 he was given a yellow card for a second similar tackle which should have been his second card and a dismissal and Southampton down to 10 men with the score at 0-0 mid way through the first half.
In the second half Gardos as last man brought down Alexis just outside the penalty area. It wasn't a penalty but amazingly Mr Pawson only showed him a yellow card. By this time Southampton were two goals up, who knows if we could have come back against Southampton playing with ten (or more correctly nine men). By the way I have not added any points to the favouring opponents column for this game.
On to this Sunday – as most of you know by now our officials are
Referee – Anthony Taylor
Assistants – G Beswick and D Bryan
Fourth Official – R Madley
So what can we expect? Again no surprises from me – Anthony Taylor is quite prepared to bend the rules far more than any other referee to punish Arsenal – he makes Dean look like an Arsenal supporter at times. We have had him in charge twice this year and he has without doubt cheated us out of points in both matches.
Leicester v Arsenal on 31 August (1 – 1)
His overall score was 61% and his bias was 7/93 (he gave one decision wrongly to Arsenal and 13 to Leicester) there were three wrong Important Decisions all in favour of Leicester;
Minute 50, Hammond pushed Cazorla in the penalty area,
Minute 58 Moore should have had a second yellow card for a cynical foul on Sanogo and
Min 84 Hammond should have had a straight red card for a deliberate stamp on Ramsey.
Stoke v Arsenal on 6 December (3 – 2)
His overall score was 59% and his bias was 100% against Arsenal (so he had watched the Leicester performance and improved on it – intended sarcasm) Again there were three wrong Important Decisions in favour of Stoke.
In Minute 28 Crouch should have been sent off for a second deliberate elbow to Mertesacker (amazingly he only got a first yellow card for another elbow in Min 45),
In Min 77 Chambers was wrongly given a second yellow card for the most minute of shirt pulls in the centre of the park (both of his yellow cards were ridiculous given the difference in scale of those fouls compared with those made by Stoke which went unpunished) finally in
Minute 83 Adams was allowed to practice his TNA Wrestling moves on Alexis which should have resulted in a lifetime ban (in my opinion). It was instructive that in this game both linesmen gave important calls to Arsenal to mitigate against some of Mr Taylor's excesses and this counted towards improving his overall score to a dismally low 69%
2013/14 Season –
We only had him once on 17 August for the season opener against Aston Villa where his complete inability to apply the rules of the game equally to both teams resulted in Villa winning three one.
As we didn't have him again the Club must have made representations at the highest level (they should have done so this year after the Leicester game)! Koscielny in that game earning Mr Taylor's wrath and two invented yellow cards and a penalty for a perfectly timed tackle. Villa allowed 'Carte Blanche' to do whatever they wished.
Match Review: Anthony Taylor – Reading Vs Arsenal (2 – 5) [17/12/2012]
– 70% overall, bias against both teams 16/84 and no wrong Important Decisions, I noted that he had a good first half but missed many decisions in the second half.
Match Review: Anthony Taylor – Sunderland Vs Arsenal (0 – 1) [09/02/2013] –
58% overall, bias against both teams 11/89 and two wrong important decisions
Min 24 Cattermole should have been sent off with a straight red card and in
Min 62 Larsson should have had a second yellow card and also left the field.
This was, by far, the lowest score he was given all season and it set the standard he has followed in all Arsenal games since.
Conclusions
1. Mr Taylor is an awful referee when it comes to Arsenal – he is to put it bluntly biased to the point of incompetence.
2. It is a disgrace that we should have him for a second time within two months and that shows the contempt that the PGMO have for Arsenal football club
3. Mr Taylor has a three year history of allowing opposition players to butcher Arsenal in all areas of the pitch
4. Mr Taylor has a two year history of inventing fouls against Arsenal players to give them yellow and red cards or penalties. Both Koscielny and Chambers can attest to that.
5. His wrong decisions are usually against Arsenal, 84, 89, 93 and 100% in the last four games this was recorded
6. If it were up to me this man would not be allowed within 100 miles of any ground Arsenal are due to play at
7. He will try to cheat his way to giving the points to Aston Villa again, I just hope that his two assistants show the same courage as Mssrs. Collin and Hussin did in the Stoke game and start insisting on decisions being correctly awarded.
8. If he continues to his normal form it is only a matter of time before we have another player stretchered off with a long term injury on his watch.
9. We can expect at least two wrong Important Decisions to be given against Arsenal, probably involving Aston Villa players not being sent off, quite possibly a penalty not being given to Arsenal or wrongly given to Villa.
10. The crowd at the Emirates need to be our twelfth man, Mr Taylor will undoubtably fulfill that role for Villa.
And so back to the start following Walter's review of Mr Pawson in our away game at Southampton, here is the updated Table of Shame :-
This is placed at the end as I have a type setting problem here – just scroll down and down to get to the comments section – Tony.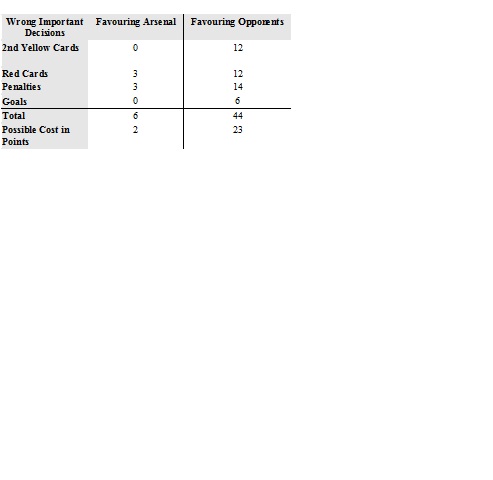 COYG