Ref for this match was Andre Marinner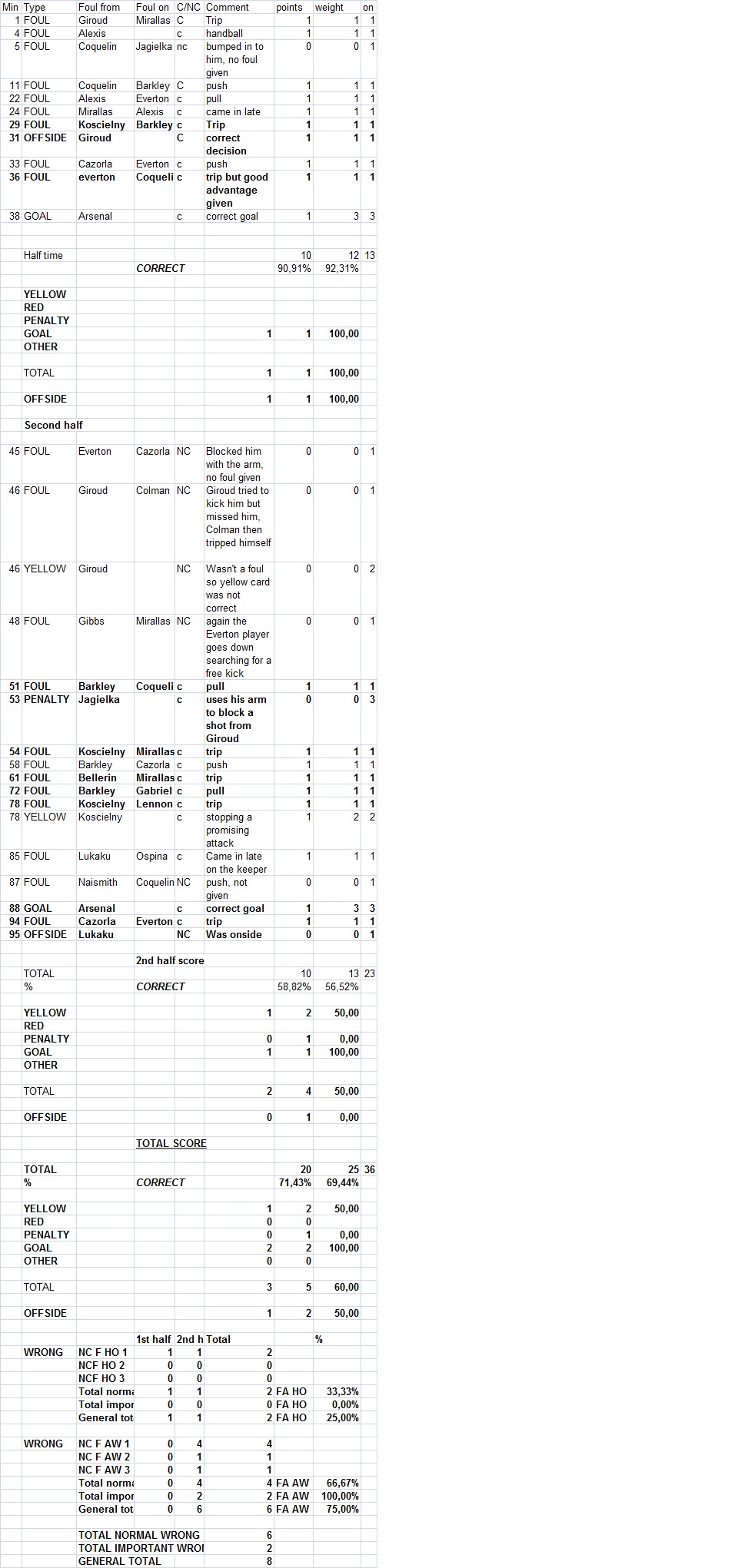 Well this was turning out one of the most boring referee reviews ever in the first half of this match.
Marinner missed a foul from Coquelin early in the match and should have given a foul to Everton…and that was it for errors in the first half.
Take note as this is one of the few times that I can report a ref having a half time report with a bias in favour of Arsenal. Of course if you only make one mistake this will always have a bad bias score but after all we have seen so far this season, we will take that one.
Of course as a ref you need both teams to be willing to make it a football match and not a kick match. So credit where it is due to both teams and in the first half even more credit has to go to Everton as it was mostly Arsenal making the (small) fouls in that half.  I could even note a good advantage given by the ref deep in the first half.
And the goal from Arsenal was correct and within the laws of the game.
So no surprise that the first half score from the ref was high. Very high. A total score of 90,91% in total. And when we put weight on the decisions the score goes up to 92,31%. And only looking at the important decisions the score was… 100%. Well done for this first half ref Marinner.
But then I don't know what really happened at half time. Because his first five minutes in the second half were disastrous. Okay, I do admit that Everton made life difficult for him with a few nice tumbles that looked fouls but weren't. Giroud getting a yellow card on top when he did tried to make a foul but missed the Everton player who then tripped himself. I can understand the ref's decisions on the field but having the benefit of being the video ref I would have whispered in his ear and corrected him.
Of course the events of him missing and making mistakes started with not giving the first foul. Cazorla was blocked by an Everton player who stuck out his arm and he let that go leading to the 'foul' from Giroud and yellow card.
And just when you thought that he started to get his act together he made a big mistake. Jagielka blocked a shot from Giroud with his arm. He swung his arm in the direction of the ball and he even almost got injured on his wrist from blocking the fierce shot. That was a penalty and might even have resulted in a yellow card but the ref missed it and just gave a corner. Maybe the assistant could have helped him out there? Who could have  helped him out there would have been a video ref.
Come to think of it, Mariner sending off an Arsenal player last season for a handball in the penalty area… oh well….
But then he got his act together again and got back to his high first half level. He then only missed the push from Naismith on Coquelin that resulted in Coquelin finally having to stop with his broken nose. And in the last minute an assistant signaled an offside from Lukaku but he was onside.
Of course with the bad start in the second half his score was not that good. In fact it was bad. A total score of  just under 59% and when we put weight on the decisions the score went down further to 56%. Looking at the important decisions his score was only 50%.
So if we put these things together and come to the total score we find that he has a score of 74,43%. When we put weight on the decisions the score is 69.44%. Looking at the important decisions his total score was 60%.
I must say that after his first half he could have finished a lot higher and should have. Certainly in a match that was played in a rather good sporting behaviour from both teams most of the time.
With a lot of mistakes going against Arsenal the pro-Arsenal bias from the first half was turned upside down. The bias now went in favour of Everton. 75 % of the wrong decisions went in favour of Everton.
So a great first half and then a complete cock up at the start of the second half. I wonder if he was too relaxed at half time in the knowledge that you had a superb match. Maybe he was getting too confident and relaxed just that fraction too much when he came out for the second half.
That is something that can happen to a ref but something someone with his experience should be very much alert to.  A ref is as good as his last decision one could say, and that happened to him when it went wrong. But he managed to claw himself back in the match and saved his score after a disastrous start of the second half.
————–
Two Tottenham anniversaries.  On this day…
7 April 1928: Tottenham 2 Arsenal 0.  A most disappointing result given that Tottenham were relegated at the end of the season.  In the remaining seven games of the season Arsenal drew six and lost one.  One wonders if the manager was booed.  His name was Chapman.
7 April 1980: Arsenal asked Tottenham to rearrange the derby at WHL as Arsenal had five games in 12 days, including a Cup Winners Cup match against Juventus scheduled two days after this.  They declined and despite resting numerous players Arsenal won 2-1