By Walter Broeckx
I have had the luck of being at Wembley when we played there two seasons ago in the semi final against Wigan. I always say that is there where the first signs became visible of our new team.  A new team that would go all the way. Only 2 years later we have been to Wembley 6 times and we won all those matches.
Not that it has been easy at times. We sometimes had to dig deep. Very deep. To overcome opponents but also to overcome terrible referees. The FA cup win over Hull being the best example. I will never forget how Probert denied us almost a handful penalties and make it a very difficult match to win. But we also made life difficult for ourselves at times. Certainly in semi finals we seem to have that habbit. But as a result we have now won the last 4 finals we played at Wembley.
A 3-2 win against Hull. A 3-0 win against Manchester City a few months later. A few months ago a great 4-0 against Aston Villa. And now the icing of the cake a 1-0 win against Chelsea.
Don't believe one word that for Chelsea it was just a pre-season match. No way, José. The way Ramires was send out to kick each and every valuable Arsenal player like Özil and Cazorla in the opening half hour showed his intentions. No prisoners would be made, only "dead" players from Arsenal was the target. It didn't work out that way. Well at least I hope as some of our players really had a few dangerous kicks on their ankles and foot. And Taylor was his usual useless himself by not acting. Or pretending not to see it. I have said it umpteen times : a ref should be very alert for players stepping (late) on other players feet. It is very dangerous and can cause serious injuries.
But I couldn't make it to Wembley this time. But we had sent out a little delegation from Arsenal Belgium for this match. 8 of our members had the day of their Arsenal supporting career. That is what I can make of their early pictures they published on the internet before the match and from within Wembley.
But they had something special with them. As we wanted to make our official supporters club more visible to the outside world we have ordered a few flags from our supporters club. It has on it the official logo that we got from Arsenal and below we put Victoria Concordia Crescit.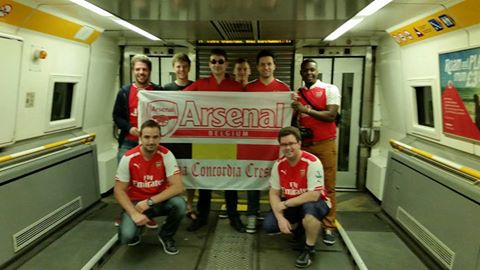 The flag underway to Wembley in the shuttle to Folkestone
And that flag was for the first time at an Arsenal match today. And it was the first time Wenger beat Mourinho in a match. One can say that it was The Ox who won the match, I say it was our flag that brought good luck to the boys.  Of course it is in a way meaningless and it will not influence the result at all but it sure didn't bring any bad luck to Arsenal to have our official flag in the stadium.
What I did see however was a few outstanding performances. Even though the sun makes it hard to sometimes see the match in good conditions as sometimes I couldn't see the difference between Arsenal players and Chelsea players on my screen because of the reflection of the sun and the ball going in and out of the shade in to the sun. But I did see a few players making great contributions.
Let me start with our match winner: The Ox. I have always admired him and thought he was a very promising player. But his goal contribution was below par. It was the difference between being a good prospect and really becoming a top player. And lo and behold that was excactly what he was thinking himself. And that is what seems to have changed from this season on.
It was a wonderfully taken goal. A little dummy from right to left, going on to his left foot and then BANG a thunder shot that left Courtois diving in the emtpy. The ball had already touched the net when Courtois was in the air. A wonderful goal. A great goal worthy to win any match. This week I had a discussion with my friends from Arsenal Belgium. Would you play Ramsey or The Ox. I opted for Ramsey as he scores more and gives more assists.
But I urged The Ox to prove me wrong this season. And I think he has read my thoughts on him. Keep on doing the way you are doing Alex, keep it up. Have your first wonderful year just as Aaron did two seasons ago.
And another stand out performer was at the back for me Laurent Koscielny. He was always present when Chelsea had a chance and was the defender that tried to get in the way. The chance for Hazard was a great example. His late tackle just did enough to make Hazard doubt for a split second and he fired over the goal. Cech making himself as big as possible and spreading his body will have done the rest. Koscielny almost got injured as Hazard then stepped on his leg when he came down on the ground but luckily he could continue.
Who remembers the times when Koscielny came to us and the moaners moaned and moaned and moaned. A player with only 1 year in the top flight in France. Pfew Wenger being stingy again. But as Wenger said it was his best value for money over the last years. He once again was impressive in this match I found.
But he was not the only one. All the players did their duty for as long as they were on the pitch. Working hard and not forgetting their defensive duties. The only regret I have is that we could and should have scored another goal in the second half. That would have killed the match off completely. But then again winning a final is about having scored most at the end. And that is what we did.
A very enjoyable and mature performance. We had the best and most clear cut chances in this match. If our players can keep their focus on that level for the next 38 PL matches things look good. Keep it up Gunners! But never forget that it will take each match to work hard and never think things will come from itself. I hope that the old heads will keep this in the mind of the younger players.
Oh and we will bring our flag with us from now each time. So if you see the flag in the Emirates in the future, I and my friends will be around. Hope to see you then.