By Walter Broeckx
Lots of fuss has been made and rightfully so of the behaviour of Suarez who had an appetite for human flesh in his career.
Biting is unacceptable behaviour and it is something that usually is removed from the behaviour of little kids. You still have a few biters before the age of 6 but after that you usually don't have many people around who will bite their way through life.
Clever people will know that biting can be dangerous. It can transfer diseases and inflict open wounds. So it is a behaviour deemed totally unacceptable in society and also on any football field.
But in the early ages of human beings apart from biting you also have some kids who will try to scratch when they feel up to it. And again this is a behaviour that is often seen together with the biting and that should be removed as quickly as possible from the behaviour of little children.
Because just as with biting, scratching can cause open wounds to the people receiving it. Both are unacceptable. And even more when the aim of the scratching is the face. Or even the eyes.
Scratching a person with your nails in his eyes can cause terrible injuries. The eye is a very delicate thing and the last thing you want to happen to an eye is that something scratches it and makes a wound. An infection in the eye as a result of scratching can cause blindness. And becoming blind in one eye is bad for any person but if this would lead to not being able to do your job it is just plain terrible.
Now if we want to look at the Costa incident with Kos we have to take a closer look at how he tried to hit Kos. Was it with a flat hand? Then it is always a straight red card of course but in most cases it can't really inflict a big injury. But however if one raises his hand and tries to catch him with you fingers bent then you are trying to scratch someone.
And if you do this aimed at the eyes of a person I think this is something that is worthy of being prosecuted by the police as it is a deliberate attempt to injure a person.
So let us look at a close up from the moment that Costa is lashing out towards the face and eyes of Koscielny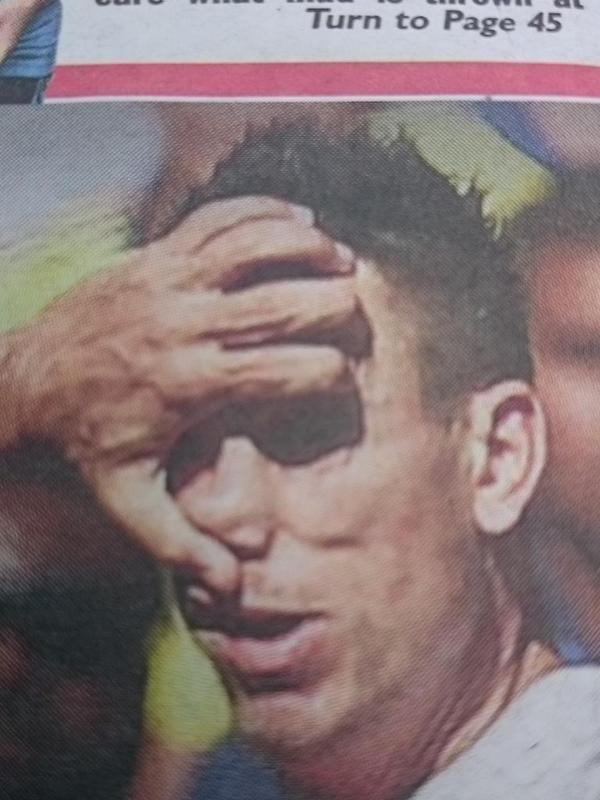 You clearly see with me that Costa has his forefinger and middlefinger bent in order to scratch Koscielny. You cannot see his nails on the picture because he is trying to bury them in the eyes of Koscielny. Can we offer exhibit 1 to the FA for showing that what Costa did was not only unacceptable but also dangerous for the health of his opponent. Costa raised his hands deliberate as it was a completely unnatural move for him and then on top of that he tried to scratch and injure the eyes of Koscielny.
On top of that we also can prove that Costa didn't do this as a one time mistake. No seconds later he again had his fingers bent when trying to scratch a player, this time Gabriel.
The result of Costa bending his finger nails once again can be seen here: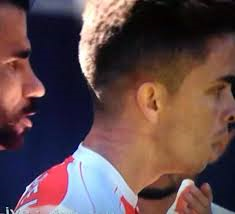 So what we clearly have here is a player, Costa who uses his finger nails deliberate to try to injure his opponents.
Not just a one mistake. No just as Suarez he seems to be having some kind of behaviour problem.
Suarez has been given punishments that went bigger and bigger in order to stop his unacceptable behaviour. He now is one year bite-free and part of the agreement with Barcelona was said at the time that he would follow a course to stop this (childish) behaviour.  I say childish but for a grown up man this more sounds like psycho behaviour.
So Costa seems to be obsessed with scratching other players. As unacceptable as biting other players. In fact the chance that Suarez would be able to bite a player to blindness seems very small but the chance that Costa would injure a player and make him blind is obvious very big as he tried to do this twice to Koscielny in the space of 20 seconds.
As much as there is no place for a biting vampire on the football field, there should be no place for eye scratching players.
But then again when you have a manager who has been practising the 'art of eye poaching' himself when he managed Real Madrid you don't have to be surprised if his players end up doing the same on the football field.
So if the FA only gives Costa a 3 match ban they totally ignore the fact that it was not a flat hand smash but a much more dangerous bent fingers slash in order to scratch and injure the eyes of Koscielny. An injury that could have lead to serious repercussions for Koscielny and his future career.
You don't cross some lines. Trying to scratch in the eye of an opponent is far worse than biting a person because of the fact that the result can be much worse for the player on the receiving end.
There is no place for this. Not in the streets and not on a football field. And this has been explicitly agreed by FIFA and FIBA when they set out the guideline that players are not allowed to wear rings because that it can cause very bad eye injuries!
So it will be very interesting to see how the FA will look at it and if they find eye scratching acceptable behaviour or not. If they don't make it more than 3 matches they open the door for serious injuries and if Costa or another player finally injures a player and cost him his career I hope that this player will sue the other player and the FA and the PGMO and make them pay for his damages.
—————–