.
By Blacksheep
Yesterday's disappointing draw – disappointing mainly because we seemingly threw away a 2 goal lead by allowing a clod hopper like Andy Carroll to score a hat-rick – led to the display of 2 banners at the Boleyn Ground.
One read:
Love Arsenal / Hate Kroenke
and the other (sadly) had the words:
Every good thing has an ending / au revoir Arsene
 I, like Tony, am a season ticket holder at Arsenal and I've hardly missed a game all campaign. I've experienced the highs (beating United for example) and the lows (collapsing to Anderlecht in particular) and whilst I'm not by nature a quitter last week's defeat of an otherwise engaged Watford didn't convince me that the league title was anything more than a very outside possibility.
I suppose I'd decided just to enjoy the final few games and hope that results went our way. They still might, that point might make all the difference but I personally doubt it.
So I understand the frustration that my fellow Gooners are feeling right now; even fiercely loyal fans like Tony, Walter, Andrew and I can feel like the team/club/manager has let us down or blown a great chance.
It hurts. I get that.
Sometimes I look at our defending as a team and ask 'who coaches this?' or 'does ANYONE have a clue what is going on?'
This is a perfectly normal reaction to watching your team go from world-beaters to also-rans in the space of 10 crazy minutes. But I don't really understand why you take a banner to a game that demonstrates that you don't want the current manager to stay. I can't really see how that helps anyone.
Not the team, or the manager, or the club.
Maybe it is time for Arsenal to part company with the most successful manager we have ever had. I'm not blinkered and despite being a massive fan of Arsene Wenger I don't consider myself to be an AKB (Arsene Knows Best). Untold's banner on permanent display at the Emirates was my idea but whilst it has Wenger's profile on it and his words the sentiments hold true whoever is manager of the club I support.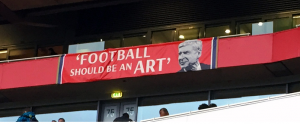 Football should be an art – it should be beautiful and entertaining to watch. Wenger's philosophy has given me and countless others so much pleasure over the last 20 years.
But if it is time for him to move on who replaces him? This is the question I keep coming back to. Guardiola is going to Citeh, Klopp is at Liverpool!!, I don't want someone like el Moanio at our great club because he would tarnish it. United have struggled to find a replacement for SAF, Sp*rs have finally uncovered a talent it seems but how many managers have they tried getting there? There just isn't an obvious person who can come in and make all the changes that the WOB seem to think he will.
Of course Arsene will not be the Arsenal manager for ever, he is even older than Tony and the man (AW not Tony) needs a rest. But chucking him out now will be a disaster for out club and for our team. Mark my words.
The transition has to be managed very well and I think Arsenal must know that. Kroenke might be the titular head of the club but does he run it? Ivan Gazidis knows football and I hope he is looking to secure the succession, whether that is today, in the summer or in 3 years time.
So ditch that banner chaps, and support the players for the next few weeks – who knows what miracles might happen!
I have more understanding of the other banner (although I think it is a tad pointless nevertheless). Stan Kroenke is a very rich businessman who may care something for his investment but will never love Arsenal like we do. No owner is like that, not 'silent' Stan, Abramovich, Lerner, or the sheiks. If Tony and I bought Arsenal we'd be different but that ain't going to happen.
Football is a multi-million dollar industry, especially at the elite end where AFC operate. Mere mortals like us can't influence men like Kroenke any more than Cnut could prevent the tide from coming in.
So while I understand and largely share the feelings of those who want Kroenke out I wonder again just who we would replace him with? Usmanov? no thanks. Mike Ashley? no way. An Arab consortium? No on your nelly.
In short whoever we get would not be 'an Arsenal man' and without a manager as fundamentally hard wired into this ethos of this club as the present incumbent I fear that we might become as soulless and corporate as Chavski, Citeh or any number of once great football clubs.
So Arsene is more than Arsenal's manager for me; he is the last remaining link with Highbury and what this club represents. If he goes I think we are in for a rocky ride and uncertain future. If however, he stays and smooths the transition for the new guard (no pun but Remy anyone?) then I'd feel more comfortable.
Anyway folks, be careful what you wish for…
—–
From the anniversary files (today's full index is on the home page with a link to the complete index of 5000 events in the club's history)
10 April 1979:

Arsenal 1 Tottenham 0.  53,896 saw Stapleton score. But in the remaining seven matches Arsenal had only one more win… 5-2 against Chelsea.

10 April 2011:

Jens Lehmann played against Blackpool after

Almunia

was injured in the warm up.  It was his 200th Arsenal game, and he had been brought in as an emergency sub while doing his coaching badges.
Untold Arsenal has published five books on Arsenal – all are available as paperback and three are now available on Kindle.  The books are
The Arsenal Yankee by Danny Karbassiyoon with a foreword by Arsene Wenger.
Arsenal: the long sleep 1953 – 1970; a view from the terrace.  By John Sowman with an introduction by Bob Wilson.
Woolwich Arsenal: The club that changed football.  By Tony Attwood, Andy Kelly and Mark Andrews.
Making the Arsenal: a novel by Tony Attwood.
The Crowd at Woolwich Arsenal by Mark Andrews.
You can find details of all five on our new Arsenal Books page