By Walter Broeckx
Yes we and certainly I hate international football. Not just for FIFA or Uefa but for the fact that over the last 12 years or so it has cost Arsenal a few trophies.
Time and time again we see our players being taken away to play for their country and more than once we get a player back on crutches and being out for several weeks or months.  Robin Van Persie was probably the worst case we have witnessed over the years but many others like Vermaelen were maltreated when away on international duty.
Last season Alexis got a muscular injury. Overplayed they said. And Wenger was blamed.
Now let us get the facts correct. Alexis is working for Arsenal. So Arsenal is the team he should play for. Not for any other team. But as the crooks of  Uefa and FIFA have decided that when a country calls on a player the team has to release them.
But the fact is that a team is counting on their players to be able to play for their club. And when a player is injured they can't play. When a player gets injured playing for their clubs one could call it the risk of the job. I think most clubs will have an Insurance to cover costs when a player gets a long injury.
So when Ramsey broke his leg playing for Arsenal I had no complaints about him getting injured. He was on Arsenal duty. I do have complaints of course about the fact that the PGMO representative on the day was letting things get out of hand and thus the Stoke players went in like madman and a serious injury was an accident waiting to happen.
But because the injury happened playing for Arsenal he is a hero for me. Mind you I rather don't have such heroes like Eduardo, Sagna (twice), Ramsey, Diaby…..
But when a player comes back from international football completely wrecked…. then I get pissed off. Then I get really angry. Then I curse and swear against Uefa and FIFA and all those FA's who dare to take our players away.
Returning back to Alexis last season. Overplayed. Then the real question is: by whom?
Was it Wenger who organised a Copa America in a time when players should get rest after a long and hard season in the PL? NO. It wasn't Wenger. Because let us be clear about it when players get overplayed this is not because their club demands too much. No it is because the calendar has to fit in all kinds of international matches during the season causing disruption and lots of travelling from left to right, East to West  and back.
It is Uefa and FIFA who organise tournaments and if they could they would do so each and every year during the summer period when players should be able to have a rest. Now the resting period is shoved down the throats of the clubs and they have to miss their players during the preseason leading to far less than optimal preseason conditions for the players who played in tournaments.
A result is that the players struggle to get completely match fit, train even harder, over train, get little niggles and finally get injured.
People then blame Wenger but as I said if they could only leave the players alone during the summer and let the Arsenal staff work on their fitness from the start…just imagine that scenario… could it be that we would get a significant reduction of injuries? I somehow think it would.
Last weekend Alexis played the Copa America. He played in the final. Chile – for whom he plays – won the final against Argentina. So far so good. Excellent for Alexis. But then we know he had to be taken off in the extra time. With an injury. Oops suddenly it isn't that good anymore.
Was it a serious injury? We don't know yet. But what we do know is that Alexis posted a few pictures of his foot. And of the tackle that caused the injury. Disgusting pictures. But we will show them to give you an idea.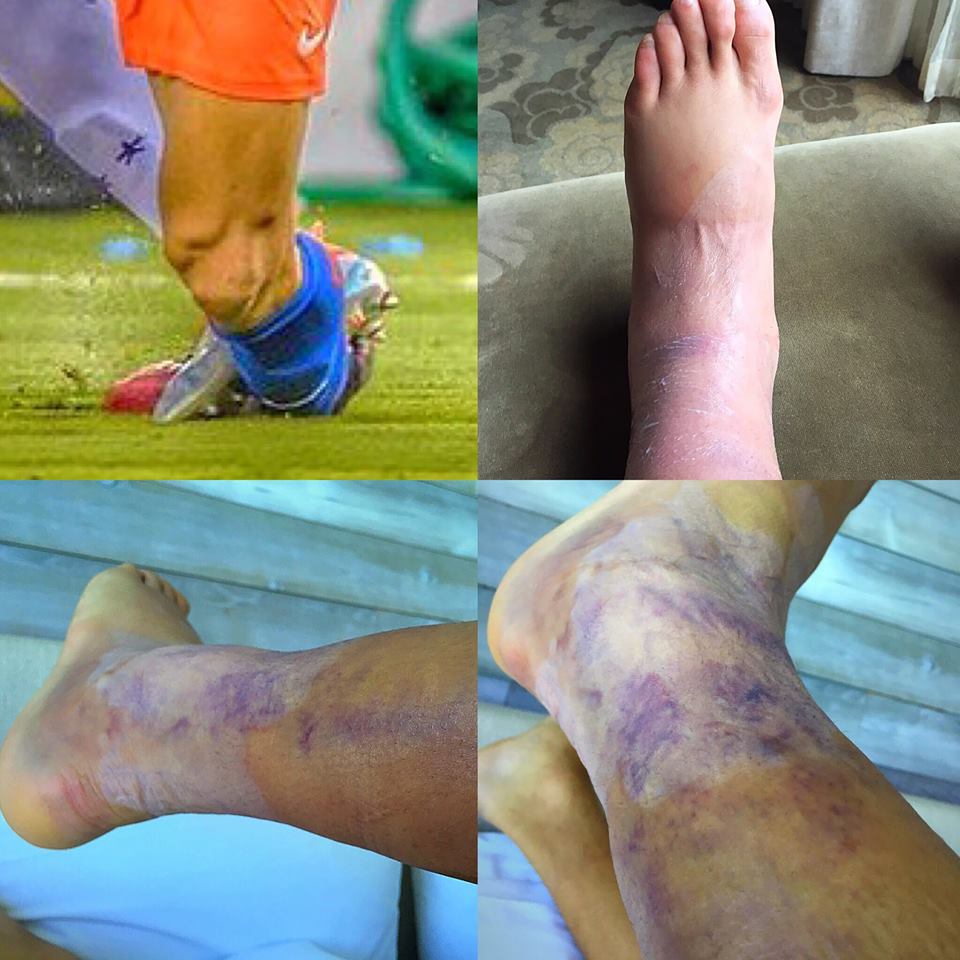 A picture is worth ten thousand words, as the saying goes.
A terrible tackle (look at the bending of his ankle… ouch…) and then look at the result. A completely bruised and swollen ankle.
So here we have it the season hasn't started yet but we have our first injury. How long it will take for him to recover remains to be seen. But this injury even when healed might be the prelude to the next injury.
Knowing Alexis a bit he will be keen to return as soon as possible. Force his body a bit and that might be the cause of more trouble.
And of course Wenger will get the blame when Alexis gets injured during the season.
But just imagine… just imagine that there was no Copa America this summer. Just imagine that Alexis would have been on holiday in his home town. Sit on the beach, play a bit with the kids, do some walking with his dogs.
Just imagine Alexis having a complete rest of 5-6 weeks? Okay knowing him he probably would have been running around on his own but that is not a problem. It is playing matches and getting kicked like he did that is the problem.
These pictures show why I hate international football. It's bad enough we lose too many players because of poor refereeing standards who allow that our players getting kicked left and right. But to have already one player out before the first training session because of some stupid international tournament…. the my blood starts boiling.
Where is the players Union? Where are they? They should be banging on the table of FIFA and Uefa and tell them this madness has to stop and they can get a good rest between each season and that all the players should be able to start at the same time with their preparations.
That would mean no more international football but looking at the pictures of Alexis ankle…… who cares?!
And elsewhere
1 July 1858: Charles Darwin presented the theory of evolution for the first time.
1 July 1916: The Battle of the Somme
1 July 1936: "Peace is indivisible".  Maxim Litvinov
1 July 1937: The 999 emergency service was introduced
1 July 1984: Naples paid £1 million for Maradonna.
"And elsewhere" appears on the home page every day.