By Tony Attwood
 7 reasons why Arsenal NEED to sell Giroud during transfer window
The Metro 17 May 2015:
Olivier Giroud running out of time to prove his worth to Arsenal
Evening Standard in April 
Wenger Is Not The Only Problem – Why Arsenal Should Sell This Attacking Duo In The Summer
April 25, 2016  Soccer Souls
Arsenal Transfer News: Olivier Giroud Named in 9-Man Fire Sale
If you had undertaken a poll among journalists about Olivier Giroud during much of last season you wouldn't have got an answer because most of them think that a poll is someone from Poland.  But if you'd ask people who call themselves Arsenal supporters without doubt some would have reflected the type of approach given above (which were chosen at random from thousands of negative comments about Giroud in March and April).
But now we have this…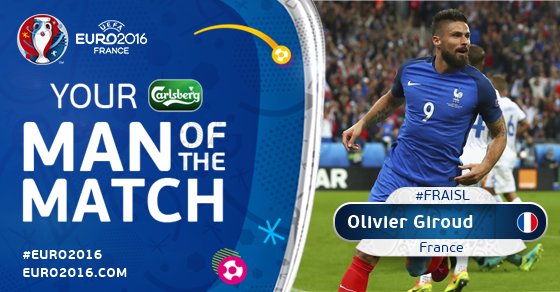 For France Giroud is the hero.  The Man of the Match indeed.
And what did Giroud make of it all?  "It's nice to be cheered but I'll always have a good attitude on the pitch," he said. "It's never been a case of seeking revenge or trying to 'prove people wrong' for what happened in the past. Never. I always give everything for my team."
Five years and 20 goals into his international career supporters of France have finally woken up to the fact that when you see what appears to be mindless gibberish written in the English press and hear it spouted on Match of the Day etc etc what you are getting is, by and large, mindless gibberish.  
Of course it is possible that Giroud might not have got his chance this summer had not Karim Benzema been dropped as he continued to face allegations that he attempted to blackmail Mathieu Valbuena in relation to an extortion scam over a video containing scenes of a sexual nature. 
But then again, Benzema has scored 27 goals in 81 games.  Giroud 20 in 53.  Those figures themselves don't suggest that one is the saviour and the other a donkey, but that is how some in France have portrayed the players.  
And so the camp followers latched on and booed Giroud each time his name was announced.  Not particularly because they didn't like him, but because they had got the notion that the manager didn't like Benzema because of his Algerian heritage.  Or maybe they had studied videos of the aaa and taken them as a blueprint for support rather than a dire warning of what the aaa get up to.
Giroud scored 24 goals for Arsenal last season, and was booed by people who seemed to be suggesting that Arsenal needed a 20 goal a season player which is an interesting perspective.  And indeed he got those goals despite being dropped to the bench for two spells.
And once again, after being booed in the warm up to the Scotland game he scored twice.  Then he scored the opening goal of the Euros.  
So how come the media and their aaa allies could attack a 24 goal player who is lauded by the media (no less) for his performances for France?   
As usual with both the media and the aaa it is their abject refusal to consider analysis and evidence that gives them the problem.   Oliver Giroud is not a standard big number nine, with elbows out knocking defenders to the ground and leaving them with a bloody nose as he poked the ball in.  Likewise he is not an Henry with amazing speed followed by a deadly finish.   He is a player who works best when he has other players around him who distract the defence.  
In France that means Dimitri Payet and Antoine Griezmann.  With Arsenal it means Alexis, and when he was bursting with form, Theo, either side of him, and Mesut behind.  It can also work with Iwobi, Campbell… the players who can turn it on in a trice and bemuse the defence.  Then Giroud is deadly.  
What makes this even more interesting is that Giroud's statistics are by no means bad, even if you consider him just a number 9.   His goal scoring record with Arsenal has been
Season
Total
Games
Goals
Percentage
2012–13
47
17
36.17%
2013–14
51
22
43.13%
2014–15
36
19
52.78%
2015–16
54
24
44.44%
Total
188
82
Yes if you were looking for a classic centre forward you could say he ought to score more.  But when you consider that Alexis has scored 29 in 65 games at Arsenal, (44.61%) overall, compared with 39 in 88 when at Barcelona, (44.32%), it is self-evident that when Arsenal have both men playing injury free and on form, it is a very powerful combination.  Each serves as a foil for the other and no defender quite knows what to do, other than kick the hell out of Alexis.
Hugo Lloris made a point akin to this relating to France saying Grioud "works so hard for the team, puts a lot of pressure on the opposition defence in the air, and other players can benefit from his hard work, like Antoine Griezmann against Albania. So we have been backing him from the beginning. And, for his confidence, it will have been good for him to score twice against Iceland."
Indeed looking at the abuse Giroud gets we can understand why so many of the aaa announce that "you can prove anything with statistics".  The answer is "of course you can, but not if you use them properly".
Here are Giroud's stats at Arsenal….
Season

League

Cup

League Cup

Ch Lge

Ch Shd

Total

App
Goals
App
Goals
App
Goals
App
Goals
App
Goals
App
Goals
2012–13
34
11
4
2
2
2
7
2
47
17
2013–14
36
16
5
3
1
0
9
3
51
22
2014–15
27
14
5
3
0
0
3
1
1
1
36
19
2015–16
38
16
5
3
2
0
8
5
1
0
54
24
Total
135
57
19
11
5
2
27
11
2
1
188
82
If Arsenal were to buy a classic number nine (a sort of latter day Malcolm Macdonald), then the rest of the attacking approach by the club would have to change.  If we ever found another Thierry Henry, then we'd need another Robert Pires to take up a position at deep lying centre forward when Henry went out onto the left wing.  Each centre forward has a style that then demands a certain approach to play around him.  It isn't just Giroud – it is everyone.
Statistics are helpful and interesting, but a need also exists to understand the tactical approach underlying the situation.
Here are the latest comments on Giroud in the media.  And as they say in examinations, "compare and contrast with those above."
France's Euro 2016 goal-machine Olivier Giroud revelling in love of fans who booed him just weeks ago
Mirror.co.uk‎ – Yesterday
Olivier Giroud: 'It's nice to be cheered but I'm not trying to prove people wrong.'
www.theguardian.com – Yesterday
Olivier Giroud's masterclass,
www.eurosport.co.uk – Yesterday