By Tony Attwood
The other day we had a note from a reader saying that we shouldn't trust the web site Who Scored.  Unfortunately in common with so many correspondents no supporting evidence was provided as to why this was the case.
Which is a shame because I would have liked to know.  I haven't found too much wrong with it in the past… here for example is one of its tables….  Players across Europe in the order of number of assists.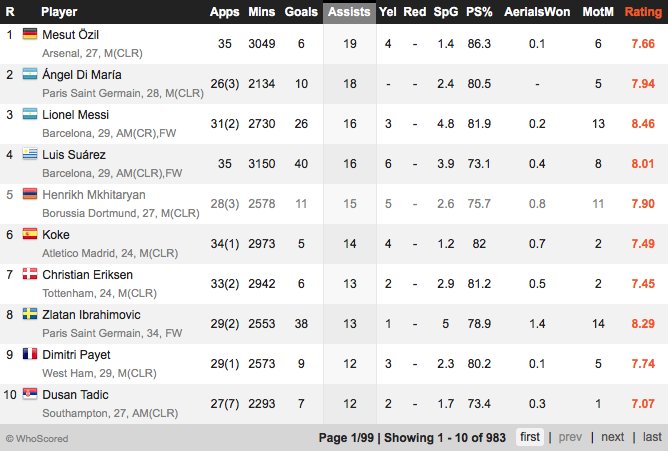 What I wanted to know was whether the allegation was in terms of a bias towards and against some clubs, or just that the stats were quite wrong.  Or was it that they didn't like Ozil being top of a list.  Sadly I wasn't told.
Inevitably I started wondering why someone would take the trouble to write in, in this way, saying this bunch of stats is no good, without explaining why.  It seems an odd thing to do.
However I did get a bit of an answer when apropos something quite different one of my colleagues at work forwarded me a note about an article on the BBC web site which read "Social media harms moral development, parents say."   Quite an interesting thought.  I think we can see how every day.  But what we do about it, I have no idea.
Anyway, this led me on to thinking about Raymond Verheijen, the former Wales coach who has spent a lot of time laying into the Arsenal manager, saying that his stone age training methods were to blame for Arsenal always being top of the injury league.
Mr Verheijen has built up an industry by calling everyone who isn't named Verheijen a complete incompetent – although usually without any real evidence.  His argument about Arsenal's injuries was ok as long as the press were happy to reprint it all day long, but not so clever when we actually did the basic research and found that Arsenal's injuries were not far from the average.
Since our expose of Mr Verheijen's invented statistics he has gone a bit quiet, but is back now having a go at Jürgen Klopp and Antonio Conte.  Having commented on Liverpool's injury list last season he's now gone for them full time.
It is interesting that Mr V has backed off Arsenal so much however; I think we were helped by the fact that the Telegraph took up our piece and ran it as "Revealed: Arsenal are not the most cursed Premier League club when it comes to injuries" – which was a bit frustrating considering we did the work, but par for the course.
Anyway Verheijen is now back with attacks on Klopp's pre-season approach, as well as taking a few swipes at Conte as well.
But although these are different clubs Verheijen's message is the same, the training methods are outdated.  So since then he has been twatting away for the benefit of anyone who wants to read.
Having backed off Arsenal in the face of overwhelming evidence Verheijen predicted that lots of other clubs would get injury crises because of the way the players were being trained.  And Liverpool came up trumps losing 11 players.  Then they went on to suffer quite a crisis although not the worst of any team.  Here's the table we re-published at the end of the season
Apparently Mamadou Sakho and Joe Gomez both suffered Achilles tendon problems last week.   Joel Matip got a foot problem in the first pre-season game.
Verheijen claims he is a consultant for several FA's and clubs and that he has been involved as a coach in virtually every world cup and Euros for the past 12 years.  He is also CEO of the World Football Academy, which its website describes as the "world's leading independent education institute for coaches, staff members and practitioners. As a major knowledge provider to several FA's and clubs around the world, the WFA is the prime contractor for thousands of football specialists."
One thing we can predict is that anyone who doesn't follow his approach will be a called a dino.
And elsewhere… "The great masses of the people will more easily fall victims to a great lie than to a small one."  As true today as it was when written in 1923.
"And elsewhere" appears on the home page of Untold each day, along with all the anniversaries.