By Walter Broeckx
As you may have heard I have been in the TV studios again. And it was a far more relaxing experience this time than last season.  You might recall I then was invited on my own to sit next to the super pundits in Flanders and one "famous" Tottenham supporter.  I then was sitting in the spotlights but now I was enjoying the whole thing more from behind the scenes.  But let us start with how it started.
Our sports channel Play Sports is what you could call the Sky in Flanders. As they are a Dutch speaking TV channel they only cover the Flemish part of Belgium. When I was on holiday they sent a letter to our supporters club asking if we would be interested to be in the studio to watch the match against Chelsea. My board members did all the work behind the scenes and 18 of us (the maximum number we could take) were present before the match.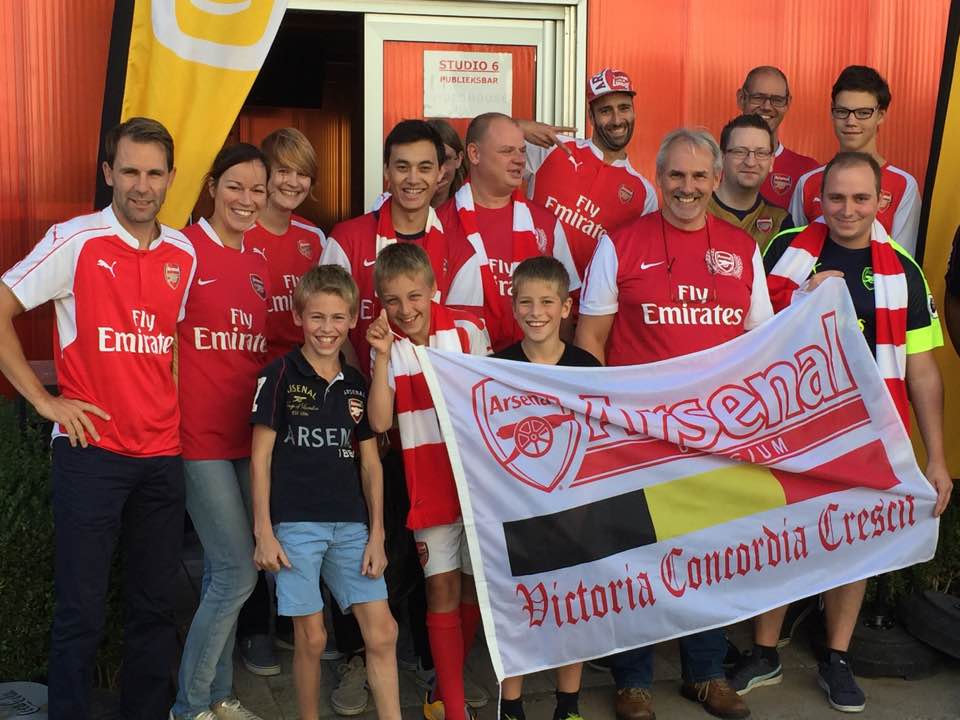 Outside the studio before the match. We looked rather confident didn't we?
Play Sports is trying to bring something extra to their TV football shows this season by bringing in supporters from the clubs involved. So we had the Belgian Chelsea supporters club (Mighty Blues Belgium) and Arsenal Belgium. Sitting next to each other and this was the view we had from our seats.
A view on the pundits. All 4 of them.
But to be honest and as they said before they are still trying to see what works best. They want to find a balance between letting the pundits (4 of them)  do their thing and give the supporters a place in the show. Now the supporters sat far away from them but other ways of arranging them around the pundits were explored during the match.  Now we had to remain silent each time the pundits were doing their thing. A bit frustrating certainly when super pundit Jan Mulder asked for a reaction from us Gooners. Sorry Jan, we had been instructed to remain completely silent and as we didn't want to risk being not invited again we behaved very correctly, doing what we had been told to do and not to do.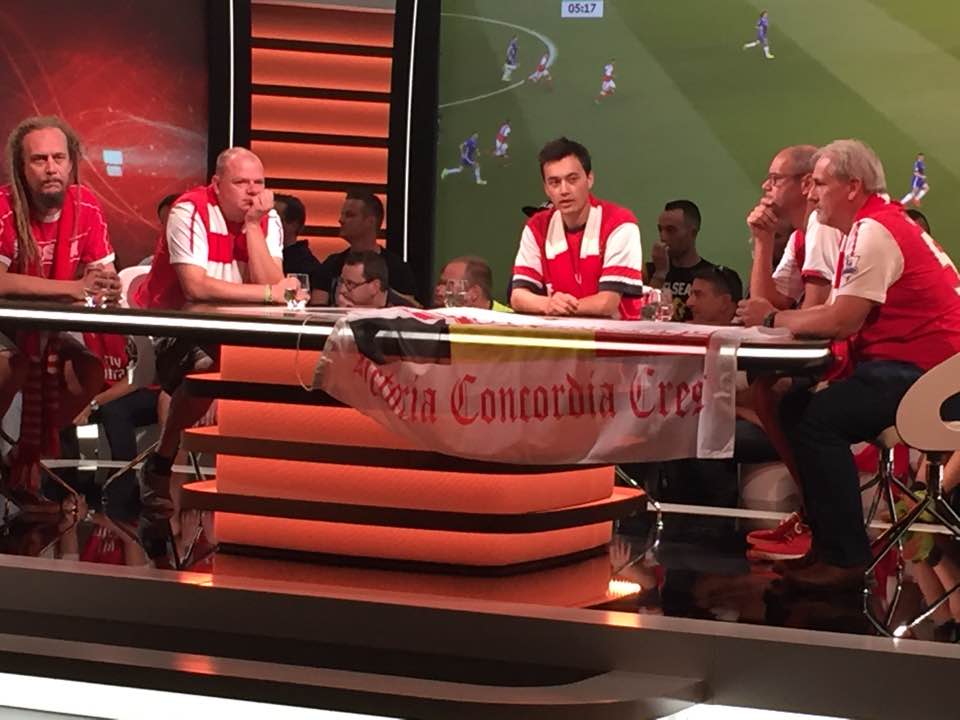 Testing different set ups with our members and our club flag  taking centre stage and looking with high concentration on the screens as the match had already started
Before the match we were a bit nervy of course.  But when we arrived at the public bar where we would follow the match after having tested other setups in the studio while watching on the big screens we almost immediately scored. That made us smile a lot of course.
And when Theo added our second we went completely mad.  As you can see in the picture during the match we were all smiles already at 2-0. We were so dominant that it never looked as if Chelsea could come back in this match.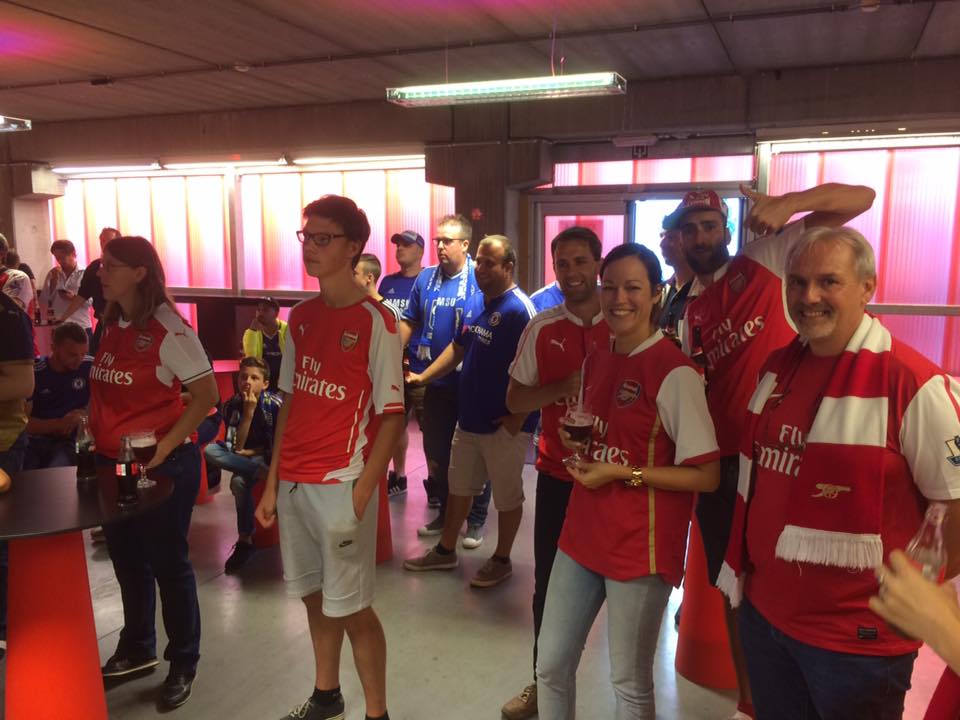 All Arsenal smiles and one naughty (Chelsea) boy
And when Özil kicked in our third it was just a case of  enjoying every single second till the end. The Mighty Blues didn't feel very mighty anymore. In a way I felt a bit sorry for them. It must have been a painful moment to see your team being played off the pitch by Arsenal and that in the presence of the Arsenal Belgium supporters.
I must say that the Arsenal Belgium group had a bit more diversity in their ranks than the Chelsea supporters. They had mostly adult fans and a few youngsters with one giving a dirty finger if you look closely on one picture… no class… like their club.
But Arsenal Belgium had 3 kids, 3 ladies, and for the rest only well behaved and decent people in our club and ranks. We not just beat them on the pitch but also on the ladies front. 3-0 Ladies!  Next time I will take Carine so we add a 4th.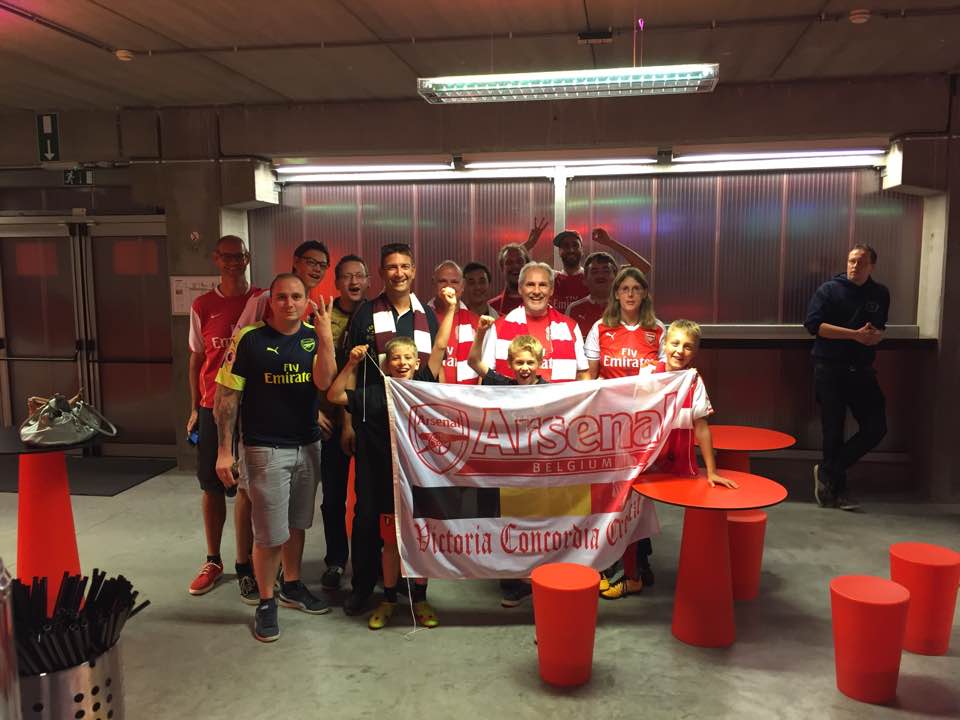 3-0 to The Arsenal. Can you guess who the one on the right supported?
So apart from the great moment we had in the bar and in the studio I would like to give the thoughts of one pundit in particular: Jan Mulder. He was on the losing side in the Anderlecht team when Arsenal won the European Cup in 1970.  And I sat next to him last season when we played Tottenham. There isn't a football match in Belgium without Jan Mulder being the pundit. This is because he can say things in a very expressive way (as most people from Holland can) and brings spice to the more cool way Flemish people express themselves.
Jan Mulder said some things that I could really appreciate. He was waxing lyrical about the approach Wenger brings to Arsenal. He disliked Conte for his defensive tactics and said it was a real shame for such a rich team to play such negative football. He completely enjoyed our demolition of Chelsea. He heaped lots and lots of praise on Arsenal for always (and that for 20 years long now)  going out and play attacking football no matter who they play.
About not winning the league lately he said that we shouldn't really worry that much. He said it would be nice to win but even if we don't win we have something that we can be proud of. Our way of approaching the game and trying to keep it the beautiful game.
He was a big admirer of Wenger: the manager who has brought an own identity to Arsenal and one that automatically links the name Arsenal with beautiful football.  I would have applauded him on more than one occasion but the guy who was watching the supporters had told us to not react at any time.
So thank you Jan Mulder for your kind words and for the picture later on with a few of the Arsenal Belgium ladies. Arsenal Belgium, not only the best supporters club from Arsenal in Belgium but also the best looking ones.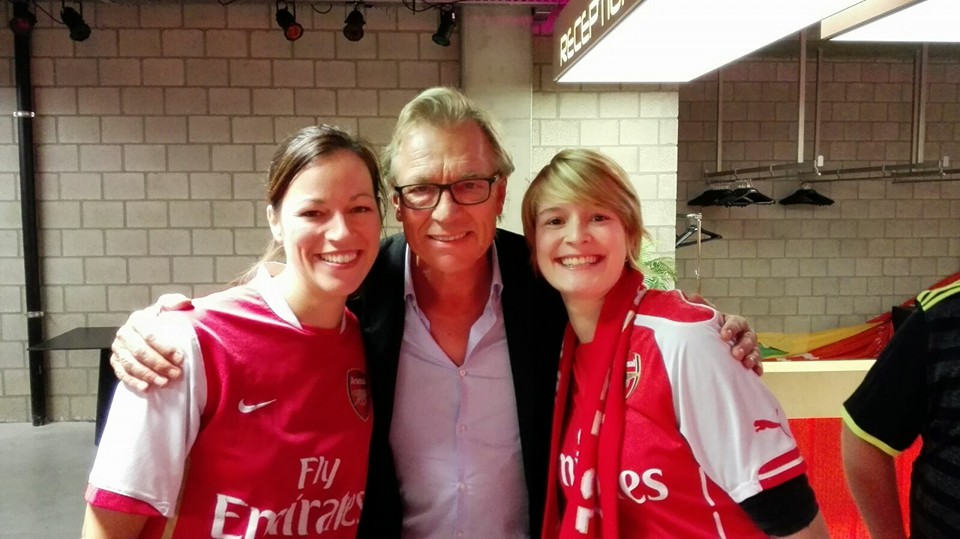 Jan Mulder and some of our lovely Arsenal Belgium ladies. 71 year old Jan Mulder  rather enjoyed it I think.
Just how well do you know your Arsenal history?  
The Arsenal History Society is publishing the most comprehensive history of Arsenal in the 1930s ever as well as expanding the "Arsenal in the summer" series.   You can find a full index to all the articles to date on the Society's web site, but here are the most recent…