"Arsène Wenger" (CC BY 2.0) by Ronnie Macdonald
Arsenal have made a strong start to their bid to end their Premier League title drought after 13 years. The Gunners have previously enjoyed impressive openings to previous campaigns, only to fall away in the second halves of seasons, none more so than their failed challenge last term when they were beaten to the top-flight crown by Leicester City.
Arsene Wenger's men have made the Emirates Stadium a fortress since their move to the ground in 2006 and have used it as a foundation towards their success in the Premier League. However, their form on the road has been their downfall in their quest for the title.
The Gunners lost four and drew seven of their 19 away matches last term, while in their previous closest title challenge in the 2013-14 season they were defeated six times on the road. Their inability to be dominant on their travels on a consistent basis has cost them adding to their collection of crowns under the Frenchman, leaving the club determined to resolve their issues in this campaign.
Arsenal should be backed by crowds of supporters on their travels after they learn from a study by Voucherbox that it is in fact cheaper for the Gunners' fans to attend all 19 of their matches on the road than to buy a season ticket for the Emirates. Perhaps if the travelling hordes make their away venue seem like a home match for the team it will improve their form in crucial matches.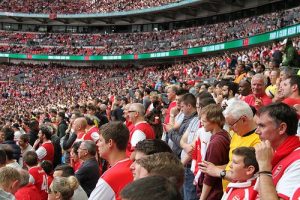 "Community Shield 33 – Arsenal Fans" (CC BY 2.0) by Ronnie Macdonald
Three years ago the North London outfit appeared to be on the verge of securing their first title since the days of the 'Invincibles'. However, a heavy defeat to Liverpool at Anfield derailed their campaign, while losses to Stoke City, Chelsea and Everton knocked them out of contention, finishing in fourth place despite winning their final five matches of the season.
Wenger's men had the same issues last season and once again they led the Premier League going into the final furlong of the term. However, another loss in a crucial moment to Manchester United would add to a number of costly defeats early in the season to Southampton and West Brom, while draws against Tottenham, Sunderland and West Ham resulted in their failure to close the gap on the Foxes at the top of the division.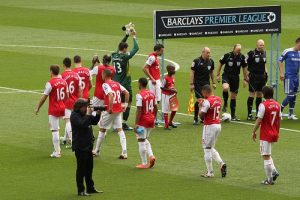 "Arsenal v Chelsea 02" (CC BY 2.0) by Ronnie Macdonald
In contrast Leicester lost only two matches on the road in their title-winning campaign, and after their defeat to Arsenal in February they dropped only four points away from home, two of which came on the final day against Chelsea when the crown was already secure. Whereas the Foxes were clinical when it mattered the most Arsenal were at their least efficient, especially at the back.
This term the Gunners have been outstanding with their away form, winning five of their seven contests, including their 5-1 hammering of West Ham in their first visit to the Olympic Stadium. However, Wenger must ensure that his side maintain their excellent play on the road to guarantee that it will not be part of their downfall again.