By Tony Attwood
Arsenal suffered more injuries than any other Premier League team last season – costing the club £15m in wasted wages, according to a report on the website of the Independent dated 24 January 2017. The report goes on to quote Talk Sport and "Dutch fitness coach Raymond Verheijen" and suggests "The numbers could raise more questions about the training methods employed by the north London club."
However even a quick cursory look at the statistics provided shows that the whole story is a fake – yet another fake to add to the stories about transfers, Mr Wenger's tactics, training methods etc etc.
But it is a shocking allegation, and one that we have heard before.  Knowing the injury figures as I do, for we have debated them before, I looked on it with surprise, amazement and then laughter.  Laughter because the fakery is as obviously transparent as the "news" that Facebook give me each day that Stephen Fry has died.
It is obvious because the list of so-called Arsenal injuries for 2015/16 includes Carl Jenkinson being out for 37 weeks, when in fact he was on loan to West Ham.   Yes of course we might say that Jenkinson was still an Arsenal player, but he was playing for WHU, being trained by WHU and being paid by WHU.
Besides which Jenkinson suffered his knee injury on 23 January 2016, after playing 20 games for the club, which means that even if in some odd way he was to be quoted as an Arsenal player for the season he was out for 15 weeks of the season, not 37.  But that still seems ludicrous.  He was a WHU player for the season.
Looking further I then discovered that Danny Welbeck was listed as being out for 56 weeks in the 2015/16 season.  Which is quite interesting given that last time I looked a year had 52 weeks, and a season around 40 weeks.
In fact Danny returned on 14 February 2016 in a 2–1 win over Leicester – I remember it rather clearly since I was there and had a perfect view of his goal.  By my reckoning they have added 28 weeks to Danny's missing time – and this is before we get into a debate about the difference between being out injured and being match fit.
These figures are alleged by the Independent to come from Hopewiser and the Indy points us to their website "The Weird and Wonderful Ways Businesses Waste Money".  I found a lot of the site rather odd, in that (for example) it appears to calculate all PR activities as wasted money, and gives no sources or evidence for any of its findings.  But that point rather slips away when compared to the fact that on the page the Indy links to, there is no mention of Arsenal.  Instead there is a note saying
Manchester United wasted £15,850,000 paying injured players in the 2015/16 season
Below that is an article that begins…
Luke Shaw, Radamel Falcao, and Phil Jones are just some of the few who spent extended time on the side-lines for Manchester United last season. As for paying these injured players, Man Utd will have forked out over £15 million to players who couldn't make the match day squad. That's more than any other team in the Premier League would have paid injured players last season.
Which makes the headline about Arsenal all the more curious.
But still, if there is a chance to bash Arsenal, it will be used, so I continued to read for the Independent leads with "New research could raise further questions over Arsene Wenger's training methods"
It is not clear what the "new research" actually is, nor indeed how it could be "new" since the injury figures are actually available week by week, and indeed we publish them in our match previews each week.
Anyway, the piece continues, "Arsenal players suffered more injuries and spent more time on the sidelines last season than those from any other Premier League side – costing the club nearly £15m in wasted wages."
Now we might pause here, and note that in the actual article on the Hopeweiser site the headline reads "Manchester United wasted £15,850,000 paying injured players in the 2015/16 season"
So Man U are cited with over £15m and Arsenal with nearly £15m in lost wages.  Apart from the fact that this is untrue since Danny Welbeck wasn't out for 56 weeks in a year of 52 weeks, and Carl Jenkinson had his wages paid by WHU, while not being out for the period stated either.
But even then this notion that Man U wasted more than Arsenal on salaries for injured players is itself contradicted by the statement in the Indy that
"Only Manchester City, who spent £16.3m on injured players' wages, paid more despite having fewer total injuries, according to figures compiled by data services firm Hopewiser."
Of course it is possible that Hopewiser has deliberately put false figures on its site, extended the year to 56 weeks without telling me, and that Danny didn't play for us against Leicester but it was a look alike who scored, and Carl wasn't paid by WHU when playing for them but by Arsenal.
But I don't think so.
So when we then read in the Indy that "The numbers could raise more questions about the training methods employed by the north London club," we might want to translate that into ""The article should raise more questions about the editorial methods employed by Independent which until a while back was a newspaper of some repute, but which seems to be living in a fantasy land where nothing is checked and a rabid anti-Arsenal agenda is maintained."
After that we get into quotes from Raymond Verheijen including the notorious rant on TalkSport:
"In particular, you have this group of young players who are consistently injured for months, season after season.  We are talking about Ramsey, Walcott, Oxlade-Chamberlain, Wilshere and also in the past Sagna, Van Persie and Fabregas.   Young players are getting injured every season for weeks or months and that is a very worrying pattern."
Interestingly, there is no mention there of any comparison figures with other clubs.  But still he went on to blame Wenger.
Then the Independent gives us the graphic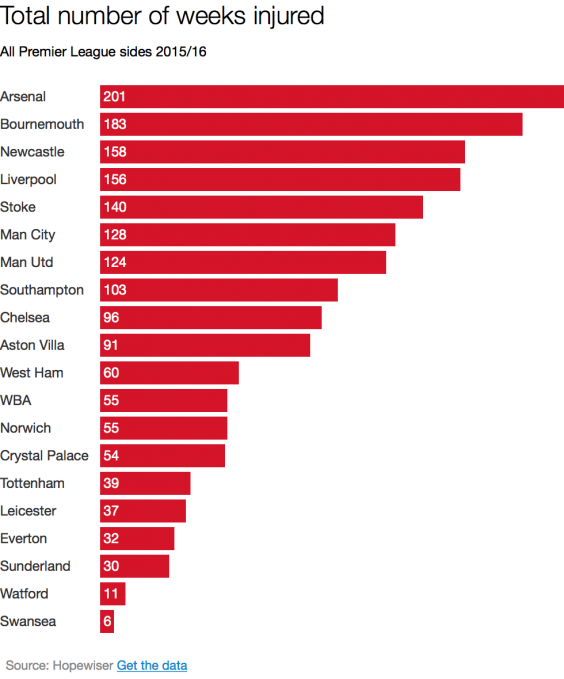 Liverpool! 1908 days
Man U 1764 days
Man City 1490 days
Everton 1349 days
Tottenham 1106 days
Chelsea 992 days
Arsenal 964 days
Arsenal injuries 2015/16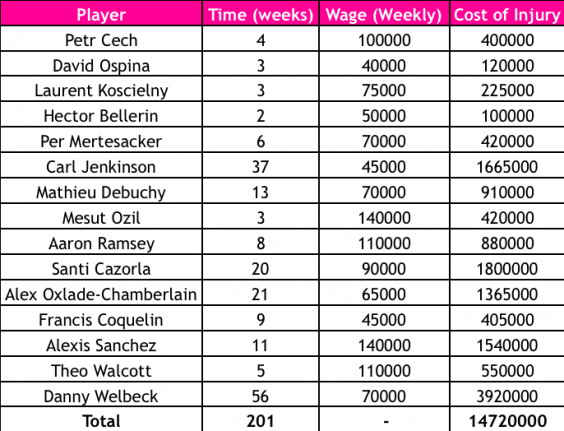 "The costliest injuries to Arsenal last year were Danny Welbeck's knee cartilage (£3.9m) and Carl Jenkinson's ligament (£1.6m)" the Independent website continues.
By this stage I reckoned that at least 65 weeks had been added, and that is before I started checking any other figures (and several of them looked dubious to me and worthy of examination but there is a limit to how far I am willing to go sorting out other people's errors – I make enough of my own!)
However even without that, and accepting all the other figures that would still put Arsenal sixth in the league table of injuries, not first.  I'd say the Premier Injuries figure for the year is about right.
So what happened?  Did someone play a cruel trick on the Independent?  Quite possibly, after all, it was their website which all the way through last summer ran, as a football story, under the headline "Bournemouth", a piece about the cost of getting to Heathrow airport from central London.
Whatever the source is this crazy story, it does suggest that either someone is playing a cruel prank on the Indy, or Raymond Verheijen and his allies at Talk Sport are still out there doing their stuff.
Certainly it proves, if it needs proving that the aaa and their allies are ramping up the fake news even more than before.  It will be interesting to see if any of them quote the story, or indeed if the Indy takes it down.
If you appreciate what we do and would like to help Untold Arsenal, please
Follow us on Twitter @UntoldArsenal
Follow us on Facebook (UntoldArsenalToday)
The more followers we get, then the more it helps to spread the word.