By Bulldog Drummond
One of the interesting facts in the referee summary published earlier today is the comment that
The teams with most decisions in their favour are United (31) Spurs (25), Watford (23) and Leicester (21). 
While…
Arsenal continue to be the team most affected by wrong decisions against with 31.
Which means we are going to have to win and then win again in order to win, this evening.  But even with that need to overcome our disadvantage and their advantage we still ought to be able to get something out of this.
Looking at the statistics of Arsenal at home and Watford away, there is a significant difference in possession, as you might expect, so we can anticipate Watford conceding possession and backing off as Arsenal attack.
Indeed Arsenal will probably have twice as many shots as Watford during the game.   We can also expect a fairly high number of fouls to be conceded from Watford .  In fact the one area where Watford away out-perform Arsenal at home is in aerial duels won – Arsenal's average per home game is 15.7 while Watford away is 19.5.
Anyway, our recent record is quite jolly, not that you would know it from the commentators in today's press.  Mind you, looking at the type of comments reported in this morning's post and not knowing the league table you might well anticipate that we just escaped relegation.
Competition
Date
Home
Score
Away
Premier League
26 Dec 2016
Arsenal
1 – 0
West Brom
Premier League
01 Jan 2017
Arsenal
2 – 0
C Palace
Premier League
03 Jan 2017
Bournemouth
3 – 3
Arsenal
D
FA CUP
07 Jan 2017
Preston
1 – 2
Arsenal
Premier League
14 Jan 2017
Swansea
0 – 4
Arsenal
Premier League
22 Jan 2017
Arsenal
2 – 1
Burnley
FA CUP
28 Jan 2017
Southampton
0 – 5
Arsenal
Four wins in a row, six wins out of seven, 18 goals in the last six games.  Not conceded from open play in the last seven games.  Watford seven games without a league win, and no victory in midweek in the Premier League since before the flood.  Well since April 2007 to be precise.
To go back over one point from the last post, the recent record has been quite good… just one match gone wrong in the last nine.
| | | | | |
| --- | --- | --- | --- | --- |
| Date | Game | Result | Score | Competition |
| 25 Sep 1999 | Arsenal v Watford | W | 1-0 | Premier League |
| 23 Apr 2000 | Watford v Arsenal | W | 2-3 | Premier League |
| 05 Jan 2002 | Watford v Arsenal | W | 2-4 | FA Cup |
| 14 Oct 2006 | Arsenal v Watford | W | 3-0 | Premier League |
| 26 Dec 2006 | Watford v Arsenal | W | 1-2 | Premier League |
| 17 Oct 2015 | Watford v Arsenal | W | 0-3 | Premier League |
| 13 Mar 2016 | Arsenal v Watford | L | 1-2 | FA Cup |
| 02 Apr 2016 | Arsenal v Watford | W | 4-0 | Premier League |
| 27 Aug 2016 | Watford v Arsenal | W | 1-3 | Premier League |
I am quite sure Danny Welbeck will not be given two games in quick succession so will be on the beach, or given a rest, while there is no clear news as to weather Giroud is ok or not.
Our recent form is quite encouraging too, with Arsenal undefeated in 29 of the last 32 PL games, eight wins out of nine against Watford (see above), lots of goals against Watford, lots of goals against everyone, and Watford in a bad run.
And just in case it does get a bit jittery, what with Watford getting all those decisions in their favour and us not, we have scored 12 goals in the 80th minute or later and an unrivalled six goals in the 90th minute or stoppage time this season.
And just one more at this point…
Alexis Sanchez has scored in all three of his Premier League appearances against Watford.
If Watford do lose it will be the first time they have lost their five opening league matches of a calendar year since 2002, when they were in the second tier.   While Heurelho Gomes has conceded 23 goals in eight Premier League games against Arsenal, nine more than any other team he has faced.
And so to the team.   I would go with…
Cech
Bellerin Mustafi Koscielny Monreal
The Ox  Coquelin
Theo Ozil Iwobi
Alexis
Lurking on the beach in that case we might have: Ospina, Gibbs, Gabriel, Ramsey, Giroud or Welbeck, Lucas, Le Jeff or Maitland-Niles.
The most obvious change from that line up would be to drop the Ox and put in Ramsey, and of course Mr Wenger might do that, after all he has at the stats that we never get to see, but then the issue is, what sort of a message is he giving to the Ox?  I think that Ox has just one more year on his contract, so that could be a pressing thought as well.
I would really like to see if the Southampton performance from the Ox was a one off, or whether he can turn it in week after week.
Anyway, whatever team is picked all of this should give you a clear view of not only who is going to win, but by how much.  And if you are just waiting and waiting for the game to start, you can always pass the time of day with All Jackpots casino
It looks fun.
---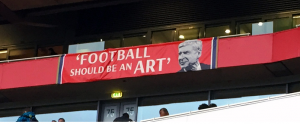 If you appreciate what we do and would like to help Untold Arsenal, please
Follow us on Twitter @UntoldArsenal
Follow us on Facebook (UntoldArsenalToday)
Arsenal v Watford 
Referees