By Tony Attwood
What to make of that?
Well, block 110 front row had enough humour to keep us sane, and remove life-threatening situations from any cats that might be lurking at home.
But maybe that was because a) none of us owns a cat and b) we had seen it before – just as regular supporters who go to matches and don't believe in the reportage have seen it all before.
And I don't just been Arsenal supporters, I mean supporters of every club.   Every club has ups and downs like this, and then (if they are very, very lucky) the occasional time when it doesn't happen and they win all the important games.  So some of us learn to find some way of living with it, and others utilise a way of expressing deep anger.
The problem with the anger of course is that although it lets out some of the emotion and gives immediate relief, it doesn't actually stop it all building up next time, and the time after.  Those who live with a sense of humour, not to mention an ability to see broader pictures, get a better sense of ease throughout, and less chance to descend into regular bouts of anger, which really are not very good for you.  (You can trust me on this, I'm a writer).
I thought, as the match drew to a close, the "Bould over" and "Bould out" slogans that emanated from my pals in the front row, were particularly amusing, (although I suppose it makes the most sense if you are familiar with English idioms and cricketing terms.  Sorry to readers for whom cricket is not their first language).   (And I really ought to say, for the benefit of Blacksheep who will be looking out for it, "rather droll".)
Any answer to why it happens that only takes into account last night of course is silly – which is what makes  the newspapers so silly.   Try these for size:
Arsenal fans want Steve Bould to take over as manager as he leads Gunners to 5-0 win over Southampton in first game of Arsene Wenger's ban
The Sun · 3 days ago
Bould in! Arsenal fans heap praise on assistant boss after he oversees 5-0 hammering of Southampton
Mirror · 3 days ago
Arsenal news: Fans turn on Steve Bould after awful display v Watford
Metro · Yesterday evening
Notice it is not the perfidious journalists who changed their tune – oh no, of course not.  It was the dinky-winky fans who don't last more than five seconds with any consistent framework of thought.  But really such journalists don't fool many people.
It is the journalists playing the stand them up and knock them down approach for one simple reason – it makes scribbling out newspaper stories easier.  Blame the fans, express emotion.  Right, that's today's column written.
Anyway, I do have the solution.
I am about to go to Australia to visit one of my daughters – I fly out on Friday night and will actually not be on planet earth during the Chelsea game.   Now normally what happens when I leave the country and miss a series of games is that Arsenal really do start winning.  This has happened with each of my previous trips to Oz, but the biggest effect of all came when I moved to Algeria for a year.   We won the double.
My visa doesn't allow me to stay in Oz that long, but I'm hoping my period of walking upside down will now push the club forward in the right direction.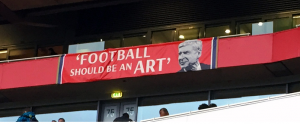 If you appreciate what we do and would like to help Untold Arsenal, please
Follow us on Twitter @UntoldArsenal
Follow us on Facebook (UntoldArsenalToday)