by Tony Attwood
In terms of what we did in the transfer window the answer was not a lot although given the general hysteria of who we were going to sign, that might come as a surprise.   But jut to check you didn't miss anything here's the list…
In
Cohen Bramall (Hednesford Town) – £40k
Out
Dan Crowley (Go Ahead Eagles) – Loan

Chuba Akpom (Brighton) – Loan

Ismaël Bennacer (Tours) – Loan

Gedion Zelalem (VVV Venlo) – Loan

Kaylen Hinds (Stevenage FC) – Loan

Stephy Mavididi (Charlton) – Loan

Marc Bola (Notts County) – Loan

Matt Macey (Luton) – Loan

Krystian Bielik (Birmingham) – Loan
So what do we make of the loans?  Two of the players have seemed earlier to be on the verge of a breakthrough – Akpom and Zelalem have now gone out on loan.  Why is that?
With Zelalem I don't rightly know.  He played for Rangers in Scotland and showed he could take the pressure, but then for our under 23s he started to slip away.  I guess it sometimes happens.  Akpom is easier to explain – he got a bad injury while challenging for a place in the first team, and now needs some serious game time.   There was talk of Zelalem moving on, but it didn't happen, so a loan it is.
Krisztian Bielik going to Birmingham is interesting as this seems a progression for him.  Birmingham are mid-table in the Championship going through a very bad run, but are only nine points off a play off place which is not too much in such a volatile division.
Overall I suspect one of these players will actually make it to the first team, but who… that I haven't really got much of a clue about.
But just one youngster whom no one else wanted coming into the club.  So typical Wenger – couldn't get his act together.  If only we were like the other clubs near the top of the Premier League who really showed us how to run a transfer window.  Clubs like
Chelsea – no transfers but Nathan Ake recalled from loan with Bournemouth

Liverpool – no transfers in at all.

Tottenham – pretty much the same as Liverpool.

Man Utd – hmmm… they too didn't sign anyone.

Man City – at last the trend is broken with the signing of Gabriel Jesus from Palmeiras for £27m.
And that is it for the top clubs.
All those column inches, all those rumours, all those players every top club was going to sign.   Was it just made up?  Apparently yes.
Of course the mere closing of the window didn't actually distract any of the inventors of fake football news, as with the Guardian this morning gearing up for the next transfer window with "Manchester United close in on £85m Antoine Griezmann deal, say reports", and off it all goes again.
Of course there was some other activity in the transfer window this past month.  For example after  headlines such as after "Dimitri Payet will not be sold by West Ham in January, says David Sulliven" in the Guardian and "Wantaway Dimitri Payet will not be sold by West Ham, insists Bilic" in the same paper and "West Ham determined not to sell Dimitri Payet" in the Daily Mail, plus "West Ham are adamant Dimitri Payet will not be sold in this transfer window" also in the Mail it was inevitable that a matter of days afterwards we were told that "West Ham United have agreed a fee of £25m with Marseille for Dimitri Payet and the France winger has travelled to the south of France to complete the formalities of the move, which include the medical test."
Still there was good news for West Ham supporters after that, as Karren Brady, who of late has not repeated her phrase about the move to the so-called London Stadium being the most successful stadium move of all time, told fans what they could do with their Payet shirts.
Apparently they could hand them in and have the name changed.  For £25.
So players coming in turns out to be fake news, and players not leaving is fake news, and the people who pay for it all are the fans, unable to rely on any newspaper reports and having to pay to have shirt names changed when the club's lies are finally exposed.
Of course it is not just in football this happens.   I found the story that the governor of China's northeastern Liaoning province has revealed that the province had inflated its GDP figures from 2011 to 2014 in order to make it look as if they had reached state targets almost heart warming.  It is the first time the Chinese government has publicly admitted to faking official statistics at any level.  If only British newspapers could raise themselves up to China's level by admitting what they make up, but no, China seems to be in the lead here.
Indeed most of the UK media was completely unable to cope with the revelation that it had been utterly taken in by the fake news at the heart of the plan to seize the land around Millwall's ground via a compulsory purchase order, although to be fair to the Guardian, which I have been knocking, they did finally run the headline, "Millwall stadium controversy intensifies as false funding claims revealed."
The local council had chosen as its "developer partner" for the land an off-shore organisation called Renewal (which had no history in this type of major redevelopment work and was set up by two ex-councillors) and the plan was backed by Lewisham's mayor.  The arrangements would have meant Millwall being forced out of their ground having been playing football in the area since 1910, after they moved across the Thames from their original home on the Isle of Dogs.
The polite description of what happens is that the developer made inaccurate claims about funding.  The reality is that the whole redevelopment process was put forward on the basis that Sport England had supported the scheme financially, something that was a complete bit of fake news.   It could have been discovered to be fake at any time, if anyone had bothered to look, but it never was checked.
When someone finally got around to asking Sport England if it was involved in what was looking more and more like an extraordinarily bizarre scheme, it was rapidly confirmed there is no funding agreement.  As I say, no one bothered to ask.
Given that Sport England is just about the only state sponsored organisation to have stood up to the FA by withdrawing funding from it when it failed to tackle the crisis in the grassroots game it seemed unlikely that it was pouring money into a scheme that would force a league club to move its ground.  And so it proved.
In the end, as the story came out, the Guardian to its credit did run the report (although it never explained why it, like the rest of the press, failed to ask Sport England if it really had put up the money).   So the con-trick collapsed, but the story shows us just how far the newspaper-sponsored fake news industry has now got.
To an extent it doesn't matter if the papers play silly games about who is supposed saying that some club is buying a player, and then it doesn't happen.  Nor that without question they run the story that West Ham's owners say a player is not leaving, when he obviously is.
And we can snigger about someone in China faking steel output production figures to make government targets look accurate.  But the danger of fake news escalating in this way is that it can be used to create real damage and escalate con tricks.
Once upon a time some newspapers used to check a few facts.  Now, when they are not making them up themselves, they just report other people's "facts" without question.
And we are all the losers in that game.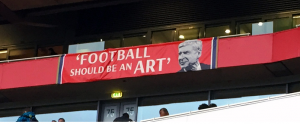 If you appreciate what we do and would like to help Untold Arsenal, please
Follow us on Twitter @UntoldArsenal
Follow us on Facebook (UntoldArsenalToday)