by Andrew Crawshaw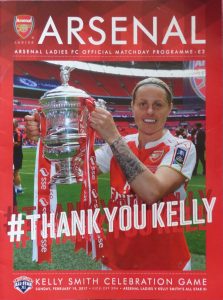 On Sunday 19 February Arsenal Ladies held a special game at their Home Ground Borehamwood as a  tribute to one of the finest players ever to pull on an Arsenal Shirt.  She was shortlisted for FIFA Women's World Player of the Year in 2006, 2007, 2008 and 2009
The game featured the current Arsenal Ladies team managed by Pedro Martinez Losa playing against an All Star XI managed by Kelly Smith MBE.  To call it al All Star X1 was not an understatement as the team had between then 5 MBEs and a CBE :-
Rachel Finis-Brown (GK) – retired – played for both Liverpool and Everton Ladies and won over 80 England caps
Casey Stoney MBE – Liverpool Ladies and more than 100 caps for England
Kim Jerray-Silver – retired – played for Arsenal and Fulham and capped for England
Hope Powell CBE – retired – played for Millwall, Fulham and Croydon 66 England caps and managed England Ladies and Great Britain Olympic Women
Faye White MBE – retired played for ArsenalLadies 300 times and won 90 England caps
Steph Houghton MBE – currently captain of Man City and England
Anita Asante – currently playing in Sweden with Rosengard.  Another ex Arsenal player she has 67 England and 5 GB caps
Jill Scott – currently playing for Man City, 101 England and 5GB caps
Marieanne Spacey MBE – retired – played for both Fulham and Arsenal and has 91 England caps.  Also managed Fulham
Kelly Smith MBE – The Lady herself, now 4 month pregnant and basically managing the team
Ellen White – Birmingham City – another ex Arsenal player she has 59 England and 4 UK caps
Natasha Daly – retired Arsenal player
Laura Bassett – Notts County and 51 England caps
Tracy Koch – retired
Emily Westwood – Birmingham City and 32 England caps
The Arsenal Squad was
Sari Van Veenendaal (GK), Alex Scott MBE (c), Emma Mitchell, Fara Williams, Leah Williamson, Chloe Kelly, Jordan Nobbs, Danielle Carter, Kim Little, Carla Humphrey, Vyan sampson, Jodie Taylor, Katie McCabe, Heather O'Reilly, Jemma Rose, Dominique Janssen, danielle Van De Donk, Beth Mead, Sian Roberts (GK) and Charlie Devlin
Coming out of retirement to wear the black gear was Howard Webb and he was assisted by Lucy Oliver and Lisa Rashid with Lucy Haskell as fourth Official
From kick-off it was obvious that the Arsenal team were much younger and certainly fitter than all of the retired players, whenever it came to a foot race there was only going to be one winner.  It was equally obvious that all of the players were highly skilled and all were using all of their tricks to get one over on their opponents.
The Arsenal squad were treating the game seriously as part of their pre-season training programme and with a number of departures of players who featured last season and the arrival of a smattering of new faces were still getting used to playing as a coherent team.
Hope Powell (the oldest player on the pitch) was the first to be substituted, she was heard to remark to the crowd following one comment of "lovely ball" that "it would have been if I could still run".  It was that kind of day when the result really didn't matter too much.  Even Howard Webb tried to assist Kelly's team with a neat back header.
Following one agricultural challenge on one of the Arsenal players, the player picked Howard's pocket for the red card and waved it at her opponent – as I said it was that kind of match.
Arsenal went in at half time leading by 2 goals to nil scored by Kim Little and Danielle Carter who produced an excellent finish following probably the best passage of play of the whole match.  A swift counter attack with excellent first time passing (hopefully a good sign of things to come once the season gets underway properly).
For the second half the Arsenal Goalkeeper Sari van Veenendaal changed teams and was replaced by Sian Roberts.
An early free kick to the All stars showed how good Casey Stoney remains as she beat the Arsenal wall and goalkeeper to reduce the deficit to 2 – 1.  There was then a long period of Arsenal pressure with Sari being called on to make a number of great saves to keep the score down.  When she fouled an Arsenal attacker Howard Webb charitably called a foul against the forward.  At this a cry went up of "you're not fit to referee" – honestly not from me – and he immediately started conducting the chant!
With about 10 minutes to play the players engineered a chance for Kelly to come on to the pitch – a very theatrical foul on an all-stars player leading to a penalty being awarded.  Kelly duly came off the bench to take it with a standing ovation from everyone in the ground including both sets of players who formed a guard of honour for her.  Sian Roberts advised Kelly which way she was going to dive and Kelly duly stroked the ball into the centre of the goal.
More Arsenal pressure followed with two late goals that Sari was unable to stop although her effort to push the last shot onto the post was probably the best piece of goalkeeping she did all game and she was absolutely brilliant all afternoon.
Arsenal ended up winning by four goals to two but the afternoon really wasn't about the score. It was a great occasion to honour a truly great player and a day that will live for a long time in the hearts of all 2,351 of us who were privileged to be able to attend.
At the station on the way home we got chatting to a Canadian – Mark Bodwell who it turned out was a fan of both Arsenal and Sutton and had specifically come over to the UK to watch both the cup game and the Kelly Smith memorial game.  There is a great account of his journey already published.
Here are a few pictures that Pauline and I took during the match