Weird News
By Sir Hardly Anyone
If you want to measure the impact of Untold in recent years consider this.  Four years ago you would struggle to find analysis even of the most rudimentary kind about refereeing in any blogs or mainstream media sources.  Now such analyses are becoming commonplace.   Yes Commonplace.  I mean, we've even had the Sun doing its bit.  OK true their prediction was that the ref would have a whistle and run around a lot, but still, they did mention the ref.
And today we have the headline "These Referee stats could prove to be Liverpool's downfall in vital Arsenal clash" from FootballFanCast.com    In the piece they claim that the ref against Liverpool gives a much higher percentage of home wins than normal.  
Unfortunately they don't tell us what "normal" is, which makes it a bit meaningless, but I sent some of the estate workers off with crayons and chalk to work it out and they came back, doffing their caps in the appropriate manner, and told me that yes, it is true.  Remarkable!
And yet I was uneasy.  For the game is not at the Ems, so how can they clean up with a ref who favours the home side?
Here's the answer:
"Perhaps this is why the home team wins so often when Madley is in charge: his desire to keep the game under control means that the away team can't start off by roughing up the opposition and putting them under undue pressure immediately.
"Yet this weekend, perhaps it will have the opposite effect. Per game this season, Madley has given more fouls against Liverpool than any other side (17), perhaps showing that Liverpool's high-pressing game is at odds with Madley's outlook. There is also a clear difference between the 17 fouls per game he has given against Liverpool and the much fewer 10 fouls per game average he has against Arsenal."
Well I never.
But of course life is never that simple because Football Transfer Tavern wants to tell us that "3-4-3: IF KLOPP FIELDS THIS CHANGED LIVERPOOL XI, THEY'LL DOMINATE ARSENAL ON SATURDAY.
And yes I know that BLOCK CAPITALS make it hard to read but that is what they do.  Anyway, Here's the explanation.  In the defeat to Leicester…
An interesting note from the aforementioned loss at Leicester is the switch to a 3-4-3 formation during the second-half that coincided with the Reds' best period of the match. Our landlord thinks that Klopp may be pondering using this at home to Arsenal as he looks to turn things around and here's how his team could line up…
So if the landlord says so… actually by this stage I lost track of whether we would win, they would win or the ref would win.
The London Evening Standard claim Arsenal are yet to start contract talks with Jack Wilshere, Alex Oxlade-Chamberlain and Kieran Gibbs and that all three are on the way out.  Trouble is, I don't know when player contract talks normally start – although I do know that they primarily involve the club and the agent, not the players.  So the statement that "Arsenal are yet to talk to" is often factually correct but misleading because discussions with the agent have continued for months.
Football London however has a different take with the story "The Juventus players Massimiliano Allegri must sign for Arsenal if he replaces Arsene Wenger"
Now that is interesting because of the treble issue: to be valid Mr Wenger must leave, Allegri must come in as manager and then he must sign three players.   But that is not all because there is a sting in the tail.  Or maybe a sting in the tale.  The last of the three he must sign is Miralem Pjanic, but then we are told that this is "be beyond the realms of possibility."
So to get this straight, Wenger leaves, Allergi jonis, he must sign Pjanic, but he can't.  That really is quite a story, and I nominate that for the Golden Globe of Nonsensicality of the Week.
"Suburban Gooners" has a piece called "Arsenal Content Zombies" which criticises some blogs for writing rubbish and praises others for writing interesting stuff.  He doesn't mention us in either camp so maybe the new cloak of invisibility is doing its stuff.   But then actually, the Zombie article doesn't carry any news, just criticises other people for not carrying news so maybe we shouldn't take offence.
I did however like "Arsenal man returns to club as long is cut short" from the Daily Cannon    Actually rather than giving us a new meaning of "long cut short",  "long" actually turns out to be a misprint for loan, which is a bit of a shame.   Good attempt though.  That story is headlined "Mavididi returns from Charlton loan after season-ending injury" – his hamstring has gone.
We've had enough of Alexis is going headlines, so now we have to have where he's going.   The latest is "Antonio Conte could make Arsenal star Chelsea's first summer signing – report"
It is an interesting use of the word "report"    The article says "The Daily Mirror are reporting that the Blues are among the clubs monitoring the situation of Sanchez at The Emirates as the 28-year-old continues to stall on signing a new contract"
What really attracted me however was the sub heading "Europe Is Doomed" – now that's what I call a headline.  And of course a chance to run a picture of Fraser from Dad's Army.    AnywayI think it is a financial story, and at present financial and investment stories seem to be written in order to give football rumours a good name.  So I moved on… and…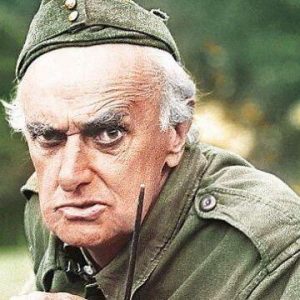 I don't want to spoil all the fun but could there be anything "the fact that Chilean youngster Marcelo Allende was spotted training with the Arsenal first-team on Wednesday (1 March) with talk of a potential move to north London heating up.
"The Gunners' squad were preparing for their game against Liverpool on Saturday (4 March) and Allende was spotted honing his skills alongside the likes of compatriot Alex Sanchez, Granit Xhaka and Alex Iwobi."
Yes, I expect there is except he is only 16.
Now here is a funny one:  "Aaron Ramsey: Ray Parlour makes shock claim about future of Arsenal star"
"Parlour admits he's [that's Ramsey nor Parlour] struggled this campaign but in what will be a shock to some Arsenal fans, claims he was "different class" last season."   That was in Just Arsenal…: who also have the headline "This is how Arsenal can turn their season around".  I read on with interest and found the answer.
"The team needs to realize they must improve."
The latest from the Arsenal History Society
We are currently 90% of the way through the most detailed review of Arsenal in the 1930s (the era that made Arsenal into one of the greatest teams) ever written.   The latest articles are
The Arsenal History Society publishes numerous series of articles exploring different aspects of Arsenal's history.   You can find an index to all the series to date on the Society's web site