By Tony Attwood
Going to a stadium for the first time is always fun, but last night this became double fun before the game when, having had a bite to eat and a drink in the Hilton Hotel, which is part of the Ricoh Arena complex (it also houses Wasps rugby club) we were strolling round the ground to the designated away fans entrance (segregation even when the crowd is under 3,000!) when there, suddenly towering above us all, was Per Mertesacker making his way into the ground.
Ever the gent he stopped and shook hands with both of us.  My first ever hand shake with a world cup winner.  A perfect start to the evening.  (OK that may seem childish for a grown man to be moved by a handshake, but that's it is – I love these moments and cherish them long after).
Despite a crowd of just 2,375 we were segregated from the Coventry fans and given the seats behind one of the goals. But rules is rules, even when many of them are stupid.  (The Hilton served my glass of wine in a plastic mug, because, being part of the football complex there can be no glasses on a match day!!!!!   Mind you some of these Hilton's can get pretty rough).
So, the home fans had one side of the ground – the other two sides were empty.  No big screen so no chance of catching key moments a second time around if we missed them.  Fortunately my new glasses arrived last week so I was able to keep up.
The line up was
Iliev; Olowu, Pleguezuelo, Medley, Bola; Burton, Willock, Gilmour; Olayinka, John-Jules, Smith-Rowe
Subs: Okonkwo, Nketiah, Omole, Thompson, Zelalem, Coyle, Saka
and for me the stand out young men in the team were John-Jules, Smith-Rowe, Willock, and after he came on for a cameo at the end, Eddie, as we would expect.
And it all started off rather well, with Smith-Rowe scoring at the end of a quick counter attack on four minutes.  In fact early on it looked like we could knock up quite a score as Coventry didn't seem to know how to deal with the game and the well-organised team.
But it wasn't just the organisation; several of our players looked like they were from a different class from the grown ups in the Coventry side – which is quite something remembering that it was our under 21s.  I'd be surprised if we don't see those stand out players I noted above come to the fore in the league cup and Europa games.
After the goal however we didn't manage to dominate, although Coventry didn't find any way to imprint themselves on the game.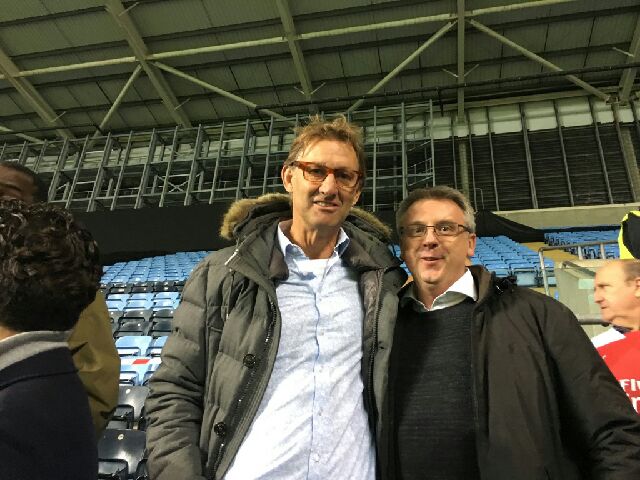 And then the half time fun: we turned around and saw that sitting about five rows behind us was Tony Adams, very happy to shake hands and have his picture taken.  So quite a night for me (and yes these little things still do mean a lot for me; I'm just a softie at heart) shaking hands with two Arsenal captains in one evening.  (That's Ian in the pic – Mr Adams is on the left – do try to keep up).
So having taken a dozen photos of my right hand and determined never to wash it again, we were off again, with Arsenal attacking our end.   Meanwhile, behind us we had one of those guys who invents new songs and chants as we go along, which were quite droll much of the time … I rather liked the John-Jules one ("his uncle's a cat") which requires a certain knowledge of cartoons to appreciate, but which if you have that is quite amusing.
We were looking quite comfortable at 1-0 but Freddie decided it was time to wrap things up when Eddie Nketiah came on with about 15 minutes to go, and instead of playing centre forward played on the right side of the front three.
Three minutes later he scored, after intercepting a pass.  Perfect, making it look easy.  A bit like Smith-Rowe, these players look above this level, which I suppose is why the PL2 is an under 23 league, to give players with this sort of talent the chance to get regular games where there is a bit more of a challenge.  Mind you we won that league last season so once again, thank goodness for the Europa and the League cup.
Anyway the game was safe, which was handy because we had several players near the end who looked either exhausted or as if they were suffering from knocks.
As the last seconds ticked away Pleguezuelo who seemed to have been playing with an injury for quite a few minutes went off.  Coventry were just waiting for the final whistle so they could escape the ignominy of being beaten by a bunch of kiddies, when Joe Willock drove in a strong shot right in front of us and it was 3-0 to the Arsenal.
It's hardly a competition that we're going to think about and remember in years to come, but it must be valuable experience for the youngsters, and certainly we had a good evening out.   If you get a chance to see one of these Checkatrade games, I would take it.  You never know, you might get to shake hands with an ex-captain – and a world cup winner.
Cheltenham Town v Arsenal Under-21s
Tuesday, October 30, Cheltenham
Forest Green Rovers v Arsenal Under-21s
Wednesday, November 7, Nailsworth
From earlier this week