by Andrew Crawshaw
By a quirk from the fixture Gods, this week has our Women with two cup ties.  Sunday had us in the fourth round of the FA Cup and Thursday Evening has us in the semi-final of the League Cup.
Sunday 03 Feb – Crawley Wasps v Arsenal
This was one of those fixtures all managers dislike, an away match on a local ground against a team that, whilst three divisions down are comfortably winning their league with 10 wins from 10 played.  The games require careful preparation but still present the opportunity for junior players to show what they are capable of alongside sufficient senior players to provide stability and experience.
The match was at Crawley Wasps home ground – Oakwood FC, a stroll down an un-made lane, not the usual exit from the coach straight into the ground. Joe Montemurro had recovered from his bout of Flu and so was with the team.  He named a mix of youth and experience.  Four starters were 17 years or younger, as were two of the substitutes.
Sari Van Veenendaal (GK)
Hannah Dawbarn, Louise Quinn, Janni Arnth,
Katie McCabe, Danielle van de Donk, Kim Little, Ava Kuyken
Katrine Veje, Ruby Grant, Melissa Fillis
Subs – Pauline Peyraud-Magnin (GK), Leah Williamson, Beth Mead, Amelia Hazard, Anna Caterina Albuquerque
Crawley defended deep and in numbers from the outset, trying to nullify our attacking potential.  We created the first clear chance in the 6th minute bur Little's lofted effort was saved.  In Minute 14 Little found Arnth in the area but the Danish defender was unable to get her header on target.  No score in the first 15 minutes and Crawley happy with their performance.
Kim Little scored our opener in the 17th minute, beating a couple of defenders and shooting into the bottom corner.  Katrine Veje came close to adding a second but her effort from inside the penalty area was narrowly wide.  Whilst all of the intent was with Arsenal, Crawley would still have been happy getting to the half hour mark only one goal down.
In the 31st minute it looked as though Little was through following a great Danielle van de Donk run and through ball, but the offside flag was raised.  Melissa Fillis was the next to have a chance of a goal but her 30 yard shot was well saved by Gibbs in the Crawley Goal.  Our second was coming though and Veje made a great foray down the left wing and cut the ball back where it was met by Grant (16) who shot into the top of the net.  Two nil to the Arsenal at half time was no more than we deserved.
In a planned substitution Leah Williamson replaced Kin Little at the start of the second half.  We continued our domination with a shot by Ava Kuyken being deflected for a corner from which Gibbs made a save from Veje and Danielle van de Donk had a volley just over the crossbar.  Still two nil after 60 minutes.
In minute 62 we made out two final substitutions with youngsters Amelia Hazard and Anna Caterina Albuquerque coming on for Danielle van de Donk and Katie McCabe.  In minute 75 Libby Grant got her second picking up a delicious pass from Ava Kuyken and firing past Gibbs.  A third was to come in the 86th minute again following good work from Katarine Veje on the left wing, her second assist of the game.
We finished the match with 6 of our Development Team on the pitch all 17 years old or younger.  Our hat-trick heroine is only 16.
A wonderful afternoon for Ruby Grant no question about her being Player of the Match. (Photo courtesy of Arsenal.com)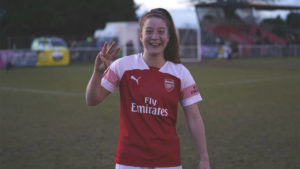 A dominant performance with Crawley never being allowed any chance to come back at us.  We were able to rest key players ahead of the Continental Tyres semi-final on Thursday and a crucial league game away to Liverpool on Sunday.  The draw for the fifth round is 18:30 on Monday evening
Next up is the Continental Tyres Cup semi-final on Thursday evening at Borehamwood
We are facing Manchester United Women, a newly formed team this season who are playing in the second tier of Women's football, the Championship where they are on top of the league.  This is going to be a far tougher match and one where we will have to deploy a full strength team (although it is entirely possible that Sari will keep her place in goal).
Likely team
Sari van Veenendaal (GK)
Louise Quinn, Janni Arnth, Leah Williamson
Danielle van de Donk, Kim Little (cap), Dominique Bloodworth, Katie McCabe
Beth Mead, Vivianne Miedema, Katrine Veje
Subs – Pauline Peyraud-Magnin (GK), Ava Kuyken, Hannah Dawbarn, Ruby Grant and anyone from the first team squad who is sufficiently fit to play.
This I regard as "our cup".  In the 8 years the league Cup has been sponsored by Continental Tyres, to date we have only ever lost two matches.  We were beaten by Manchester City in the 2014 final and lost to Birmingham in the 2016 semi-final.  The other 5 years we have won it, Man City being the only other winner in 2014 and 2016.
The match will kick off at 19:30 and there should be the usual vibrant atmosphere, doubly so if the United "Barmy Army" (my daughter's words as she has been following them this season – she does live up there and clearly can't get to watch Arsenal games with me).
Good hot food/drink from the Lunch Box outlets at reasonable prices.  Come along if you can.
COYG