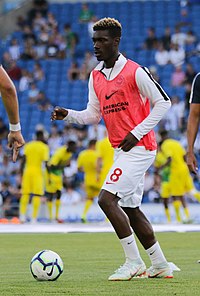 By Sir Hardly Anyone
It has been widely reported that Rob Holding has signed a new long-term contract, which is really not surprising given that a) he is a regular in the team and b) he is a home grown player.  For as we know while we have too many foreigners in the squad, we have lots of spare places for the home growns.
But also the simple fact he has started each and every one of of Arsenal's past 12 Premier League games gives us a clue as to how the manager sees him.
Yet it is also a fact that we also have Pablo Mari who has looked very good since his return from the wilderness and Gabriel who has always looked good – and this is why the media will start talking about Holding going again.
Yet we need three solid centre backs to cover for the inevitable injuries from the cloggers that will see off anyone, knowing that against Arsenal they are less likely to get carded for unacceptable clatterings.
Part of the problem is that journals such as the notorious "The Athletic" will insist on always referring to "Arsenal's bloated squad".  That of course is a simple reaction to the fact that we have had to leave some foreign players out, but it utterly fails to understand the rules about home grown players.  As we pointed out yesterday.
So now the story is reversed and instead we are told, "Holding is viewed by Arteta and Arsenal's technical director Edu as one of their emerging leaders and an important part of the club's future as they seek to build a squad blending senior professionals with top-class emerging talent."
But as one player is restored to favour in the journalists' eyes another hits the dust as there is talk of  Alex Runarsson leaving on loan if Arsenal "can secure a replacement as back-up to Bernd Leno."
Now as you may know we have also just sold Matt Macey to Hibs – but we had several goal keepers listed in our Europa League squad – which suggests we might just have another stand by lurking there.  Although if we did it seems strange we bought Runarsson.
Still the media has always been anti-Runarsson, (see Arsenal sign utterly useless Wenger-hating goalkeeper) the Mail running a very negative story about him, even before he arrived.   Now the Athletic say, "The Iceland international was always viewed as more of number three stopper and he endured a disappointing performance in the 4-1 League Cup defeat at home to Manchester City last month."
Which is again odd given that our Europa League squad of keepers is… Bernd Leno (age 28), Runar Runarsson (age 25), Karl Hein (age 18), James Hillson (age 19) and Arthur Okwonko (age 19).
But still the stories continue but at least after our little expose of the raging negativity against Arsenal on the internet some of the bloggettas have calmed down.  But only a bit.
The Metro is full of us signing Yves Bissouma (pictured above) but have a concern about his discipline problems, the Metro also saying he "shared a dressing room" with Nicolas Pepe and Gabriel Magalhaes,  But Arsenal have concerns about his discipline – which would then make him an odd choice for Mr Arteta who seems to put discipline above footballing skills.
The story is also in Football London and DBR Football.  According to the Express who quote the Independent who quote… well you know it goes on and on, "the Gunners are willing to include either Joe Willock or Reiss Nelson in a potential deal for the creative midfielder" Emi Buendia from Norwich.
Several things occur to me.  First that would upset not just me but everyone involved in Untold Arsenal.  OK that doesn't matter much but quite a few other fans I know would not like us to get rid of either Joe Willock or Reiss Nelson at this moment.
Second it would tell all young players at Arsenal that they might as well work out their own future, rather than risk being dumped out of the club to a footballing backwater just as they start to get things together.  So forget Arsenal's academy; go somewhere else.
And third, the newspaper men have been spending far too much time down the Toppled Bollard in Wapping, and have not noticed that a) Willock and Nelson are English and b) Buendia is Argentinian, and c) we have too many non-English players in the squad already, but lots of places for English players, and d) the regs about signing new non-English players have got a lot tighter since Brexit.
So in buying Emi Buendia we would have to chuck out yet another non-English player, as his signing would leave us three players over the odds as well as losing two highly talented youngsters of our own.
funny ol game.