By Tony Attwood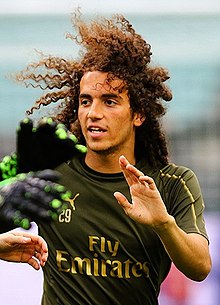 We are told that Richard Garlick, the Premier League's director of football, will become the club's director of football operations later this year.
Mr Garlick is a sports law specialist, and qualified solicitor, who worked at West Brom for eight years from 2010.  So the question is, what did they do in that time?
In fact in 2008 WBA were champions of the Championship, but then in 2009 came bottom of the Premier League.  In 2010 they were promoted again, and stayed up this time until 2018, when they went down, and Mr Garlick moved to the League.
So I guess he is going to work with Edu (technical director), Mikel Arteta and Per Mertesacker (academy manager).   Actually I have meant to add before, Per's standing in the club must be incredibly high now, given the way we are producing young talent by the bucket load.
This, I imagine completes the restructuring following the departures of Huss Fahmy and Raul Sanllehi.
Which leads on nicely to one of our occasional reviews of where we are in terms of squad.
You will of course know by now that we can have 25 senior players in the squad, with eight places reserved for "home grown" players.  And equally that the websites and newspapers that exist by telling us who Arsenal is going to buy next, tend to ignore this, and so suggest just more and more players all the time, without saying who we were going to get rid of.
Then when we don't buy them we are told we have been too slow and indecisive.
Now Arsenal did indeed surprise me by ending up with a senior squad of 27 last summer, and thus having two senior players simply left out of the squad.   I am not at all sure Arsenal will do this again, not least because of the cost and reputational damage it does to the club.
Indeed being left out of the squad for six months is the most damaging thing that can be done by a club to a player, and players and agents will be looking for assurances from now on that Arsenal will never do that to again.  If Arsenal are not giving those assurances they are likely to find transfers ever harder to achieve.
However as things stand we do now have club vacancies, with our two left out players now having found new homes.
Alves Soares, Cedric Ricardo
Aubameyang, Pierre-Emerick
Bellerin, Hector*
Borges Da Silva, Willian
Ceballos Fernandez, Daniel
Chambers, Calum*
Dos Santos Magalhaes, Gabriel
Elneny, Mohamed Naser Elsayed
Holding, Robert Samuel*
Lacazette, Alexandre
Leno, Bernd
Maitland-Niles, Ainsley*
Mari Villar, Pablo
Moreira Marinho, David Luiz
Mustafi, Shkodran
Partey, Thomas Teye
Pepe, Nicolas
Runarsson, Runar Alex
Tierney, Kieran
Xhaka, Granit
Looking at that list of just 20 players in a 25 man squad, it is hilarious that in recent months a number of websites and dumbo journalists started calling it "Arsenal's bloated squad".
The problem of course is that we don't have enough English players to make up the numbers, for as you will see from the asterisks, we have only four home growns, leaving four spaces.  We have one space for a foreign grown player.
Of course these numbers only apply to this season, but we already have a number of youngsters who will need to be registered in the full squad next year (although as noted above, we currently have four places, so that is not really an immediate problem).
One other issue is Matteo Guendouzi, who was shipped out for disciplinary reasons.  He is foreign grown and over 21 so if he does come back, as I very much hope, he will take up the one place in the list of foreign players.
Those who will be old enough to join the big boys, should they stay at Arsenal will be (I think!) Zech Medley, currently with Gillingham, Reiss Nelson, Eddie Nketiah, Emile Smith Rowe, and Joe Willock.
Assuming that it is Zech Medley misses out, then we have a squad that looks like this
Foreign grown players: one space, taken by Matteo Guendouzi or one purchase with Guendouzi moving away permanently.
Home grown players: Reiss Nelson, Eddie Nketiah, Emile Smith Rowe, and Joe Willock added to the squad as they will all be over 21 for the new year's reckoning.
And that would be it, a complete squad of 25 within the regulations.   Anything beyond that and we are going to have to sell players (if we can find buyers – and remember over half the clubs this season have been described by journalists as having "bloated squads" – and some of those statements might be true, so they will be selling as well).