By Tony Attwood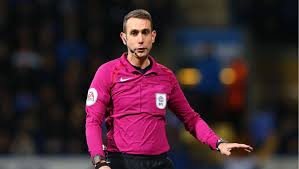 Perhaps because they were too busy talking Liverpool and Manchester United, perhaps because they didn't know, or perhaps because PGMO told them not to mention it, but Sky Sports yesterday failed to discuss something rather curious and very concerning about Arsenal v Newcastle United last night.
And that is that this was a match between the two clubs that have to commit fewer tackles than any other clubs, before they get a yellow card.  In charge was David Coote (pictured)
Now before the game the Daily Telegraph took its typical pro-referee view saying "Ill-discipline has been a major issue for Arsenal and Newcastle in 2020-21, with Monday's hosts picking up 27 yellow cards and the visitors receiving 32. Arsenal defender Hector Bellerin and Newcastle midfielder Isaac Hayden lead the way on the individual front, picking up six yellow cards each."
But what they refused to note (exactly as Sky did) was that the difference in the number of tackles Arsenal and Newcastle put in before they pick up a yellow, when compared to the rest of the league, is really significant and clearly must be affecting their playing style.
So far this season Arsenal pick up a yellow card after every 8.33 tackles. Newcastle get cards even more often – they get a yellow after every 7.50 tackles.   Here is the table for the league – a table which as far as I know, no one else has ever published.
| Club | Tackles | Yellow cards | Tackles per yellow |
| --- | --- | --- | --- |
| Arsenal | 225 | 27 | 8.33 |
| Aston Villa | 292 | 27 | 10.81 |
| Brighton and H | 310 | 27 | 11.48 |
| Burnley | 224 | 23 | 9.73 |
| Chelsea | 266 | 27 | 9.85 |
| Crystal Palace | 309 | 25 | 12.36 |
| Everton | 295 | 30 | 9.83 |
| Fulham | 262 | 35 | 7.49 |
| Leeds United | 344 | 25 | 13.76 |
| Leicester City | 310 | 37 | 8.38 |
| Liverpool | 238 | 18 | 13.22 |
| Manchester City | 218 | 22 | 9.91 |
| Manchester U | 276 | 29 | 9.51 |
| Newcastle U | 240 | 32 | 7.50 |
| Sheffield United | 313 | 37 | 8.46 |
| Southampton | 346 | 27 | 12.81 |
| Tottenham Hots | 296 | 22 | 13.45 |
| West Bromwich | 278 | 23 | 12.80 |
| West Ham Uni | 258 | 21 | 12.28 |
| Wolverhampton | 287 | 29 | 9.86 |
Compare Arsenal's figures with the clubs in red – Leeds, Liverpool and Tottenham.  They are getting away with nearly twice as many tackles as Arsenal before they get a yellow card.
As a result they can take more risks, and put in more dodgy tackles and they can do so knowing that if clubs like Arsenal and Newcastle retaliate with more tackles, they will quickly pick up a yellow card – which will be even more to the advantage of teams that can tackle with impunity.
In short many other clubs know they can tackle, tackle and tackle, with the worst that happens is they get a foul against them, while if clubs like Arsenal try the same tactic of persistent tackling, they will start picking up yellow cards all over the park, and soon have a player sent off.
Thus Arsenal and Newcastle are having to play ever more cautiously, and this is in part what is causing them to struggle.  And is also probably why neither side got a single yellow card last night, despite the Telegraph's dire warnings.  (Either that or the PGMO have realised we have tumbled what is going on, and they knew we were going to comment on it).
Of course you could argue that Arsenal and Newcastle players simply don't know how to tackle, but as a person who watches a lot of football, I would have to disagree.
Instead we must remember Arsenal are not tackling all the time – as the chart shows only one team has put in fewer tackles than Arsenal (undoubtedly because Arsenal players know they are going to get carded more often than the opposition.)
The explanation is probably that referees consciously or sub-consciously see clubs in different ways, taking the view that, for example "Liverpool are not a dirty team" or "Sheffield United are kicking opponents".  Such views circulate among referees, and because the Premier League has so few referees (compared to all the other major leagues) and thus the same referees tend to oversee matches with the same clubs, so these views influences their management of games.
Also, because clubs now have more data than ever before, and most employ a team of statisticians to watch what is happening, they each see how the opposition are being treated and they adjust their style accordingly.
These ideas emerged from the very strange figures we observed last season, with the way Leicester were tackling without getting fouls or yellow cards against them.  After we reported this in depth, the situation rapidly changed, and the cards started to roll in.
What we can see is that there is a huge range in the number of tackles club put in (Leeds have executed 119 more tackles than Arsenal so far this season), and although there is a big variance in the number of fouls each club commits (77 between the worst offender and the club with the least fouls), there is not a direct link.
So what can Arsenal do?
Whether you accept the theory that referees in the PGMO are taking a view on how clubs behave and therefore entering matches with a biased perspective, or not, the fact remains that Arsenal's tackles result in them being penalised for a foul with yellow cards more often than every other club, other than Fulham.
Exposing PGMO tactics in having so very few referees available doesn't help Arsenal, since other blogs and the mainstream media won't touch the story.  Indeed as we saw above with the Telegraph, they turn the statistics upside in order to excuse the referees and knock Arsenal.
So we can expect no change from referees – unless…
After we made a big fuss about Leicester's tackling, the refereeing of their games changed.  Likewise this season, after we pointed out how Leicester were getting so many penalties the number of penalties they have got has reduced significantly.
The only thing we can do, is point out the figures, and keep pointing them out.  Arsenal are committing far fewer tackles before they get a yellow card, than anyone else and as a result are making fewer and fewer tackles, which is hampering their play.
And remember, that observation comes from the official statistics.