by Bulldog Drummond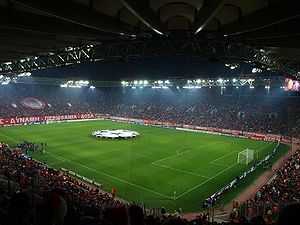 The main question is where on earth is this game being played?  Well, of course, as you probably knew the answer is Στάδιο Γεώργιος Καραϊσκάκης, which for those who studied ancient Greek at school rather than the up to date version is the Karaiskakis Stadium in  Piraeus, a port city in Greater Athens.
In short it is where Olympiacos plays.   The capacity is 32,115, and it is the largest football-only stadium in Greece. It is named after a military commander of the Greek War of Independence Αγώνας who fought against the Ottoman Empire in the early 19th century.  If you have been paying attention you will know that we drew 1-1 in the first leg.  If you weren't paying attention then you didn't miss much.
That last game at Rome's Stadio Olimpico was our away game.  This is our home game.  So we have an away goal.
It was all a bit of a comedown from Group B, where we did the double over each of Rapid Wien, Dundalk and Molde, scoring 20 goals along the way – the most ever by an English team in a Europa League group.
Benfica also came through undefeated, but they only got three wins.
Since the last game they have played out a goalless draw against Farense, a game in which they had 66% of the possession.  It leaves them in fourth, 15 points behind the leaders Sporting Lisbon.  Thus we are the fourth most successful English club in Europe.
1

FC Bayern München

GER

129.000

2

FC Barcelona

ESP

121.000

3

Juventus

ITA

118.000

4

Real Madrid CF

ESP

117.000

5

Club Atlético de Madrid

ESP

115.000

6

Manchester City FC

ENG

110.000

7

Paris Saint-Germain

FRA

108.000

8

Manchester United FC

ENG

99.000

9

Liverpool FC

ENG

97.000

10

Sevilla FC

ESP

97.000

11

 

Arsenal FC

ENG

89.000

12

Borussia Dortmund

GER

88.000

13

Chelsea FC

ENG

86.000

14

FC Porto

POR

84.000

15

Tottenham Hotspur

ENG

84.000

16

FC Shakhtar Donetsk

UKR

77.000

17

AS Roma

ITA

77.000

18

Olympique Lyonnais

FRA

76.000

19

AFC Ajax

NED

74.500

20

SSC Napoli

ITA

72.000
The club co-efficient is a cumulative figure based on the club's performance over the years and with an element built in to take account of the competitiveness of the league in which they play.
Benfica however have won only 11 of their 37 matches against English clubs, drawing 19 and losing seven.
Arsenal were Champions League ever-presents for 19 seasons in a row from 1998/99 to 2016/17, a record that has only been beaten by Real Madrid.
In the Europa League our record is won 15, drawn three, lost three.  Last season's defeat to Olympiacos ended a seven-match unbeaten home run in the knockout phase; six games were victories.
The best omen is that we have won four of the six European ties in which we have drawn the away leg first, including the two most recent.
On the other hand, when Benfica have drawn the first match 1-1, they have won four and lost two of the subsequent games.
David Luiz made his 99th in a European club competition in the opening leg of this tie.  He was a Benfica player from January 2007 to January 2011, winning the 2009/10 Portuguese Liga under Jesus.   He played against them three times in Europe for Chelsea, winning all three games including the 2012/13 UEFA Europa League final in Amsterdam.
And if it becomes a draw, in European shoot outs we have won two, lost two, exactly the same as Benfica.
As for the injuries, we have two men down… here is the info from Physioroom.com
| | | | | | |
| --- | --- | --- | --- | --- | --- |
| Player | Reason | Further Detail | Potential Return | Condition | Status |
| Rob Holding | Head/Face Injury | "Holding had a concussion but now we need to follow the protocols and he won't be able to travel." | 28/02/2021 | Currently Being Assessed | 50% |
| Thomas Partey | Thigh Injury | "Thomas is very close [to being available]. He's got a final test today and if he is feeling good he will be available." | 25/02/2021 | Late Fitness Test | 50% |