By Sir Hardly Anyone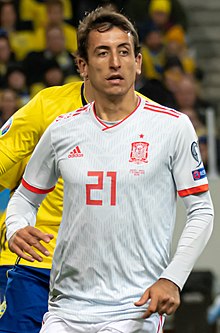 Interestingly, occasional slight justifications and explanations for Arsenal spending money in the summer on the transfer market are starting to emerge.  The prime one being that because we are no longer spending money on players who are on the payroll but not in the "25" we now have lots of spare cash.
But as previous articles have shown even without those two exiles we still have a full squad of foreign grown players, and our squad of home grown players will grow again next season as some of our youngsters come of age.
In other words, the release from money being wasted each week on non-playing players deals with only a fraction of the issues, although for Football London it is the full story.  So here we go with the first edition of a new set of players to be signed this summer….
1. Mikel Oyarzabal, a winger from Real Sociedad
Position: Left wing
Past: Entire career at Real Sociedad
Internationals: 11 for Spain
This season: 21 league games and 10 goals.
Age 23
Cost (according to Transfer Markt) £63m
Thoughts:  Versatile – can also play right wing and attacking midfield.
2.  Mike Merino, a midfielder from Real Sociedad
Position: Midfield
Past: Osasuna, Borussia Dortmund, Newcastle United, Real Sociedad
Internationals: 6 for Spain all since 2020.
This season: 5 league games and 1 goal.
Age 24
Cost (according to Transfer Markt) £36m
Thoughts:  He actually only cost €12 million so his price has shot up after Newcastle decided he was not for them.
Comment: Real Sociedad don't seem to be in desperate financial straits so it is hard to see why they would see either player at less than the list price.
3.  Tariq Lamptey from Brighton and Hove
Position: Right back
Past: Played one league game and two cup games for Chelsea before being sold
Internationals: Played twice for England under 21s.
This season: 11 league games and 1 goal – his highest number of games thus far.
Age 20
Cost (according to Transfer Markt) £16.2m
Thoughts:  Seems awfully inexperienced, unless we are paying out this much for a reserve.
4.  Ibrahima Konate from Red Bull Leipzig
Position: Centre back
Past: Played 12 times for Sochaux and 61 for Leipzig
Internationals: Played 11 times for France under 21.
This season: 9 league games and 1 goal – compared with 28 in 2018/19.
Age 21
Cost (according to Transfer Markt) £31.5m
Thoughts:  Fairly inexperienced, not been playing much this season, very expensive..
5.  Houssem Aouar  
This is a player who we have "reportedly" been signing for the past two years.  Good to see the old traditions upheld.
Position: Midfield
Past: Played 120 times for Lyon
Internationals: Played 1 game for France
This season: 9 league games and 1 goal – compared with 28 in 2018/19.
Age 22
Cost (according to Transfer Markt) £45m
Thoughts:  Only nine games this season… and still £45m.  Kevin Campbell says Leicester want him but we will gazump them.
6.  Achraf Hakimi
Position: Right back, can also play left back or as a winger.
Past: 9 games for Real Madrid, 54 on loan with Borussia Dortmund and 25 with Inter Milan.
Internationals: Played 32 games for Morocco
This season: 25 league games for Milan.
Age 22
Cost (according to Transfer Markt) £45m
Thoughts:  25 games this season and Inter are said to be in real financial trouble
As for those leaving, well, Football.London is never short of an exit list or two when it comes to Arsenal.  For example on 4 November they had
Every Arsenal player to leave under Mikel Arteta 
24 November last year they ran the headline
The 12 players set to leave Arsenal
and then just two weeks later, on 4 December their headline was
The eight players who could leave Arsenal in the January …
That seems to suggest some diminution in the complete clear out predicted.
So we can see that the jolly old FoLo supercomputer has probably got some jam stuck in its works not least when it said on 17 February
Arsenal plan 'clear-out' of nine players this summer including Alexandre Lacazette
Anyway, it goes on and on and on, as FoLo does, ceaselessly rerunning its past stories as if they were new, and endlessly blaming someone else for originating it.  And indeed we were offered up the Daily Mirror's list of 16 players who were going, just recently – and you'll recall perhaps that the Daily Mirror own FoLo.  How odd!
It is a story they are really pumping out – so either Arsenal are going to change almost the entire squad, or else they are making it up. I leave it up to you to decide which is the most likely.
The Sweet FA and the corruption files