By Sir Hardly Anyone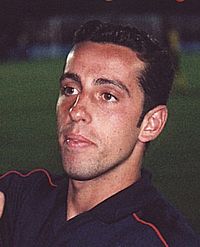 Looking at the avalanche of transfer news each day it is easy to miss the fact that the reporters of Arsenal's transfer tales work to a set pattern of activity, known in the trade as the "Eight Point Plan."
This plan was invented both to help journalists and bloggers keep track of where they are in a transfer story (while recovering from a session at the Toppled Bollard) and also to spin out each transfer invention over not just one or two but eight separate postings.
There is of course a general agreement among bloggers and journos not to mention the Eight Point Plan as it doesn't really reflect our nation's scribblers in the best of lights – but then, when it comes down to it, nothing reflects them in the best of lights.
So just in case you've not had a chance to meander along to the Toppled Bollard in London's docklands, here's how it goes.   All you need, in order to run the process is a player who you can suggest, Arsenal are going to buy.
And by having eight parts to each transfer, it is possible to get eight different posts out of each rumour!  And of course all the approaches can be used equally for comings and goings.
1: The advice
This is the highly speculative opening salvo, and it suggests that given a bit of encouragement something might happen here, but we are in the very early stages.  For example
"Arsenal? Everton? Stay at Norwich? The potential paths for Max Aarons amid transfer speculation."    (Football League World)
2: Watch this space
This suggests the writer has inside knowledge.
"'Watch this space': Paul Merson questions Arsenal star's future at the Emirates"  (TBR Football).
3.  Targeted
Now we move on.  No bid has been made but the player is in someone else's vision.
"Better than Aubameyang? Reported Arsenal and Wolves target scores 22nd of the season" (HITC).
"Arsenal in for 27-goal striker this summer after scouting him all season" (Daily Cannon)
4.  The promise
Having targeted the player we are making progress.
"'Dream come true'; '£3m plus Guendouzi': Some Arsenal fans really like new reported transfer…" (HITC).
"Arsenal in strong position as they plan Martin Odegaard transfer talks with Real Madrid" (
"Mikel Arteta looking to activate Guido Rodriguez's £68m release clause this summer' (Mail Online).
5 The could be
This could be really exciting
"Man Utd, Arsenal and Liverpool eye 27-goal striker they could sign for just £17m in summer" (Express).
6  The tussle
Now comes the disappointing news that it is not just Arsenal in for the player (and we know what that means as Arsenal won't offer enough money, and are always too slow).
"Man United, City, Arsenal and Liverpool in transfer tussle for 'next Samuel Eto'o'" (BizInstant, Talk Sport).
7 It goes wrong
"Arsenal face transfer blow in Odegaard chase"
After all that, there was never any chance of a transfer as Real Mad says that the player is "fundamental" to their future.  (Football London)
8. There ain't no money
Now it all falls apart.  "Arsenal's summer transfer plans and Martin Odegaard chase hinges on Stan Kroenke changing policy" (Football.London).
The great trick of course is to have eight transfer tales on the go at any one time so that it looks like this newspaper or website really is on the ball, following through every nuance of a tale.  And readers generally lose track, getting incredibly excited by the whole process.  After all eight transfers across eight stages – it Football London's policy of a new Arsenal story every two hours is more than satisfied.
But most importantly the failure is never that of the fantasist journalist, because according to the eight point plan, each story was true – there was a real chance until at the end it fell apart because Arsenal were too slow or didn't have the money or the player in the end didn't want to come.
Looking at this final point we can see that really this isn't a game, but an approach dedicated to knocking Arsenal, the net effect of which is for players not to want to come to Arsenal because, well, only 3% of the other players tipped for the club actually end up there.  That's not the intent – the intent is to create tales with the minimum amount of effort, but that is the effect.
The Postscript: Arsenal could have had him
There is even a postscript, after the transfer window is over.  A story to cover up the fact that 97% of all transfer tales are untrue (as we have shown every summer for the past six years).
This says, the player would have loved to come to Arsenal but ….
As this shows, the 8 Point Plan has two benefits for the journalist.  One is the journo doesn't have to do any work.  The other is that it knocks Arsenal, courtesy of all the websites and newspapers that re-run the story every day.  And that's what the editors require.
The Arsenal video collection: free
140 historic Arsenal videos with more being added each day
Gaslighting: how refereeing in the Premier League is manipulated, and why the media never speak about it.
(Footnote: the first ever mention of gaslighting in connection with football has just appeared in the media – six weeks after the above series began to appear)