By Bulldog Drummond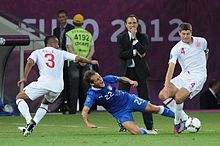 Arsenal this season have committed fewer fouls than any other team in the Premier League.  You won't read about that in the media because the media doesn't do positive stories about Arsenal, but it is a fact.
And it is interesting, given that it is 85 fouls fewer than Manchester United.  Again something that wouldn't fit the narrative.
Arsenal have achieved this position in part by committing the smallest number of tackles of any club in the League.  Arsenal have undertaken 342 tackles, compared with, for example Leicester City who have committed 511 tackles.   (Leicester are not the most tackling club – that is Southampton – but they are the highest in terms of clubs at the top of the league).
Indeed Arsenal have been forced into this position because of the way Arsenal are treated by referees – we are allowed to get away with far fewer tackles before a foul is called, and we get yellow cards more often that most other clubs.
Here's a snapshot of the current situation…
| | | | | | |
| --- | --- | --- | --- | --- | --- |
| | Tackles | Fouls | Tackles/foul | Yellows | Fouls/yellow |
| Arsenal | 342 | 268 | 1,28 | 40 | 6.70 |
| Liverpool | 389 | 293 | 1.32 | 32 | 9.16 |
What this table shows is that Liverpool can get away with over a third more fouls than Arsenal before being shown a yellow card.  Which is again why Arsenal have had to reduce the amount of tackling.
Thus this is not a tactical decision based on helping Arsenal win games, but a decision based on how referees treat Arsenal.
To give an example of how extreme is the difference between the way referees treat different teams, Leicester City have committed 511 tackles this season, but only had 302 of those called as fouls.  Meaning they can commit many more tackles than Arsenal before getting called out for a foul.
Indeed the move by Arsenal in the latter part of this season away from tackling, was essential for Arsenal's survival in the Premier League, because without that reduction we would have had had much of the defence out on suspension for much of the time.
The extremes of the situation are revealed in this weekend's game against Liverpool.  Arsenal have to commit 6.7 fouls before they get a yellow.  With Liverpool it is 9.16.
Put another way, Liverpool have committed 25 more fouls than Arsenal this season, but have received eight fewer yellow cards than Arsenal.
So for this game you will see Liverpool fouling Arsenal more than Arsenal foul Liverpool, but you will see Liverpool being punished far less than Arsenal.
Despite this huge advantage that Liverpool take into each game they have still let in four more goals than Arsenal so far this campaign.  36 conceded by Liverpool and 32 by Arsenal.  Although they have slipped a little in recent weeks, Arsenal still have the fifth best defence in the league.
Where Liverpool have suffered this season however is in terms of injuries.  Here is the physioroom.com injury league table
Crystal Palace: 8

Everton: 8

Sheffield United: 8

Liverpool: 7

Chelsea: 6

Leeds United: 6

Leicester City: 6

Southampton: 6

Brighton and Hove Albion: 5

Burnley: 5

Manchester United: 5

Newcastle United: 5

Tottenham Hots: 5

West Ham United: 5

Wolverhampton Wanderers: 4

Arsenal: 3

Aston Villa: 3

Fulham: 3
Liverpool seem to have been near the top of the injury table all season in fact.
Our injury situation is that two players we very much don't want to see injured, are just that.
| | | | | | |
| --- | --- | --- | --- | --- | --- |
| Player | Injury | Details | When back | Test? | Chances |
| Emile Smith Rowe | Groin/Hip/Pelvic Injury | "Emile has some discomfort in his hip and that's why they decided to keep him out. We will speak with the doctors and the physios and see if he is available for training tomorrow." | 3 April | Late Fitness Test | 50% |
| Willian | Calf/Shin/Heel Injury | Calf Strain | 3 April | None | 100% |
| Bukayo Saka | Thigh Injury | "He's been doing some individual work. He's feeling better, but he hasn't trained with the team yet." | 3 April | Late Fitness Test | 50% |
Liverpool's details are that Juan Mata might be back, Rashford is "taking one game at a time", Phil Jones has no return date, Mason Greenwood is being assessed, and Anthony Martial has no return date.
More anon…
The Arsenal video collection: free
200 historic Arsenal videos with more being added each day