By Sir Hardly Anyone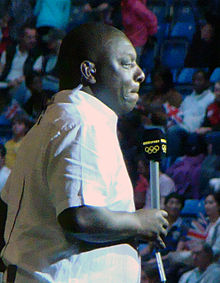 Now consider the case of Mikel Arteta. And yes I know that picture on the left is not Mike Arteta but is in fact Garth Crooks, but I will come to that in a moment.   For either Mikel Arteta is utterly out of his depth (as Garth Crooks says – see I said I'd get there), or he is working on a cunning plan which is going to deliver, although there may be some bumps along the way.
Of course Untold was against the notion of forcing out Wenger, and then forcing out Emery, and using Freddie for a while, because constantly changing managers is rarely a good idea.   Yes it worked in 1995/6 when the club sacked George Graham, had Stewart Houston in for a bit, then Bruce Rioch for a year then another six games with Stewart Houston and then brought in an unknown (in England) French guy who delivered three league titles (including one unbeaten) and seven FA Cups.
So as I say, it worked in the end.  And I think it will work with Arteta, not least because we saw that terrific run in the last two thirds of last season, just as we have seen the sort of revolutionary and imaginative tactics that Wenger was famous for.
Now the latest Artetain idea is the notion of playing Martin Odegaard and Emile Smith Rowe in the same team.  Not many (certainly not me) thought they could be brought into a team together, but it looks like they can.
As Mr Arteta said last season, "The plan was to have more options and to start to create relationships with players that, in our opinion, could play together.   We work… as a club to try to identify those talents, good players, and intelligent players that can always play together.
"We have to find the right structure for them to maximise their potential and this is what we are trying to do and we will try to do that even more with some of the players that we have with the same qualities."
So what we have seen are two different approaches.  One has Odegaard playing in the centre and Smith Rowe out wide, while the other has Smith Rowe as the number 10 and Odegaard playing behind him next to Thomas Partey – neither of which approaches were considered even possible by the media before Mr Arteta implemented them.
And there is something rather exciting about that plan, given that there is also the creativity of Bukayo Saka in the team as well.   (Oh and if you are concerned that Arsenal are planning to sell Saka for a very modest fee to any club that wants to buy him, even the normally bonkers Daily Mirror is now seeing that tale as, well, bonkers.  
Although if you are still worried about that story, our in-depth analysis (well, at least, our article) should put your mind at rest (or send you to sleep).
But of course not everyone is convinced things are going the right way.  Take Garth Crooks (whose salary at the BBC I help to pay, through being an honest BBC licence fee payer).   Mr Crooks' career, you may recall, finished with him helping to relegate West Bromwich in 1986, and then, after they shipped him out, repeating the trick with Charlton in 1990 (although to be fair, Charlton did try to avoid his influence by having him on their books but not playing him).
Writing for the BBC Mr Crooks stated that "The problem for the Gunners is they look miles from where they really should be right now, and the biggest culprit seems to be the manager."  And a lot of so-called supporters at Arsenal seem to believe him, although why they want to believe a man who played for the tiny totts and Manchester United (not to mention WBA and Charlton) I really can't imagine.
He then added in the aftermath of the Burnley victory, "Mikel Arteta appears out of his depth," although I suppose to be fair, given his history at WBA and Charlton Mr Crooks knows a thing or two about being out of his depth.
So what justification did Mr Crooks offer for his assertion that Mr Arteta was "out of his depth".  Here it is, and you might want to read this twice, since it doesn't follow any of the normal rules of logical argument.
"He has talented players at his disposal and on occasions against Burnley they showed it.  However, it was a set-piece that dug him out of a hole."
Make of that what you will.  Personally I am on the master tactician side of the Arteta debate, and I think we'll see his value over time, just as we did in the latter two thirds of last season.