By Tony Attwood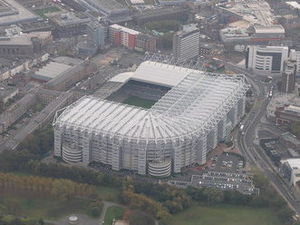 The general consensus is simple: Newcastle United is now the the richest football club in the world, Of course it is not their own money earned by having a big stadium packed with fans (as per Arsenal's 1930s model) or a world-wide marketing system (Manchester United's approach in the 1960s).  No instead they have done it by being funded by the Saudi Arabian sovereign wealth fund, (the Public Investment Fund), but not the Saudi Arabian state.
Now you've got to admit that is pretty nifty, and clubs around Europe must surely be pondering, "how come we never thought of that?"  The country, which has no democracy, has an absolute ruler who is chair of the sovereign wealth fund, says and assures the Premier League, the state will have no control over the funding of Newcastle, because the ruler of the country who also controls the sovereign wealth fund says so.  Did I lose you in that one?  Sorry.
You know, I tend not to mention it much, because a lot of people think I'm an absolute idiot, but I do have a research degree from a rather prestigious university, and fellowship, and a couple of other qualifications and things which are supposed to suggest I am quite bright.  But still I don't get that.  But it must be way above my intellect level because the Premier League says it's so.   Indeed, it is what some readers have often said: those guys must be a lot, lot brighter than me.
And all that stuff we've been publishing about Saudi Arabia blocking BeIN Sports TV channels, and running their own pirated BeOut Sports channel.  That must be nonsense.
That article, linked above, about a legal case, was headlined "Manchester City take on the whole of European football" – an issue that has rather been lost. And it ended "As a result of this case, something has to give."
But that bit we got right.  Something gave – the Premier League realised the tangle it had got itself into with the Man City case and now has had to find a way out.  So it gave permission to Newcastle to go ahead.  It was easier than worrying about the chemical castration of gay people.  Or Jamal Khashoggi.  Or Saudi Arabia's involvement in Yemen
No, as the New York Times put it, "the Premier League just needed to be reassured that the Mohammed bin Salman who runs Saudi Arabia would not interfere with the decisions of the Mohammed bin Salman who runs Saudi Arabia's sovereign investment fund."
I'm glad the English newspapers have understood that too, because if they didn't, they would have to be making a lot more fuss than they are.  Which is not very much.
Thus Mohammed bin Salman has not promised not to be engaged with the activities of Newcastle United.  That was Mohammed bin Salman.   Because Newcastle is not owned by Saudi Arabia, just as Manchester City is not owned by Abu Dhabi and PSG is not owned by Qatar.
Also some Newcastle fans are quite free to wave the Saudi Arabian flag (as they have been doing) which has on it the inscription, "to know and believe without suspicion, as if witnessed," and they are certainly doing that.
And it is interesting (to me if no one else) that as the New York Times points out, "it is now possible to write a sentence in which the murder of a journalist and Newcastle United both feature."  Whatever some people think of the Kroenke family, and whatever my personal dismay at the way the Hill-Wood family acted in kicking Sir Henry Norris out of Arsenal in 1927, I don't think Arsenal have ever got quite into this bit of muddle.
So where has football got to?  Manchester City is owned by Sheikh Mansour, but run by Sheikh Mohammed bin Zayed Al Nahyan according to Josimar.   You may choose to reject that view – and you might not want to read that article straight after a meal, as it is rather disturbing.
Rather more amusingly Reuters have pictures of a few Newcastle fans holding up signs saying "Corrupt Premier League".  I think they might want to read one or two of the articles cited here before going much further with that line of argument.
In essence while some very rich people use football in order to make money from the economic activities that exist around it, others use football to try and deflect from their alleged activities.
Many Arsenal fans don't like the Kroenke family because they don't spend enough money on Arsenal transfers (although we didn't do too badly this past summer).   But I am not sure the Kroenke family has ever been accused of what a lot of media outlets are accusing Saudi Arabia of.