By Tony Attwood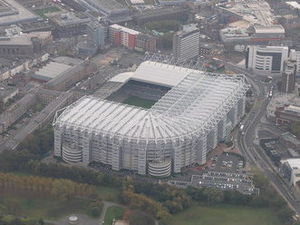 There are a number of issues floating around the issue of Newcastle's purchase by Saudi Arabian forces.  Some affect football as a whole, as we have seen, another is that there is opposition to the move within English football, and the other is that the financial structure of English football is out of control.  Each of these is starting to get very small mentions in terms of media coverage; it will be interesting to see if the media squashes them and joins in a celebration of English dominance, or whether any are able to take the longer view – or whether maybe something is going on.
True, using the media to support Newcastle's dealings and the view of the IES (inevitability of English superiority) seems the most likely outcome but it is not utterly inevitable.  And yet…
Newcastle's move into the big league is obviously supported by many of Newcastle's fans, who clearly do want success at any cost, moral or financial.  Arsenal however have the moral high ground since the "Bank of England club" as it was known in the 1930s based its financial success not on donations from the board or big business, but the economic astuteness and willingness to take risks of Sir Henry Norris who not only took the (at the time) highly unpopular decision to move from Plumstead to Highbury, but also risked his own fortune made from his property company, in building Highbury Stadium.
But it was the fans who turned up in such huge numbers no matter what, combined with Sir Henry's ability to attract Herbert Chapman as manager that did the trick.
Fans of Newcastle are also in favour, as indeed are fans of other clubs who think their club could be next.  If Everton's new ground is now going ahead they must hope for similar investment, as must West Ham who remain attractive to buyers having been given their ground for nothing by generous tax payers.  
But it is the clubs below these in the league whose supporters may be thinking things could change.  Wolverhampton and Leeds both look to be ripe for development, especially if a new ground could be found in the way that Arsenal built their new stadium.
Yet there is a lurking danger for although none of the big movers in this sort of game have fallen foul of uprisings, coups, internal political machinations or inventions, any of them could.  Consider, for example, what happened to those who made their fortunes out of horse breeding after the arrival of the internal combustion engine.
And there is another force within football aside from technological development that could cause problems.   The cost of the top player involving an English club rose by 700% in 12 years.  As the chart below shows the rise is not smooth, but it seems inexorable.
| | | | | |
| --- | --- | --- | --- | --- |
| Month | Player | From | To | Cost |
| July 1996 | Alan Shearer | Blackburn Rovers | Newcastle United | £15,000,000 |
| August 1999 | Nicolas Anelka | Arsenal | Real Madrid | £22,500,000 |
| July 2001 | Juan  Verón | Lazio | Manchester Utd | £28,100,000 |
| Sept 2008 | Robinho | Real Madrid | Manchester City | £32,500,000 |
| July 2009 | Cristiano Ronaldo | Manchester Utd | Real Madrid | £80,000,000 |
| January 2018 | Philippe Coutinho | Liverpool | Barcelona | £105,000,000 |
But supposing it just stopped?  That might seem unlikely but so did the collapse in the oil price in the early days of the pandemic, and so did the economic collapse of Barcelona seem impossible to imagine in January 2018, and yet now they are not allowed to register new players and earlier this year started trying to reduce their wages bill by £156,000,000 a year.  
There are already stirrings in Uefa that rich kids buying clubs and pushing up transfer fees is not good for the game as a whole.  Indeed there is a view that the days in which Manchester City could win the league one season and get relegated the next, is actually what football should be about.   A proper FFP or salary cap wouldn't stop Newcastle now, but could stop them doing it a second time around.
Amanda Staveley has banked her life on the success of this venture, but if it fails because of a change in the rulebook about foreign ownership, well, hopefully she has a very secret location to escape to, with a tunnel straight out of her offices.
And here is another scenario.  Maybe some top managers have moral fibre.  Hard to imagine I know but Antonio Conte has seemingly already turned down the job of Newcastle manager…
One thing is sure, there are a lot of clubs who are trying to get rid of high wage earners.  Barcelona of course still have to meet their insane debts and want to sell Philippe Coutinho, while PSG are getting nervous about Financial Fair Play and are offering Mauro Icardi.  Juventus are offering Aaron Ramsey to anyone interested.
But supposing a player publicly said "no, I don't want to work for a state that tortures homosexuals."  That might change the landscape too.  I don't think the future is all quite as done and dusted as the media suggest.