By Tony Attwood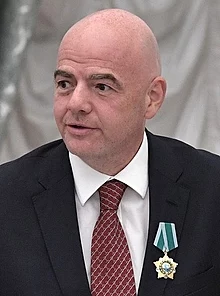 It is rather pleasing that the person being blamed for the notion of a World cup every two years is not Arsene Wenger but the man who asked him to develop the plan: President Infantino.
Of course, I don't know what Mr Wenger expected when he put forward his plan for a WC every other year, but one interesting result is that Norway, Sweden, Finland, Denmark, Iceland and the Faroe Islands, have united in asking Infantino to resign from his position as Big Chief Boss Man.
That it comes at the end of a period of sustained attempts by Il Presidente to push through his Grand Plan.  And it appears he has not succeeded in doing so.
And this in turn comes just at the time when in Switzerland, the trial of Sepp Blatter and Michel Platini concerning a million-dollar payment is about to begin.   And as we have seen in so many such events, irrespective of the outcomes, such moments have a habit of exposing all sorts of other revelations, which the English media will be "forced" to ignore on the grounds that English football fans are not interested in foreign football issues.
So the FA remains committed to hiding all of the FAs sins and crimes, while also being committed to Fifa.  Just as the Premier League is committed to that other bunch of n'er-do'wells, PGMO.
Meanwhile, Infantino has now appeared before the press of Europe, and talking about the need to find a "common position" while noting that he was as ever "open to suggestions."
Which is a bit like a bunch of crooks stealing the crown jewels from the Tower of London, getting caught with them in their bag, and then appearing before the beak talking about it being quite possible to argue that the crown jewels were the property of the thieves because they were citizens of the UK, just as the queen is, and the best way out was to find a common position in terms of ownership.
On his side, Overlord Infantino wants, requires and demands a World Cup every two years, and the rest don't want a world cup every two years.  Neither party wants to compromise, any more than Ghenkis Ghan fancied compromising over the use of Mongolian ponies in the invasion of China.
A Fifa fan survey suggested every three years as a compromise.  Most people seeing that didn't even bother to laugh.
So there is now proposed an extraordinary Fifa Congress at the end of 2021 to thrash out the issue, and that could be a good idea because it would be fun to see Infantino get a damn good thrashing.
But there is a problem, because some of the smaller nations which don't have very much money, would actually like a world cup every two years since that would give them lots of extra cash which ought to find its way into local football, but possibly might not.
And given that in Fifa's world every country large and small has a single vote, that could be enough to push things through.  And besides, Vanuatu, Fiji and the Turks and Caicos Islands all have seats on the  37-member Fifa Council.
But never fear because Mr Infantino has come up with a new plan – un gigantesco compromesso.
 In this, there is a world cup every two years but the same countries could not play in consecutive world cups.   So in effect, England would play in a world cup across a two year period, and then there would be another world cup across a two year period in which England would not play.
So the world cup winners would not actually be world champions, but actually champions of the half of the world that played in that world cup.
The next Fifa Congress takes place in Doha, Qatar, in March, and there is certain to be another almighty row.  Lots of smaller countries that are members of Fifa will be putting their point – and so will everyone else in fact.
But above all what I would like to know is what Mr Wenger had in mind when he came up with the scheme.   Did he know it was never going to get through and thought it would be a good idea to screw Infantino and the whole of Fifa – the organisation that made his life a misery at Arsenal – big time?
I suspect he might.
Or was it all an Infantino plan and Infantino knew it might not get through, so hired Mr Wenger (who is very popular in world football) to push it through.  Mr Wenger looked at it, saw the scheme could sink Infantino for good, and so agreed.
That's possible too.