By Bulldog Drummond. Picture below from Fazza World on Pinterest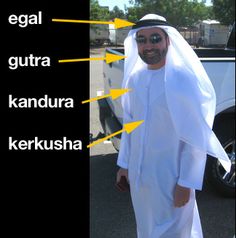 It started out with Newcastle fans wearing mock Arab costumes to celebrate the takeover of the club by the Saudi Arabia Sovereign Wealth Fund.
Then on 20 October the club put out a statement saying "Newcastle United is kindly asking supporters to refrain from wearing traditional Arabic clothing or Middle East-inspired head coverings at matches if they would not ordinarily wear such attire," on the rather bonkers grounds that "it could be considered stereotypical and culturally offensive."
Bonkers since that would mean that given that I normally dress in jeans and rugby shirt, if I put on a suit and tie to go to a business meeting, that too could be considered stereotypical and culturally offensive since I don't subscribe to the culture that says a certain costume should be worn for business meetings.
Next on 23 October Newcastle United backtracked "as they tell fans they CAN now wear Arabic clothing despite criticism from anti-racism groups."   And according to the Sun, this was despite Kick it out saying that such fancy dress could be offensive.
Then according to the Observer "police [are] investigating after Palace fans display banner at Newcastle match."
If you are a UK citizen or are familiar with the traditions and standards in the UK, freedom of expression is one of our most highly cherished freedoms – and incorporated into this freedom is the freedom to protest, and most certainly having a banner protesting against the lack of human rights in somewhere on the planet, is generally felt to be covered within that freedom.
This raises the question, what next?   Are the police going to be monitoring football chants?  Obviously yes they already do and the authorities and indeed regular members of the public have been active in getting racist chanting out of a lot of our society.
But criticism of cultures is not the same as racism, so are we really now about to lose that freedom to criticise cultural choices and traditions as well?  No more protesting against the way women are treated in some societies?  Calmly accepting the complete abolition of the rights of women in Afghanistan?
And since the owners of Newcastle don't like people consuming any alcohol, will they stop the sale of alcohol at the Newcastle ground – and logically ask other clubs not to sell alcohol in the away ends of other grounds to Newcastle followers?
And then I guess they will say either no women at Newcastle games, or perhaps sexual segregation as apparently their religion commands (although I can't confirm that it does since I am an athiest).
Of course that all seems preposterous, and yet seriously, "Police are carrying out inquiries into a banner unveiled by Crystal Palace fans before Saturday's 1-1 draw with Newcastle," according to the Guardian.
A banner that listed offences that the Saudi regime is responsible for, including terrorism, beheadings, civil rights abuse, murder, persecution and censorship.
As the fans said, "To give the thumbs up to the deal at a time when the Premier League is promoting the women's game and inclusive initiatives such as rainbow armbands shows the total hypocrisy at play."
The Crystal Palace official lesbian, gay, bisexual and transgender supporters group "posted a video on their Twitter account which highlighted the imprisonment of Suhail al-Jameel in Saudi Arabia," adding "We want to pick up the baton started by our counterparts at Spurs, LGBT group Proud Lilywhites by raising awareness of Suhail al-Jameel.Suhail, in prison in Saudi Arabia for three years for being gay.
"Suhail al-Jameel.Suhail has also "been subjected to 800 lashes as part of his punishment. We don't believe these owners have a place in the Premier League and we want to keep raising awareness," announced the group.
The chief executive of Leeds took up the issue, writing in the club programme, "The media and public have been left debating why the Premier League owners directors test is harder to fail than GCSE PE, but now our real focus should be on how the new owners of Newcastle embrace the values of equality, diversity and inclusion that are core to every club's membership of the greatest league in the world."
Meanwhile back with the Guardian it is reported that the new owners of Newcastle United "had laid claim to the values of inclusivity," which given that behind the owners is the Sovereign Wealth Fund of Saudi Arabia would be an hilarious statement, if it were not so utterly tragic.