By Tony Attwood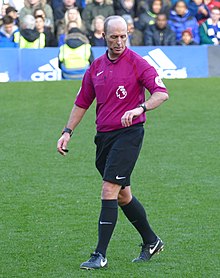 "Mike Dean is one of the worst referees in the history of world football, to me, and one of the worst men to have ever lived."
That is how the daily article emailed from The Athletic begins.  The article then goes on the list a few of Dean's errors, before saying, "Dean, in short, is biased against his club, in the same way that Stuart Attwell is biased against Arsenal for not giving a penalty against Manchester City on Saturday. Actually, it turns out via a little bit of research that Dean is biased against Arsenal as well, and Leeds too."
It then points subscribers to the article, "All of us fans are bonded in our blindness towards refereeing decisions. Mistakes are made but officials are not biased, writes Stuart James"  But of course there is no evidence of this. Just assertion.
So let me offer an alternative viewpoint from the "they are doing a difficult job well" vs "they are corrupt" argument, which is how the debate seems to be going.  Six questions answered.
1: Is PGMO the right sort of organisation to run refereeing?
PGMO is, as far as I can tell, an independent body.  The nearest you'll find to a PGMO website is this page which really tells you very little.   For example there is nothing about who PGMO is answerable to, largely because it isn't answerable to anyone.   Rather like the FA, it just is.
So PGMO decides how many referees it wants, it decides how many times each referee will oversee a match involving the same club, it decides if the referees are fit for purpose, it decides if referees should be able to talk to the media, who should drive the referee away from the ground…
Thus there is a legitimate question about the PGMO itself – which is (as far as I know) never asked by the media: is it actually fit for purpose?
2: Is there evidence that referees are biased?
Absolutely, and it is damning.  The research involved showing top level referees videos of Premier League matches, half the referees having the actual crowd noise from the game through headsets, half wearing headsets with no crowd noise.   At each major decision the video was stopped and the referee had to note his decision.   The decisions of referees with the crowd noise was clearly biased toward the home crowd, even down to how much time was to be added on at the end of a game.  For the refs with no crowd noise there was no bias.
This research involved academics who are used to complex research projects, professional referees, and a club director who is also an academic and was peer reviewed to the normal academic standards.
3.  Does referee bias show in practice?
Yes.  Throughout the history of the league, home teams have won more games than away teams.  In the season without crowds, away teams won more games than home teams.  Here are the figures for the Premier League…
| | | |
| --- | --- | --- |
| Season | Home percentage of points | Away percentage of points |
| 2018/19 | 57% | 43% |
| 2019/20 | 58% | 42% |
| 2020/21 | 44% | 56% |
The only explanation for this with supporting evidence is that revealed in point 2 above – referees are influenced to a small but measurable degree, by the crowd.
4: So what's the conclusion?
We cannot conclude that referees are corrupt, but we can conclude that they are not the 98% accurate machines that PGMO and their media lapdogs have portrayed them as.   They make mistakes and these errors are not evenly divided between clubs.  Therefore logically work should be ongoing to make referees less bias prone.
But this cannot happen, because PGMO is in constant and absolute denial that there is bias, and their lapdogs in the media accept this as absolute.  Indeed we might be better off asking: why does the media insist on letting PGMO get away with this?  That's actually quite an important question.
5: Any other problems?
Yes, plenty – but here is just one for the moment.  It seems very likely (not proven but very likely) that because of the tiny number of referees, and the fact that they all work together for one isolated and  remote organisation which never engages with the public, they have their own perception of clubs, which influences their decision making.  Maybe not by much, but to a degree.  For example, "Team V is always whinging and whining."  "Team W is honest and honourable, clean and exciting."  "Team X are timewasters."  "Team Y will pull every trick in the book."  "Team Z is managed by a man who is too clever by half.  Cut them down to size."  The word spreads.
6.  Any other evidence?
There is of course the case of the 12 match ban Arsene Wenger got from PGMO in 2000; a ban which was thrown out on appeal.  It is one of the most ludicrous and shameful actions by PGMO, but of course all now forgotten – except not by the Arsenal History Society.  You can read the story here.
Then there was our series of referee reviews – the most in-depth reviews ever carried out by anyone, as far as we know.    Our team of reviewers produced "160 games analysed" – the level of referee error is stunning.
So it continues, and I haven't even started on Gaslighting – which explains why the media do not and will not engage in this subject.   All the articles are still on this site…
Gaslighting: how refereeing in the Premier League is manipulated, and why the media never speak about it.