By Sir Hardly Anyone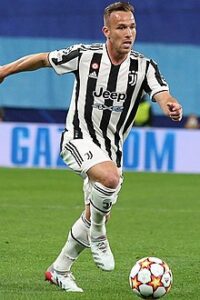 So the situation continues.  We have now either sold, given away or loaned a total of ten players Ryan Alebiosu, Calum Chambers. Tyreece John-Jules, Karl Hein, Pablo Marí, Sead Kolasinac, Brooke Norton-Cuffy, Folarin Balogun, Ainsley Maitland-Niles, Harry Clarke.   On the other hand we seem to have brought in no one.
The one big name that is still lurking around on the incoming list is Arthur from Juventus (pictured) who is a midfielder with a very high successful pass rate but no regular stating place with Juve, who bought him from Barcelona as that club went into financial meltdown.  He is known for dictating play in the middle of the field.
According to some we were about to sign him but now we have the headlines "Arsenal board 'refuse £34m Arthur Melo deal' despite Edu's agreement with Juventus" from the ever unreliable Express and "Arsenal board leave Edu red-faced after snubbing chance to sign Juventus star Arthur in loan to buy deal" from Team Talk.
No mention of the £125m Arsenal spent in the summer which has taken us up two positions in the league (an above-average return for that sort of spending).   But there is a clue as to what is going on more widely in the transfer market in a different article in the Telegraph which notes other factors of work.
They argue that under FFP Newcastle who had hardly been spending anything under the previous regime had £190m they could spend under Financial Fair Play Rules.  But all the selling clubs see if the money from Saudi Arabia.
Also they suggest, "It is a situation that has been inflamed by the approach of Amanda Staveley and her husband Mehrdad Ghodoussi. They believe themselves to be skilled negotiators, with a sharp eye for a deal and the ability to get deals done on their terms.
"In the absence of a chief executive and sporting director – positions they were supposed to fill immediately after the takeover – two people with no previous football experience have been put in charge of recruitment. They have, at times, looked like mice tossed into a hungry python's cage….
"They have tried to be clever, but forgot a fundamental rule of the January window. It is not the time of year to get a bargain.    Rather than make offers that are too good to turn down, Newcastle have put in low bids at the start of talks in the hope of reducing asking prices."
I know this is a several step argument, but if you start from the premise that the January window is always dominated by clubs who realise they really really must pick up a player or two either to push for a European place or avoid relegation, then it is clear that prices in January tend to be high.  Then along come a couple of amateurs (in relation to football) who can't accept that they are out of their depth, but who represent the richest club in the world.  So they cock it up for Newcastle.
Then as a knock-on effect lots of other potential deals are screwed up because some clubs are waiting for an insane bid from Newcastle from one of their players, and while clubs outside England are feeling that all prices of players sold to Premier League clubs have now shot up.
So if a PL club puts in a normal bid for a player the selling club is likely to think that they will look as if they have sold a player too cheaply and will come under intense criticism from the media, and so have the fans on their back.
And all this before we bring into the show the perfidious agents talking up their clients' value.  They always do this, now they are just doubling the price because they allege "Newcastle are interested."
Now often in January loans can come to the rescue.  A player not getting many games can have the last four months of the season elsewhere to show how good he really is.   But we have just seen Manchester United suggest Newcastle should pay £16.5m to borrow Jesse Lingard for four months.  Lingard will be a free agent in the summer.
Thus it is the Newcastle effect that is changing the transfer market and Arsenal like every other club are suffering the consequences.  Throw in the fact that under FFP Arsenal have very little financial room to spare even with all these players sold and loaned, and you can see the nature of the problem.
The window closes at 11:59pm on Monday, January 31, 2022