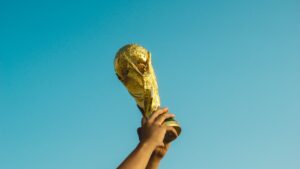 2022-23 has begun in spectacular fashion for Arsenal, who are now considered to be genuine contenders to win the Premier League title. But come the end of November, the domestic football calendar will come to an abrupt stop, as all eyes turn to the international game, once the 2022 FIFA World Cup begins in the Middle East.
There will undoubtedly be a frenzy of betting throughout the upcoming tournament, as punters around the whole globe look to wager on games. Such is the popularity of the beautiful game, Asiabet has even produced an extensive World Cup betting guide in Vietnamese –  trang web cá cược World Cup 2022 tốt nhất – and every other main language of the region. This highlights where the best odds and promotions can be found.
As for which teams are considered favourites to win the 2022 World Cup, well, the bookmakers believe there are four teams in particular, and each of them features players from Arsenal. Let's take a look at the Gunners who should be participating at the tournament in Qatar, keen to lift the most coveted prize in football.
Brazil
While the current Arsenal first team squad list features four Brazilian players, only two have a genuine chance of joining their national team squad in Qatar, tasked with living up to the tag of World Cup favourites. They are forward Gabriel Jesus, captured on a deal worth £45 from Premier League rivals Manchester City, and winger Gabriel Martinelli, who joined the Gunners for £6 million from Ituano back in 2019.
25-year-old Jesus is an established international with Brazil, having represented his country 56 times and contributed 19 goals, which makes his name in the squad practically a given. 21-year-old Martinelli only debuted with the senior squad this year, coming off the bench during a 4-0 win against Chile in March. Despite having earned 3 caps, his place at the World Cup is not yet guaranteed.
France
During the lengthy reign of Arsene Wenger as manager, Arsenal inevitably boasted a strong contingent of players from France, although their influence at the club has diminished in recent years. But there is one member of the current generation of Gunners, who will be hoping to make a name for himself at the 2022 World Cup, and that man is William Saliba.
Having represented his country at every junior level, from the U16 to U21 teams, debuting with the senior French squad was undoubtedly a proud moment for Saliba, who now has 7 caps to his name. The 21-year-old centre-back appears to be guaranteed a World Cup spot, providing head coach Didier Deschamps maintains faith in the young Arsenal player.
England
Arsenal boast millions of supporters around the whole globe, although the most numerous amongst us are those of us based in England, which means we will be backing the Three Lions in their quest for the World Cup. While the final selections of Gareth Southgate remain closely guarded, we can be hopeful that several Gunners will be on the final shortlist.
Hopeful of being one of goalkeeping trio, 24-year-old Aaron Ramsdale has 3 caps to his name, yet might be faced with a tense wait amidst stiff competition. Having earned the same number of international caps, 22-year-old Emile Smith Rowe will also be crossing his fingers, although this World Cup chance might pass him by this time.
Much better positioned to stake his claim in the England squad, 25-year-old Ben White has been impressive since joining Arsenal from Brighton, making him a firm consideration at centre-back and having earned 4 caps since 2021. Indeed, it would be a travesty if Southgate doesn't take White to Qatar, as he thoroughly deserves the opportunity.
Finally, the key ingredient from the Arsenal ranks will undoubtedly be Bukayo Saka, given that Southgate is a huge admirer of the talented 21-year-old, who already boasts 20 caps and 4 goals for England. Saka proves that regardless of his youthful age, his ability and form will be crucial for the Three Lions, as they seek to end so many patient years of waiting for success.