By Walter Broeckx
Let me start by saying that I would love it if the ticket prices at Arsenal would drop. I would be very happy with that. As for most people it is expensive. And as most of Europe is in not the best economical conditions (certainly my country is doing badly we are being told) I think most people do have to look out in a careful way on how to spend their money.
So if Arsenal could drop their prices with 50% I would be in heaven. And probably might come over a few more times in a season. But alas as Arsenal is one of the clubs that have to keep up with the battle with the rich and almighty oilers we will not see such a thing happening. Only if there comes a salary cap, and complete FFP rules we might see it happening. But we all can dream but reality tells us that this will not be happening any time soon.
As we all know in the media Arsenal is the club that they like to bash whenever the ticket price is being mentioned. We have shown on a few occasions that for a season ticket Arsenal is not the costliest team to watch if you look at it per match.
But the media like to hang us out to dry and make it look as if Arsenal is not only out there to rob the poor Arsenal supporters of their money but also is out there to rob those poor visiting supporters of their hard earned money.
We all remember the outrage in media and in referee circles where they portrayed the poor Manchester City fans (oh the irony) who had to pay so much money to see their poor team play at the Emirates. (yes there is some sarcasm in that).
Even referees or at least an assistant told the City players to greet them as they had to pay so much money. Maybe besides letting fouls go it also is now one of the priorities of the PGMO to look at what the visiting supporters have to pay to watch their team play? Well if that is the case we might have some good news from the referee front in the future.
Thanks to one of our readers we have a bit of comparative material on what Arsenal supporters have to pay at away grounds and what the fans from those clubs have to pay when they come to the Emirates.
And what do we see? Well that at 14 grounds Arsenal supporters have to pay more money than when the supporters of those 14 teams come to Arsenal.  And we have to remind you that at Arsenal the visiting supporters have a perfect view of the pitch. And that isn't always the case in each ground where Arsenal supporters have to sit.
We now will show the full table of those 14 clubs.  See you at the bottom of this table.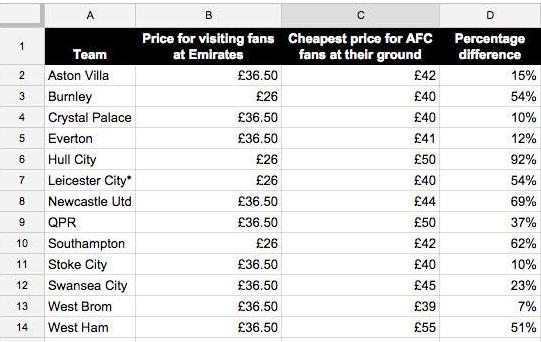 So these are the 14 clubs where Arsenal supporters have to pay more than where visiting supporters have to pay when they come to Arsenal.
In some cases there Arsenal supporters have almost pay the double than visiting fans at the Emirates. That is the case at Hull.  At Newcastle it is almost 70% more than they have to pay at Arsenal.
And at Southampton they also charge Arsenal supporters 62% more than they have to pay at Arsenal.
Of course sometimes the difference is rather small. West Bromwich Albion only charging 7% more than their supporters pay at the Emirates. And a few other teams also with a small difference are Stoke, Crystal Palace, Everton and Aston Villa.
Of course this isn't mentioned in the media. They rather repeat the same old story about how Arsenal is asking too much money at the Emirates. Both for the home and away supporters. And yet 14 of the teams charge more when Arsenal come to their ground.
And then I know from people who went to some of those grounds that the seats are awful and that on more than one occasion you don't even see the whole pitch at some grounds. Something that is impossible at Arsenal. The only way you don't see the whole pitch at Arsenal is because of you looking the wrong way. Or other visiting fans setting off flares and smoke bombs.  Indeed it was one of the demands that Arsenal had when building the new stadium that every seat should have unrestricted view of the pitch.  And having sat in almost every part of the stadium I can confirm that this is the case.
But the media will not mention this of course as it doesn't fit with the image they have created and will create again next year when they will examine ticket prices. Luckily our readers are sharper than most journalists so we can at least show that it's not just Arsenal who are asking high prices for tickets to visiting supporters.
————————-
The books