By Walter Broeckx
In their haste to blame Wenger for:
1. Welbeck missing a first chance (AWshould have bought Falcao instead of Welbeck
2. Welbeck missing another header seconds later (see it's AW his fault should have bought….
3. Welbeck shooting to weak (see AW should have….)
4. Jack Wilshere missing the easiest of chances by shooting soft and poorly at De Gea (all Wenger's fault as he is the one that should have taught Wilshere to shoot)
5. Jack Wilshere instead of shooting should have passed the ball to Alexis for a simple tap in (all Wenger's fault as he wants to have them walk the ball into the net…oh wait a minute.. Jack took a shot… oh well still Wenger'is fault)
6. Missing good chance after good chance in the whole match (of course that is Wenger's fault, they probably have been practising  the defence for 14 days..oh that's right most players were out with their national team… still Wenger's fault though…)
7. Utd scoring from an offside, a foul and from an unlucky bounce of the leg of the fouled Gibbs. (All Wenger's fault that Gibbs bumped in to Szczesny because he is clueless and well no matter what it is Wenger's fault….)
8.   I could go on but I think most people (although clearly not all readers) got the idea after point one.
Some readers who say we never blame Wenger can be satisfied.
Okay, for the regular Untold readers, you will by now know that I am doing some mocking of the way some react after each defeat. In a way Arsenal losing a match is not that bad. Of course it IS bad but we are playing football. Football is a sport and in each sport you can win…or you can taste defeat. It is like that. It is like the way the globe is turning round its axis and we will see a day after each night. Winning and losing is part of football like day and night is part of our life.
So losing is not nice but I can stand losing. It's sour but part of being a player and part of being a supporter.
But what is hard to take and makes a defeat really annoying is the hysteria that we see whenever we lose or even drop points.
What also is a given is the fact that even when refs cost us points this is no excuse. No in their haste to blame Wenger for each dropped point they refuse that we would even talk about it.
All sorts of excuses are handed out. When in my first article about the match I wrote about the foul on Gibbs and the offside from Fellaini. No, NO, NO they said. I was wrong. And why was I wrong? Because the media didn't report it. Sorry but since when are the media telling us how things have happened? And if you really believe the media… then I feel sorry for you.
NO, NO, NO they shouted at me. I was wrong because…. Wenger didn't talk about it in his post match conference. Otherwise they rubbish each word Wenger speaks but now the fact he didn't mention it, his words are sacred religion.
But let me now say one thing to you who said I was wrong. I was right. Of course I was right. Because I don't listen to the media. OK,  I must admit I did listen to a foreign match reporter. One of the same country as Fellaini and he was 100% sure: the first Manchester United goal shouldn't have counted.  But to be honest I didn't need his words for that.
No I don't let the media dictate what I have to think. I don't let other fans dictate what I should think. Because I just trust my own judgement as a ref above that of the pundits. And I trust my own judgement above that of Wenger when it comes to referee decisions.
The problem was however to get the message over to those suffering from tunnel vision. I have the images on my hard disk recorder at home but that isn't connected to the internet.  But now thanks to 7amkickoff I got a little clip of the incident.
And I was right. And the correspondents who told me I was deluded and just defended Wenger, you were wrong. No you don't need to apologise to me. But what you do have to do is look at this little clip. HERE IT IS, MAKE UP YOUR OWN MIND. Go and watch the clip and then come back. And if you really didn't see Fellaini pushing Gibbs with both arms in his back….. then my goodness you really must dash to the eye specialist immediately. I think you suffer from blindness.
But for those who can see now you can tell me what the headline is saying. DDIA!
Dean Did It Again!
Once again a poor Dean decision cost us the match. Because it was just like in the Burnley match. You knew that once we could score we would win this match. And then Dean did his usual trick. Ignoring an offside (mistake by the assistant) and then his trick once again was ignoring a blatant push on a defender. An Arsenal defender of course.
We all know that that goal turned the match upside down. And it not only cost us a goal but also a forced substitution. But hey let's ignore the blatant "mistake" from Dean once again against Arsenal. After all, we have some Wenger bashing to do.
And I know we missed too many chances before and after that. But that is no excuse for Dean for not doing his job. Or come to think of it…… was he "doing his job"? Again? Us missing chances have nothing to do with Dean doing his dirty tricks again. And as predicted what he would do before the match.
And let us add another thing. We all know that Dean was the ref when Eduardo got assaulted and his career at the top was over. Well just look at this tackle from last weekend.  But don't do it when you have just eaten.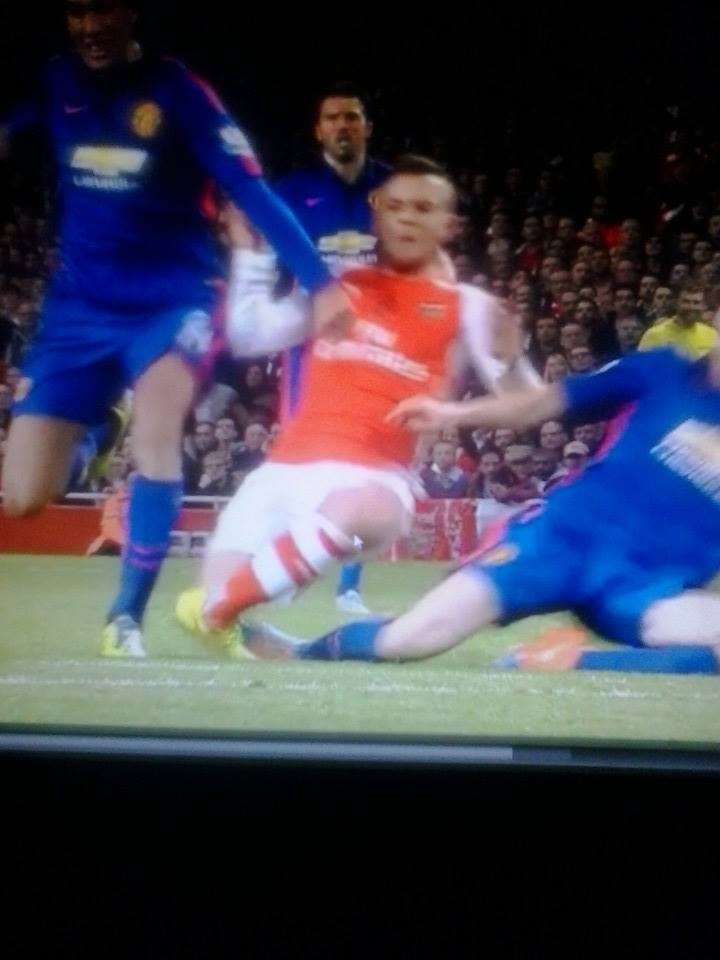 Another assault on an Arsenal player. Look at his foot! Completely turned over because of the late tackle. And what did Dean do? Nothing. No foul, no card…..nothing. Absolutely nothing.  You can say it again….. DDIA! Dean Did It Again.
Seriously, what is the matter with Dean? This is the second time  that when he is around one of our players could have his career ended. And this time…. he did nothing. Completely f*cking nothing.
Yep, let's blame Wenger a bit more shall we… and ignore the incompetent and biased Dean once again. He should never be allowed to come close to an Arsenal team for the rest of his referee career.
————————-
The books