By Andrew Crawshaw
Before I go into this weeks officials, here is the table of wrong Important Decisions extracted from Walter's referee reviews.

Three wrong Important decisions from the Swansea game, matching not given penalties and a not given red card to Ashley Williams at the start of the second half, a game changer if ever there was one.
On to this week's officials
Referee – Mike Dean
Assistants – J Collin and D England
Fourth Official – M Jones
Firstly well done to Walter for correctly predicting this appointment nearly three weeks in advance; we know what the PGMO are going to do before they do (or at least before they formally announce what they have done)!
Arsenal's history with Mr Dean is well documented and has even been picked up by the lazy journalists working for the UK National Papers as being suspicious.
Here is a table showing the Premier League games he has refereed since 2000/01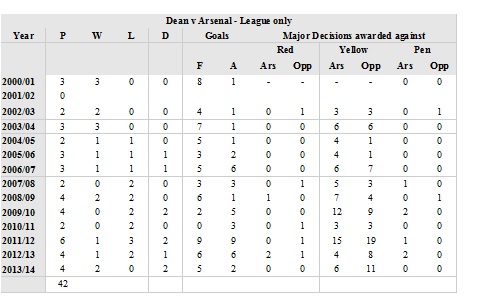 The results split into three distinct phases:-
1. Up to the the end of 2003/4, we never lost a game with him in charge. For this phase of his refereeing career, Mike Dean was certainly a Sardine (see definition below) and was popular with Arsenal supporters
2. From 2004/5 to 2012/13, we won very few games (5 out of 29), certainly far fewer than our average with all other referees. Definitely a Pilchard and unloved by the Arsenal public.
3. From 2012/13 and continuing into last year (and I admit I may be clutching at straws here) I detected a subtle change in his handling of Arsenal games. In 2012/13 his weighted scores were 83% City v Arsenal 23/09/12 (1-1); 80% United v Arsenal (2-1); 67% Arsenal v City 0-2 13/01/13 and 90% Arsenal v Wigan 4-1 on 14/05/13. In 2013/14 we didn't lose with him in charge (2 wins and 2 draws).
In the time covered above Mr Dean has awarded two penalties to Arsenal; on 19 January 2003 TH14 scored from the spot against West Ham in a 3-1 win to Arsenal and on 13 September 2008, RVP scored from the spot away at Burnley in a 4-0 Arsenal win. Six years since our last penalty and a further five before that to the only other one. A third penalty is overdue.
2012/13 – As mentioned above there were four Arsenal games, all were fully reviewed
Match Review: Mike Dean – Manchester City Vs Arsenal (1 – 1) [23/09/2012]
Overall score 83%, bias against 71/29 but no wrong Important Decisions (second yellow cards, straight red cards, penalties or goals). No wrong decisions at all in the first half 100% a brilliant piece of refereeing. In the second half 6 wrong calls against City and 3 against Arsenal (Podolski should have been given a yellow card in Min 56, the rest were routine missed fouls).
Definitely a 'Sardine' performance with neither team having much to quibble about. A rare event with Arsenal having more wrong calls in our favour than against.
Match Review: Mike Dean – Manchester United Vs Arsenal (2 – 1) [03/11/2012]
Overall score 80%, bias against 15/85 and 3 wrong Important Decisions (Minute 44 United awarded penalty for handball – no movement of hand to ball so decision was wrong – Rooney failed to score so justice was done, Min 58 Cleverly should have second yellow card for reckless challenge and in Min Arteta was given a yellow card, he should have had one in Min 30 and so it should have ben his second)
Not a bad overall performance but the wrongly awarded penalty was more Pilchard than Sardine.
Match Review: Mike Dean – Arsenal Vs Manchester City (0 – 2) [13/01/2013]
67% overall, bias against 84/16 and one important wrong decision when Dzeko should have been sent off in Minute 82 for a second yellow card.
This was a far more typical Dean "Pilchard" Performance, City allowed far more licence than Arsenal and minor or phantom fouls being called to break up play when Arsenal potentially having the advantage. A typical Dean "Pilchard" performance – maybe the Sheikh had a word following the reverse fixture where Arsenal had the balance of poor decisions. He did give a correct red card to Kompany in Min 74 as well as the one (again correct) to Koscielny in Minute 8.
Match Review: Mike Dean – Arsenal Vs Wigan Athletic ( – ) [14/05/2013] 90% overall, only 7 wrong calls all game none serious (but all in Wigan's favour).
One of the best pieces of refereeing we saw all year. Mind you Dean and his team still had the odd "Pilchard" moments – Min 8 he over-ruled his assistant who was far closer to a throw-in and had flagged it for Arsenal and Min 46 Walcott was wrongly flagged offside when he should have been through one on one with the keeper.
2013/14
22 Sep 2013 – Arsenal v Stoke 3-1 Here is a quote from Walter's post game report.
"And finally : the last strange fact. When going in front early on I expected some Dean magic. He blew a few things that looked like being Dean-facts. When Stoke equalized I feared he might try something. But again he didn't or we didn't provide him with the chance to do it. When we were 2-1 in front I really hoped we would score a third goal because I still wasn't sure that he would blow his magic whistle and open his red card book to give a penalty against Arsenal for some little foul. Again our players remained calm and didn't allow Dean any tricks."
A 'Sardine' performance
23 Dec 2013 – Arsenal v Chelsea 0-0 Dean useless as usual, Mourinho still the master in killing football pleasure – Mikel not sent off for an asault on Arteta, A clear penalty to Arsenal not given a few minutes later, A kick from Ivanovic to Özil's head that should also have resulted in a red card.
A full blooded 'Pilchard' performance.
16 Mar 2014 Spurs v Arsenal 0-1 That screamer in the first minute from Rosicky what a glorious goal. This from Walter about Dean "A word about Dean in the first half. Is it our pressure? For it was as if he wanted to prove us wrong. I know that the way Rose went down with no foul at all and which could be labelled as a dive was horrible and was never a penalty. But I have known Dean to give them against us. I couldn't believe it was Dean……..Arsenal should also have got a penalty when Vertonghen was holding Koscielny with both his arms around his neck and dragged him down after another free kick for Arsenal. Dean being Dean one could say………but he was rather fair in the way he handled the match. And certainly his foul calling was excellent this time. Certainly in the closing stages. But I would like to add that the first assistant certainly gave him a big hand with calling some fouls on his side"
Another 'Sardine' performance, albeit with another missed opportunity to end his no penalty streak.
29 Mar 2014 Arsenal v City 1-1 Arsenal – Man City the difference between home and away Opportunities for Arsenal to win the game, minor interference from Dean but nothing too obvious Another 'Sardine' performance
Conclusions
1. Mike Dean hasn't given us a penalty since 13 September 2008 when RVP scored against Blackburn. He hasn't ever given a penalty to Arsenal at the Emirates, the only home penalty being on 19 Jan 2003 scored by Henry against West Ham.
2. Don't expect a change in that statistic on Saturday
3. Mike Dean is (honestly!) capable of producing a really good refereeing performance even in a game involving Arsenal.
4. His 'Pilchard' performances have been far more prevalent in most fan's memories, these can be categorised by over officious penalties against Arsenal, sending off Arsenal players for the minutest infringements, allowing our opponents to freely kick the sh.t out of Arsenal and seeking every opportunity to slow down/delay play when Arsenal have an advantage.
5. He does have limits however and is prepared to send off opponents when they cross his line, mind you that line is often far more extreme than one would like to see from a referee.
6. Arsenal players need to be very wide awake and not allow Dean any opportunity to punish them unduly – Flamini – no sliding tackles!, Jack – no rash challenges and keep control of your temper, all defenders need to be wary of any holding or minor fouls in our penalty area, you will be penalised if he can do so. Avoid all possibilities of giving away a foul in a dangerous area, if you must make a foul do it as far away from our area as possible.
7. Fans at the game, get on his back every time he makes a mistake – remember he does know what he is doing, he virtually wrote the book on anti-Arsenal refereeing.
Come on Mr Dean, you know how to do a good game, please show us one on Saturday and it really is time for you to award us a penalty, six years is an awfully long time! Be a Sardine (loved by all) not a Pilchard.
COYG
Definitions
Pilchard – small fish found in large schools along european coasts, smaller and rounder than herring. Once popular, now unloved by the public (in the UK at least).
Sardine – any of various small herring or related fish, popular with the public throughout Europe and widely served in "posh" restaurants (most pilchard are now sold as sardines in UK).