By Walter Broeckx
Finally back home after an amazing weekend in London.
I will write a complete match report later on of course but first let me give you a few short thoughts that passed my mind before, during and after the match.
I was in the Emirates with some friends from Arsenal Belgium so the result itself was never in doubt one could say. However I must admit that shortly before the match started I called upon the football gods to not let me down. In fact I called for the Arsenal players to not let me down. I called in a thelepatic way to them and said that this was their moment to enter the Arsenal and FA cup history for ever.
And my oh my did they perform on the day! That was an amazing performance. The best ever seen.
I must admit that I was impressed with the way we played but got a bit annoyed by the fact that we just couldn't score that first goal earlier on. I think if we had scored from one of the earlier chances we would have had a score that would have been unseen in this era. Mind you 4-0 is almost such a score in a final.
But once Theo put in the first goal I knew it would be okay. What a great goal it was.  Starting the attack himself, the perfect pass to Monreal who gave a good cross. Alexis 1 cm smaller than Messi (!!!!!!!!!) won the header and Theo finished it off with a amazing left footed volley. The Emirates erupted! Where I sat in the lower tier under the roof of club level the noice level was so high my ears almost gave way.
And when Alexis scored the second goal the final outcome was completely known. No way we would let this slip away. Per and Giroud adding a third and a fourth was more icing on the cake.
I have never seen an Arsenal team so dominant in a final. All 11 players were heroes! Correcction all 14 players were heroes!!
But the biggest hero was for me the manager. We have defended him always against all the criticism he got. We have said that the great days would return if we just would stick to him and support him. In the last 12 months Arsenal and Wenger now have won three trophies.
Yes: three! Two FA cups and the Charity Shield. That is a trophy. The smallest one but it is a trophy. Period. FACT!
Now Arsenal is the most succesful club in the FA cup history. And I was in London to celebrate this with thousands of Gooners in the Emirates and in the Streets if Islington. I feel honoured to have been there this weekend and to have been able to join in the wild celebrations in the Emirates and outside in the streets.
Wenger is the best manager in FA cup history. A thing he has to share with that Mr. Ramsay. But it won't be for long. I suggest that next year we make sure he gets 7 wins and that he is the most successful manager in FA cup history all by himself. Deal? Deal! Players you know what to do!
And then to think that Wenger was accused of not taking the FA Cup serious a few years ago! Idiots!
Let me finish with two pictures that say more than I can say in a way.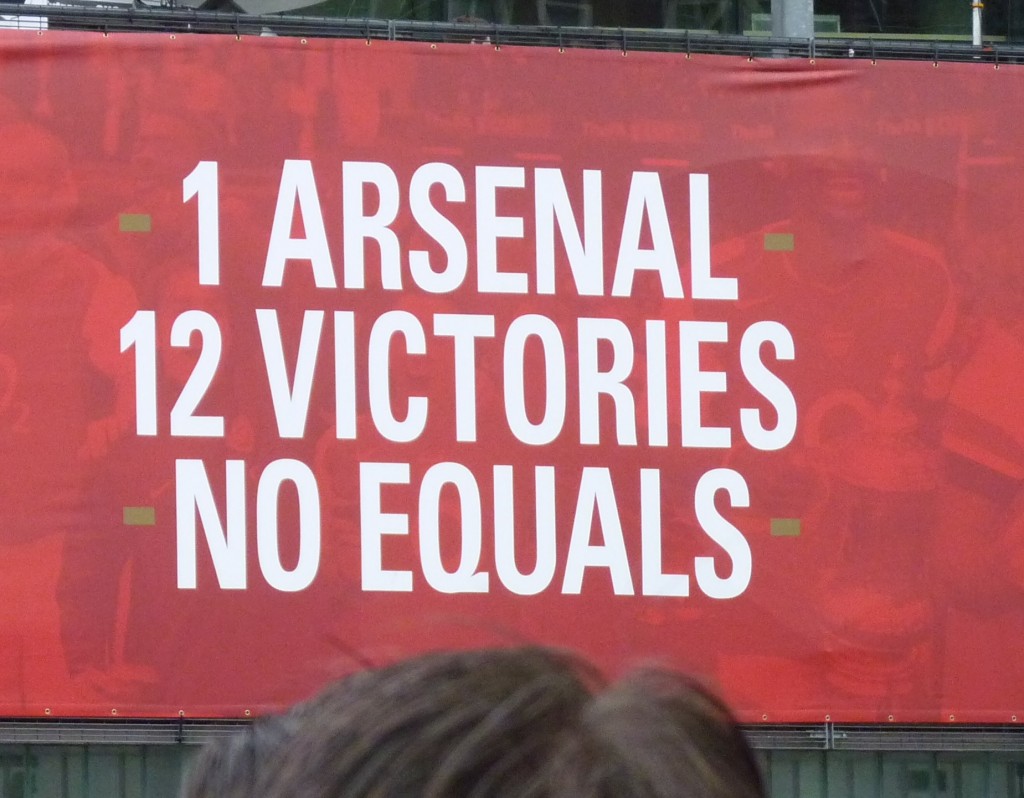 This was to be seen everywhere around the Emirates and on the parade bus. It is saying it all! No equals. We are the best. Simply the best! Not bad for a manager who had lost it they said as six of those 12 wins have been won under his leadership!
And this picture:

When I saw that I knew it was a message to us. Yes it was a message to Untold. Because the writers but more importantly our loyal readers who have been that 12th man. Each and every day in our existence as blog.
And I say to you Mr. Gazidis (who personally promised me that the trophies would come on 11 December 2012 check that date  and I say to you Mr. Wenger that it has been an honour and a privilege to have been that 12th man all those barren years.
It has been painful at some moments because we don't like to lose but we knew that there was a bigger goal than just the last result. And we kept our believe and we kept the faith.
A writer of Untold admitted to me last Saturday after the match that he had tears in his eyes. I have had tears in my eyes this weekend on more than one occasion. Tears of joy and tears for finally seeing the arrival of a new era.
Sure we will lose matches. But I would urge the moaners that in such moments they try to look at the bigger picture and not just the bad result on the day.
This team can be destined for great things in the next seasons. Just get behind the team completely. Just get behind the manager even if you think you can do a better job than him (how ridiculous…)
Just BE THAT 12th MAN our club, managers and most and for all our players need. The reward can be immense. If only you are willing to open yourself to it. Believe me it is worth the effort.
COYG! And Thanks!
More pictures and maybe even videos are to follow about this great weekend in London.
Details of just how historic our achievement has been in the Cup this year are given in our weekend article from the Arsenal History Society site.
——————
And one from the Archives
1 June 2007: Gilberto Silva captained Brazil against England, becoming the first and thus far the only Arsenal player ever to captain Brazil.  In the last minute of the game Gilberto Silva provided the cross that allowed Brazil to score to make it 1-1.